This dish was born because of a long day at work. Normally I pull out some meat in the morning and combine it with whatever veggies I have on hand to make something delicious. This work week has been crazy and yesterday I forgot to pull something out of the freezer before I ran out the door. I know that you're all saying, but Kelly, you can defrost your chicken in the microwave! Well, I don't like doing that because I am microwave challenged and I always end up cooking the corners of the meat in its own icky juices.
I stopped by the grocery store on the way home from work, racking my brain for what I could make that would be low fuss. Pesto was on sale for half off so I grabbed 2 containers and then headed for the chicken cutlets. Some of my tastiest dishes come about when I'm not trying too hard. This is one of those.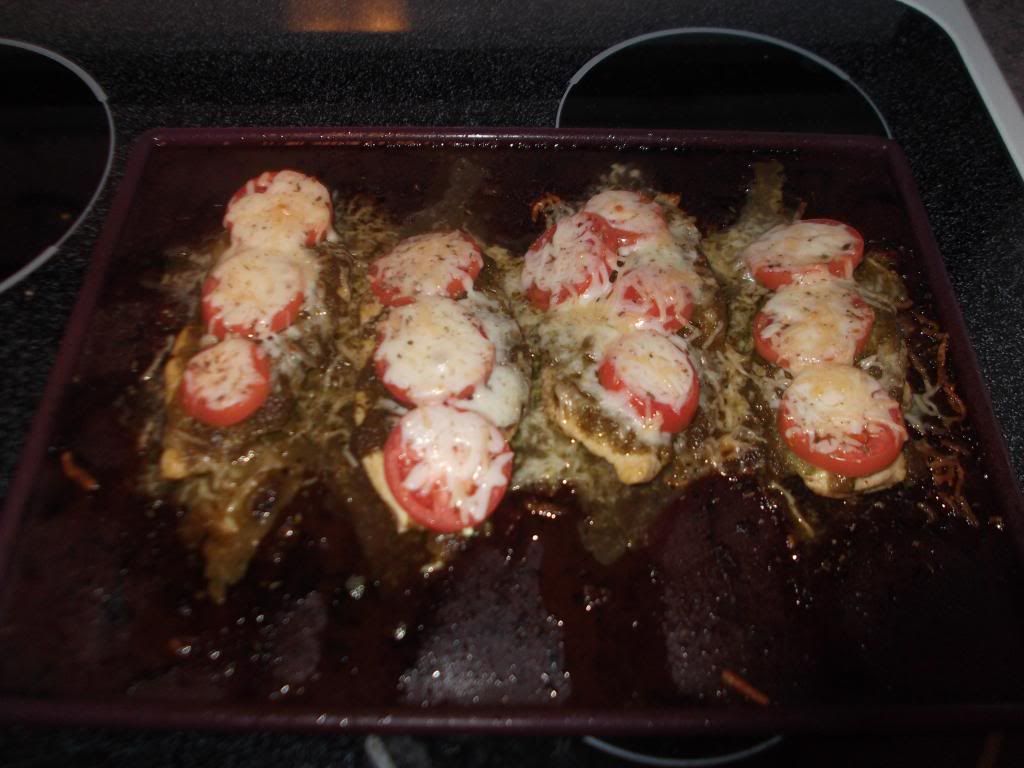 Ingredients
4 chicken cutlets
1 container Buitoni Pesto with basil
3 roma tomatoes
1/2 C shredded Parmesan cheese
1 tsp salt
1 tsp black pepper
2 Tbsp Italian seasoning
Directions
Preheat oven to 350 degrees.
Remove chicken cutlets from package and rinse. Pat dry.
Sprinkle half of the salt, pepper, and Italian seasoning over the chicken cutlets. Turn over and repeat with remaining half of all three.
Spray some nonstick cooking spray on a baking sheet and lay the cutlets on the sheet.
Use the back of a large serving spoon to spread the Pesto over the chicken cutlets.
Bake for 20 minutes then remove from oven.
Cut the tomatoes into 1/4 inch slices. Layer the tomato slices over the pesto.
Sprinkle Parmesan cheese over the cutlets and tomatoes.
Switch your oven over to the broiler and set on low.
Return the cutlets to the oven, and cook under the broiler for 5-10 minutes, or until the cheese has toasted and started to bubble.
Serve immediately. Enjoy!
Notes
Which tomatoes you use is very important so make sure that you get the right kind. Regular vine ripened tomatoes are too juicy and you will have a runny pesto mess if you try to use those. The roma tomatoes are a little bit firmer and great for dishes like this where you want clean slices. Your local grocery store should have them.
Make sure that the chicken cutlets are completely rinsed and dried before you layer the pesto over them. If they are slimy the ingredients won't stick.
There's no exact amount of Pesto that you should be using to cover the chicken. It will depend on how big your chicken cutlets are. I used about 2/3 of the container for these. Just make sure that they are completely covered and you will be fine.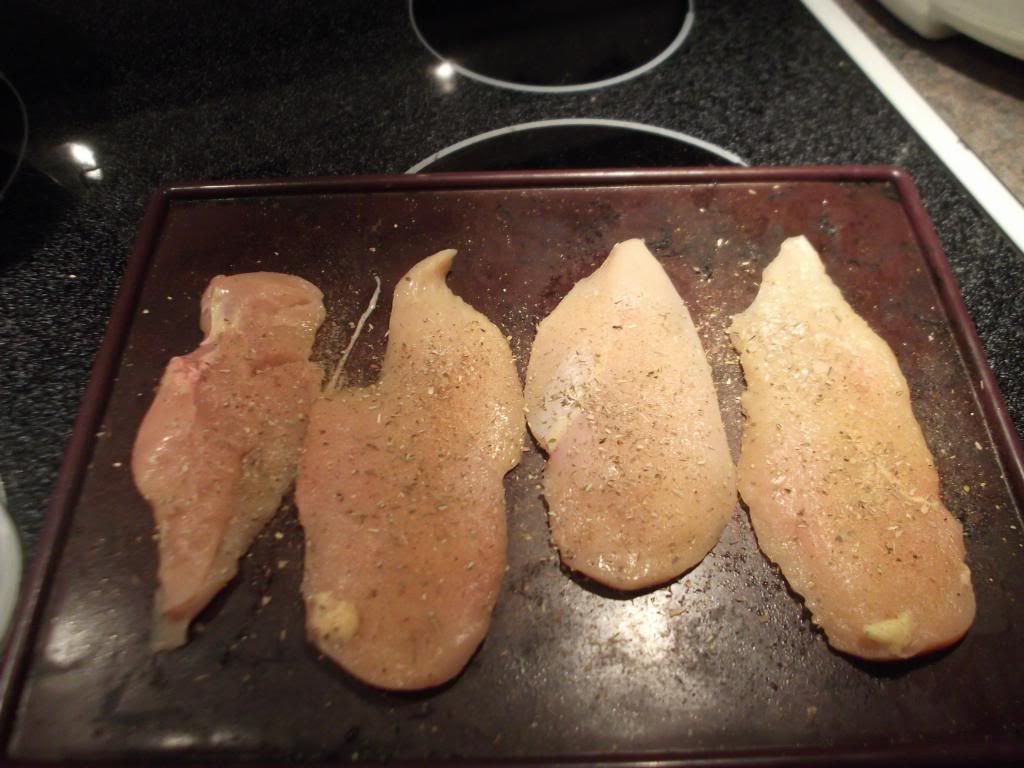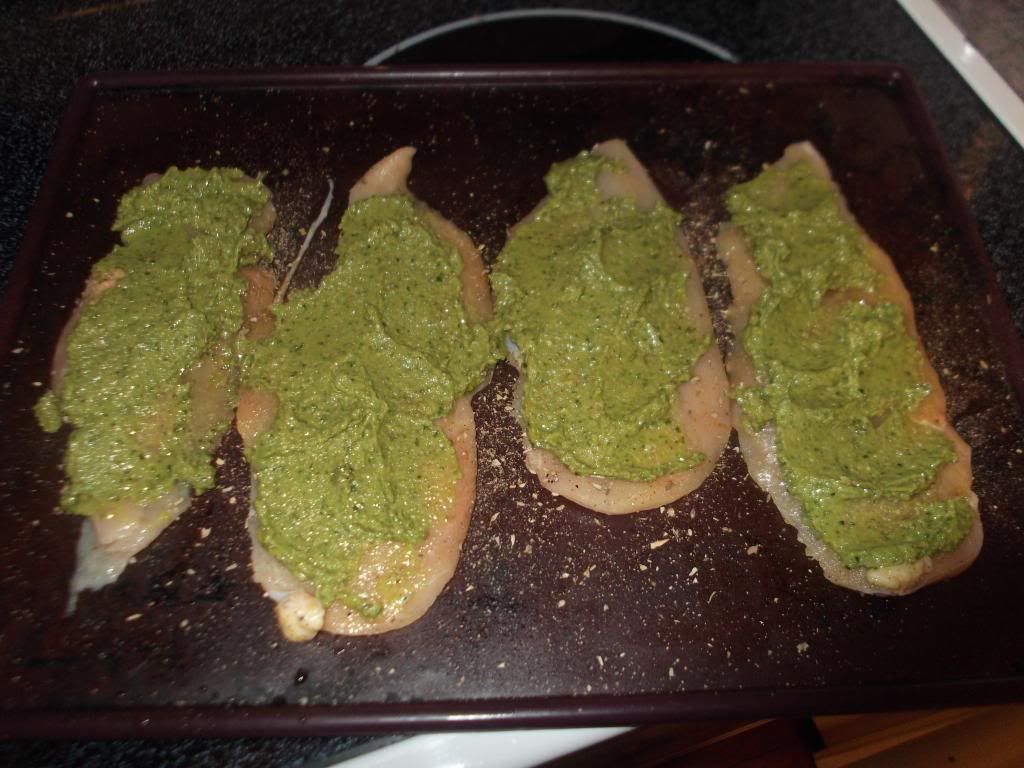 If your spoon touches raw chicken and then goes back into the pesto jar,
your pesto could become contaminated with bacteria. Be careful not to
eat that pesto unless it's been heated to at least 165 degrees.