At my house there are often yummy leftovers. The awesome boyfriend doesn't like leftovers much, but I love them. About a third of my recipes are born out of a need to use up the rest of last night's dinner. Another third are inspired by being too lazy to go to the store and working with whatever happens to be in the fridge that day. The last third is half genuine creativity and half dumb luck so next time you think that you can't cook, try to remember that you have some good odds.
I made the awesome, amazing,
Steak and Tomato Saute
a few days ago and that dish has turned out to be even more versatile than I thought. The first night we had it over arugula with a little oil and vinegar. The second night we had it over tofu pasta with some olive oil and a sprinkle of Parmesan cheese. Today I had it at work with another of my favorite versatile ingredients, eggs.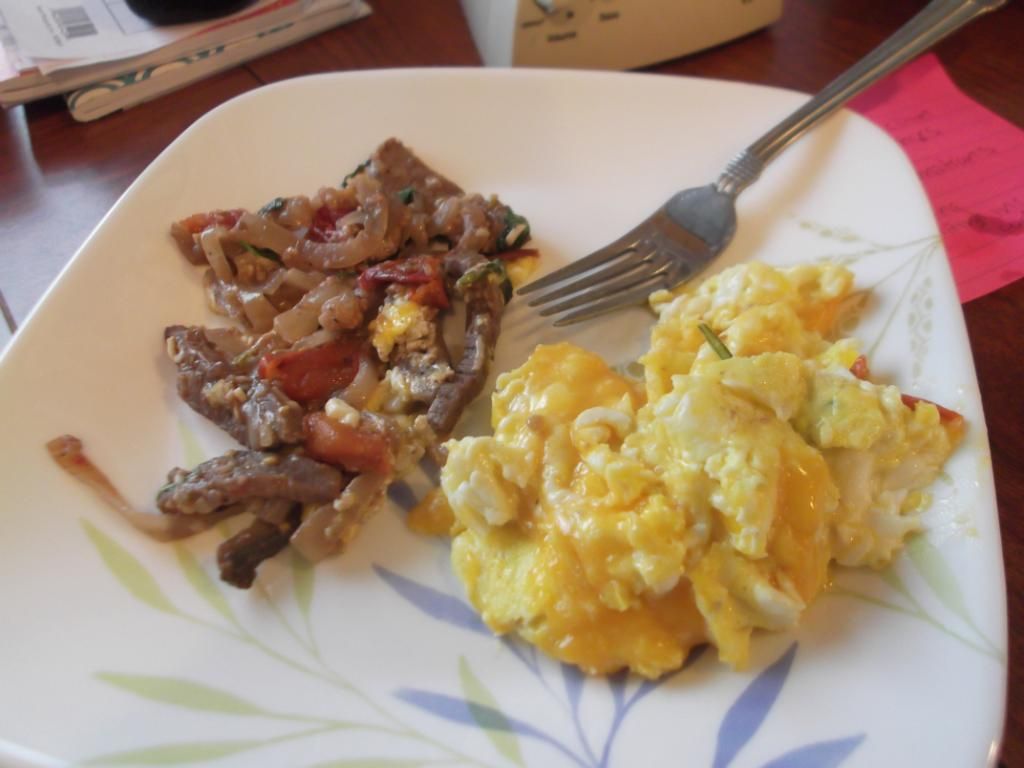 Ingredients
leftovers from Steak and Tomato Saute
2 eggs
splash of heavy cream
handful of shredded cheese
pinch of salt
Directions
Heat a little olive oil in a nonstick skillet.
Dump cold steak saute from a Tupperware into skillet and stir with a rubber spatula until steak is heated throughout. Set aside on a paper towel to drain.
Crack 2 eggs into a bowl.
Add a splash of heavy cream, a handful of shredded cheese, and a pinch of salt.
Scramble egg mixture with fork and pour egg mixture into skillet.
Stir with rubber spatula until eggs are cooked through.
Serve immediately alongside steak leftovers.