I love fall vegetables. I love the smells, the colors, the textures. I just love them. The awesome boyfriend thinks that I am absolutely crazy because sometimes I stand in the grocery store smelling the pumpkins, but I just tell him to go read a magazine and leave me alone. This particular acorn squash was calling to me from a display of fall veggies so I decided to give it a new home (inside my belly).
One cup of acorn squash has around
13 net carbs
, so adjust your servings accordingly. If you're going to make it a meal plan on having the whole thing for 20-25 carbs, or have half the squash on the side of a meat dish for 13-15 digestible carbs.
Ingredients
1 acorn squash
1 Tbsp dry minced onions
1 tsp salt
1 tsp black pepper
1 C baby spinach
1 tsp minced garlic
1/2 Tbsp butter
Directions
Preheat oven to 425.
Cut acorn squash in half and scoop out seeds. Put one half away for later.
Lay squash with opening down on a baking sheet.
Add about 1/2 inch of water to the baking sheet and bake for 20 minutes.
After 20 minutes remove baking sheet from oven and discard water.
Turn squash over so that cut side is facing up.
Sprinkle dry minced onions, salt, and pepper, over inner flesh of squash.
Add spinach to center of squash, pressing down until opening is completely full.
Sprinkle minced garlic over top of spinach.
Place butter on top of spinach.
Bake stuffed squash for an additional 20 minutes.
After 20 minutes remove from oven and serve hot. Enjoy!
Notes
Adding water to the baking sheet helps keep the squash from drying out and shriveling. If you don't have a baking sheet that is deep enough, you can use a glass baking dish instead.
One cup of baby spinach is a very approximate measure. Just stuff as much in there as you can!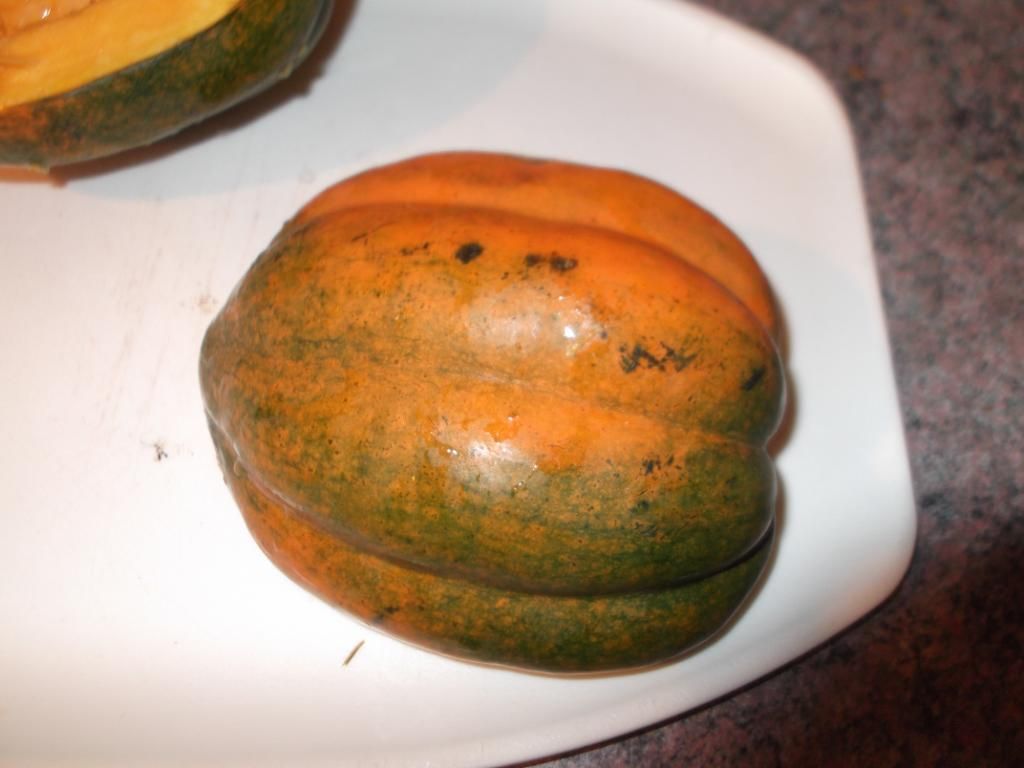 Scooping the seeds out of an acorn squash is super easy. These
are much easier to prepare than a butternut variety.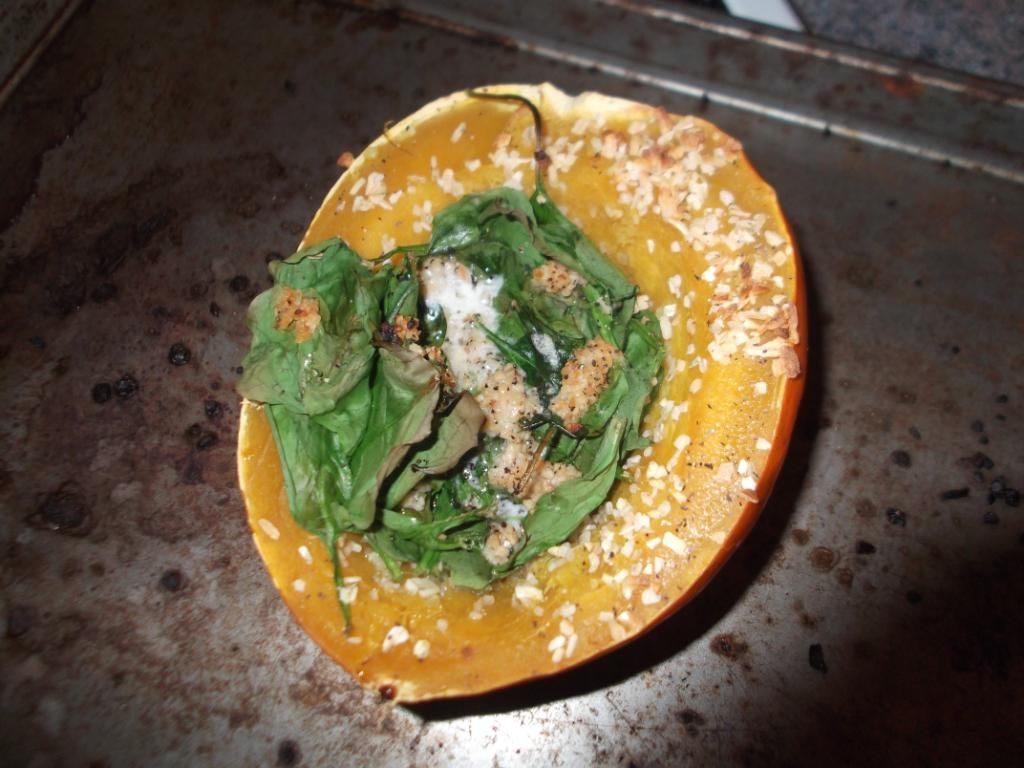 Yum. The flesh should be squishy enough by now for you to just
dig in with a fork. If not just pop the squash back in for a few more
minutes.