This dish is majorly yummy and I like it because it's pretty versatile. I like to have the whole thing over some arugula but you could also eat it as is with a side dish. If you're going to put it over lettuce, make sure that you pick a hearty green. Spinach or field greens will wilt under the hot steak and tomatoes.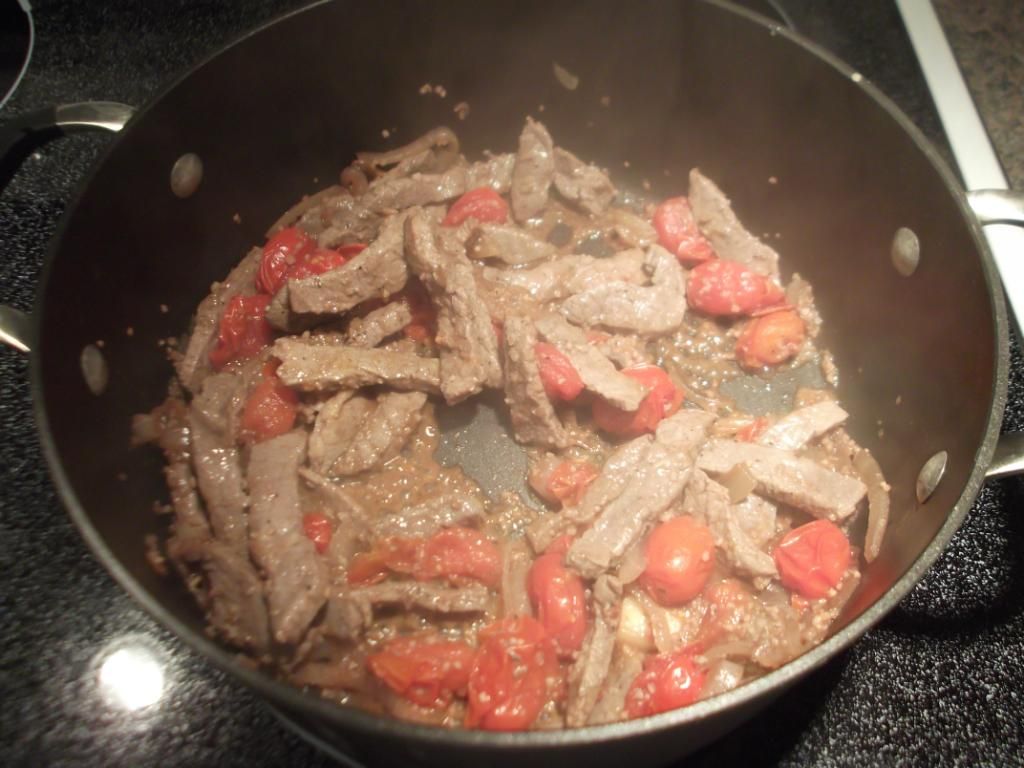 Ingredients
1 lb sirloin steak
1 tsp salt
1 tsp black pepper
2 Tbsp olive oil
1 medium sized yellow onion
2 C cherry tomatoes
1 C sliced mushrooms
1 C red cooking wine
2 Tbsp minced garlic
1 bag prepared arugula
Directions
Trim your sirloin down to bite size pieces. They should be a couple of inches long and about a half and inch thick, at the most.
Season steak with salt and pepper on both sides.
Remove skin from onion and discard. Chop onion into inch long pieces.
Slice tomatoes into halves.
Heat a large pot (one that has a lid) over medium high and add olive oil.
Once oil is hot, add steak to skillet and cook until steak has browned on all sides.
Remove steak from skillet, leaving liquid, and set aside on a paper towel to drain.
Add onion, garlic, mushrooms, and tomato to skillet and cook for 3 minutes or until onions have softened and garlic is fragrant.
Once onions have cooked down, add red cooking wine and stir until all ingredients are incorporated
Cover pot and let cook for 6 minutes.
At the end of 6 minutes, add steak back to skillet and stir.
Cook entire pot for 2 more minutes, or until beef is heated, tomatoes have burst, and all ingredients are incorporated.
Serve immediately over a bed of arugula or other hearty greens. Enjoy!
Notes
This dish would also be good served over tofu pasta. The steak and tomatoes release a good amount of juice that will thicken a little bit so there's no need for dressing or pasta sauce. If you are really pressed for sauce you could add a low carb marinara on top of the steak and veggie mix.
You could also sub in your veggies of choice. Keep the tomatoes because they are juicy and help to bring everything together, but feel free to toss in butternut squash, zucchini, broccoli, or whatever else you like. Just make sure to count your carbs.
This recipe works best if the steak is very thin. Your grocery store butcher can probably cut the steak to your desired thickness. You could also pound the steak with a meat mallet if it is too thick.
I buy my arugula in a bag because it's convenient but if you buy fresh arugula, bravo! A bag usually has about 4 cups in it. I used approximately 1 Cup of arugula for a serving of this saute.
If you can make a big batch of this recipe, do it. I was able to use the steak, tomato, and onion mix to make a Steak Salad and a tasty Steak and Eggs over the next couple of days.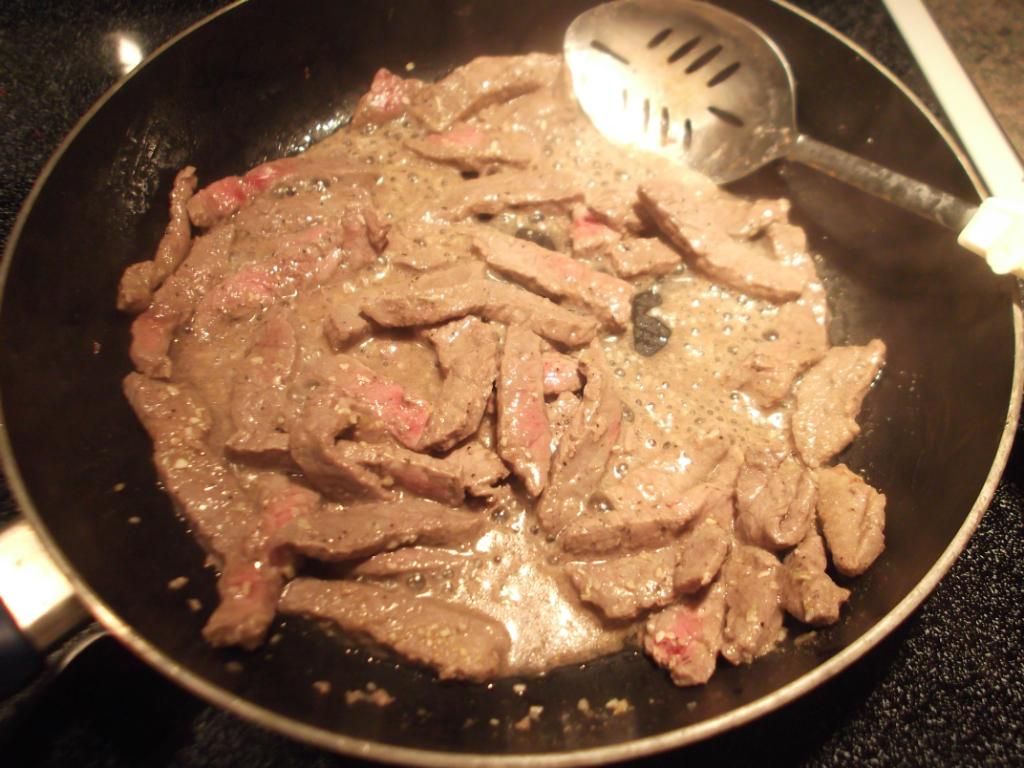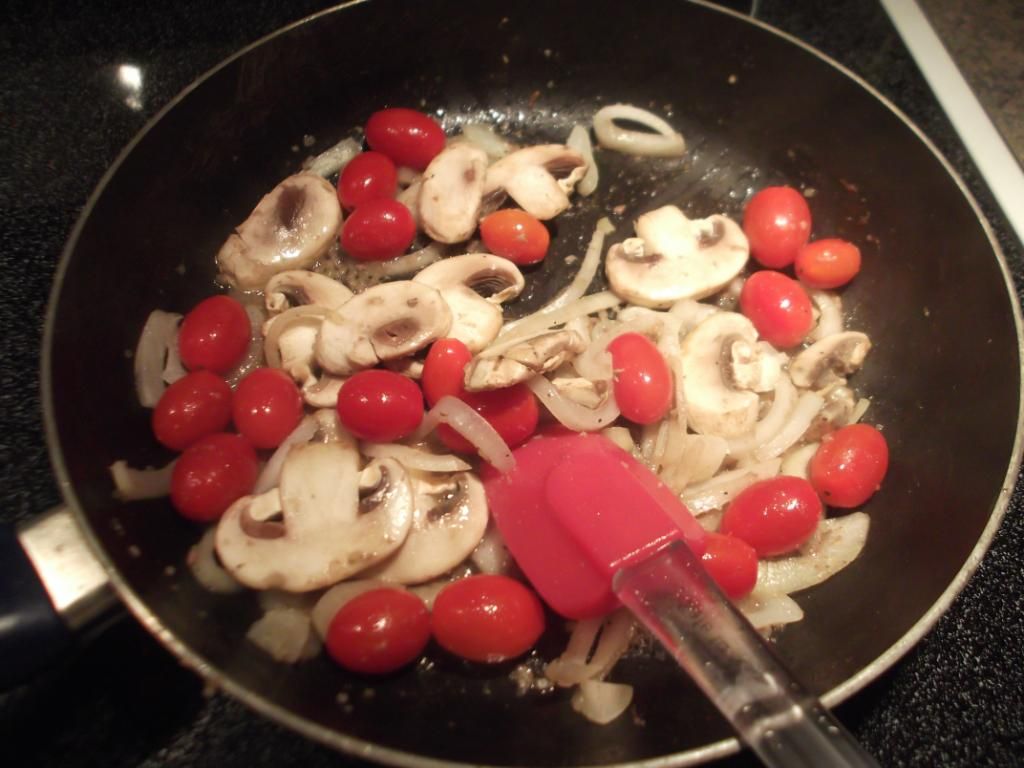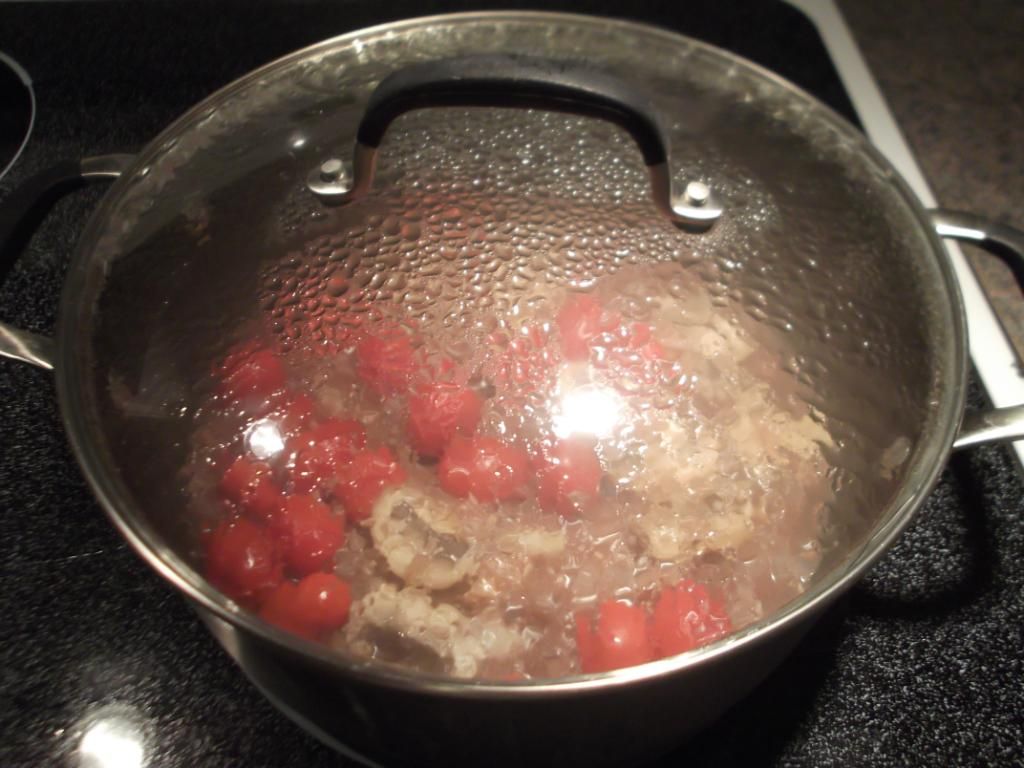 I love this big nonstick soup pot so much. My aunt gave it to me for
Christmas last year and I use it all the time!