I've been doing a lot of experimenting with cauliflower lately. In terms of calories and carbs it's similar to broccoli, but it packs more of that starchy taste that I sometimes crave. Adding a small amount of carb controlled pasta to this recipe really tricked my taste buds into thinking I was eating mac and cheese! This one is a winner for sure.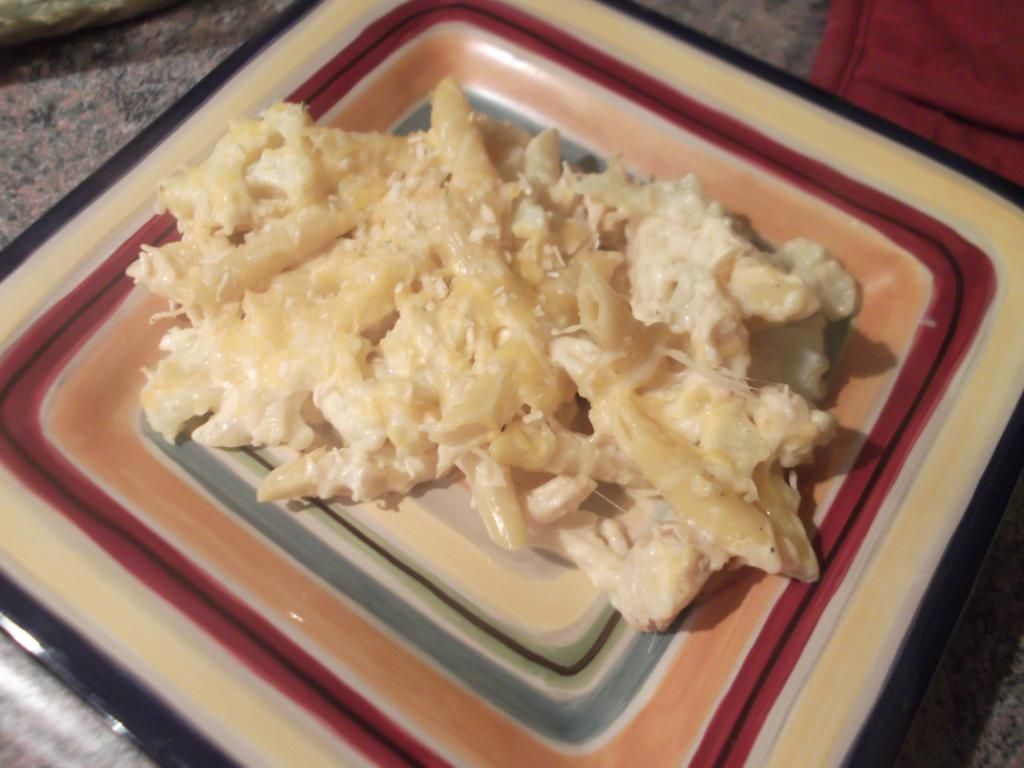 Ingredients
2 bags frozen cauliflowe
1 C Dreamfields penne pasta
4 wedges Laughing Cow Original Creamy Swiss
1/2 of 1 block of Velveeta Original
2 cans Chunk White Chicken
1 Tbsp black pepper
1/2 C shredded cheddar cheese
Directions
Preheat oven to 350 degrees.
If you've purchased the steam-in-bag cauliflower, steam in microwave according to package instructions. Otherwise, transfer the cauliflower to a large Ziploc, punch a small hole for steam to escape, and steam in microwave for 5 minutes. Cauliflower should be slightly al dente when finished.
Heat a medium sized sauce pan with water over high and boil pasta for 7 minutes.
Drain water away from pasta and return pasta to saucepan. Return saucepan to stove and reduce heat to medium.
Add both cans of chicken to saucepan and stir with a rubber spatula to incorporate.
Add Laughing Cow, Velveeta, and black pepper to saucepan. Stir continuously with a rubber spatula until cheese is melted and all ingredients are incorporated.
Add cauliflower to cheese and pasta mixture. Stir with a rubber spatula until ingredients are evenly incorporated.
Transfer entire contents of saucepan to a baking dish.
Sprinkle shredded cheddar cheese over top of mixture.
Bake for 20 minutes. Serve with hot sauce if desired. Enjoy!
Notes
The jury is still out on whether or not Dreamfields pasta is an acceptable low carb food. The front of the box says that there are only 5 digestible carbs per serving but I'm inclined to believe that there is some trickery involved in getting to that number. It's still pasta after all. There's only 1 Cup in this whole recipe so the serving is small enough that you're safe even with the higher carb count. Just don't take this as an invitation to start adding lots of pasta to your every day diet.
This recipe reheats extremely well and will keep for several days in your fridge. It's a good one for making a large pan and having leftovers for a few lunches.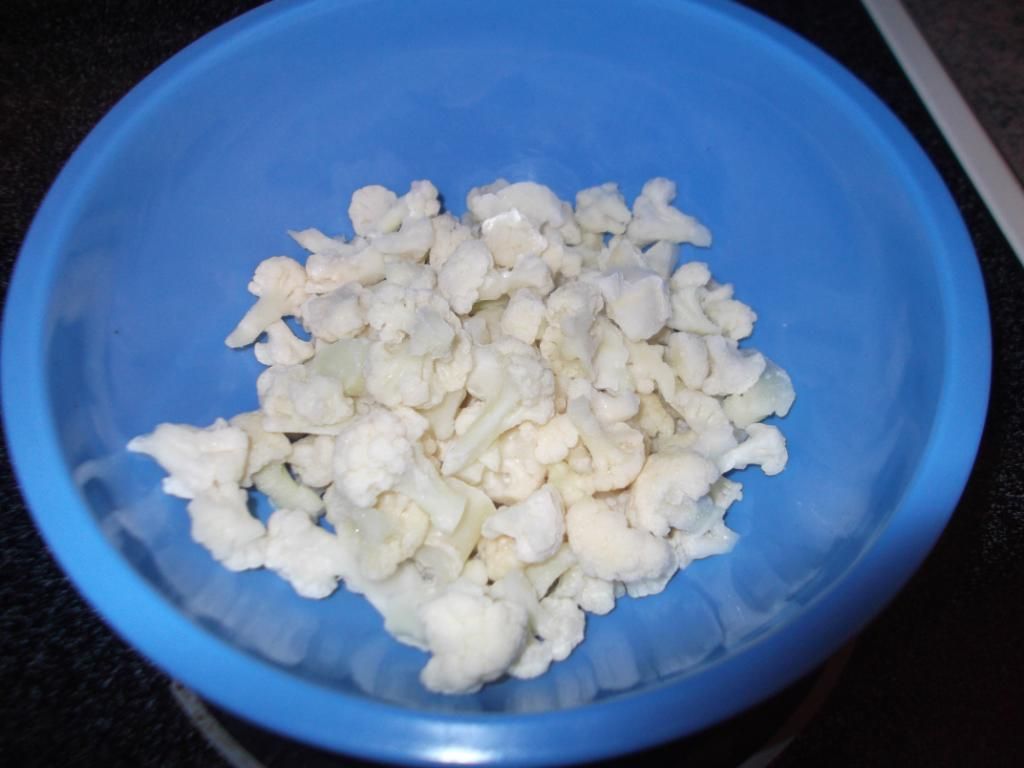 I love the Steam Ready cauliflower. Just put the whole bag in the
microwave for 5 minutes and it's done. So much easier than messing
with chopping up a whole head of cauliflower.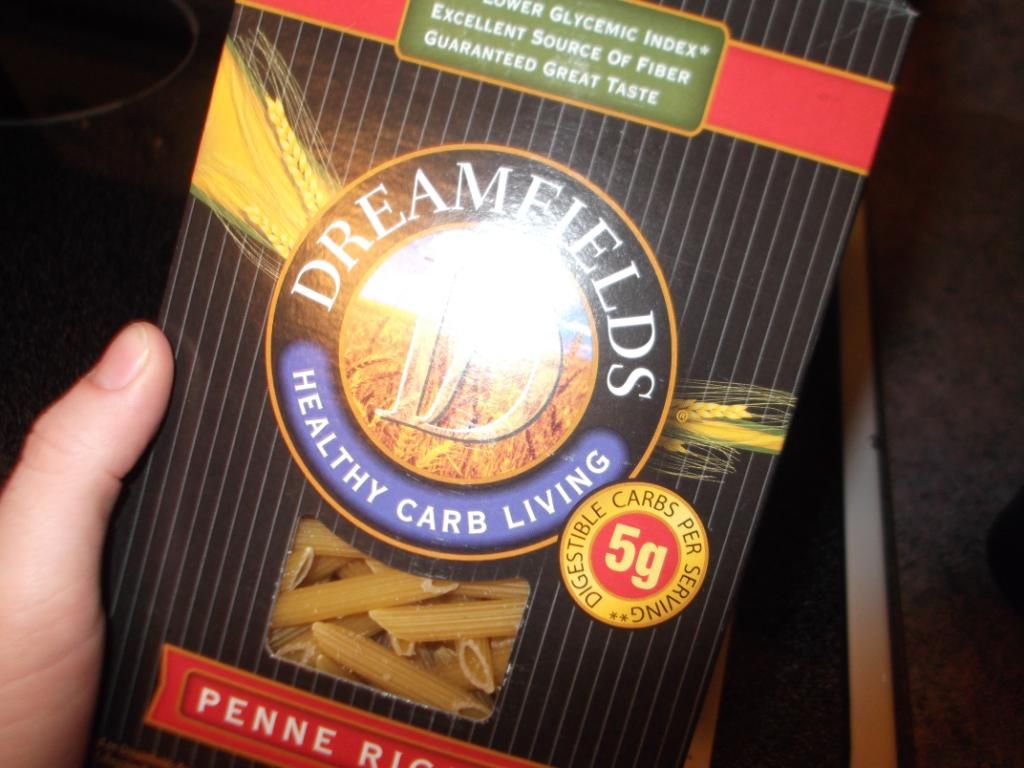 You should be able to find this at your regular grocery store in
the pasta section.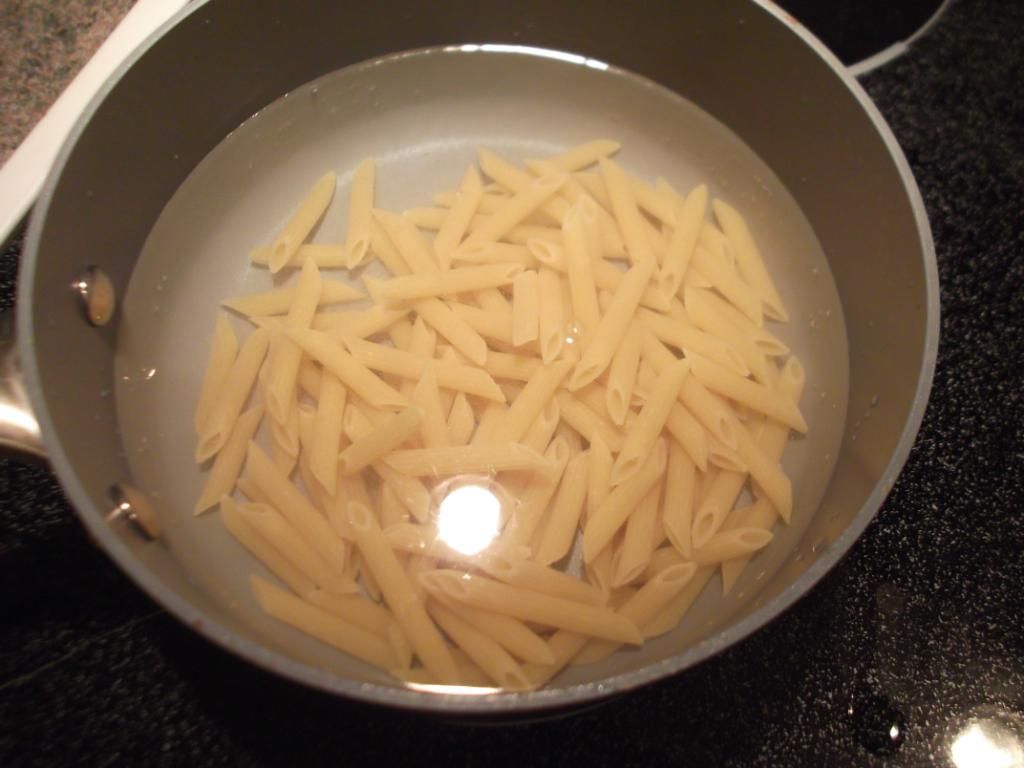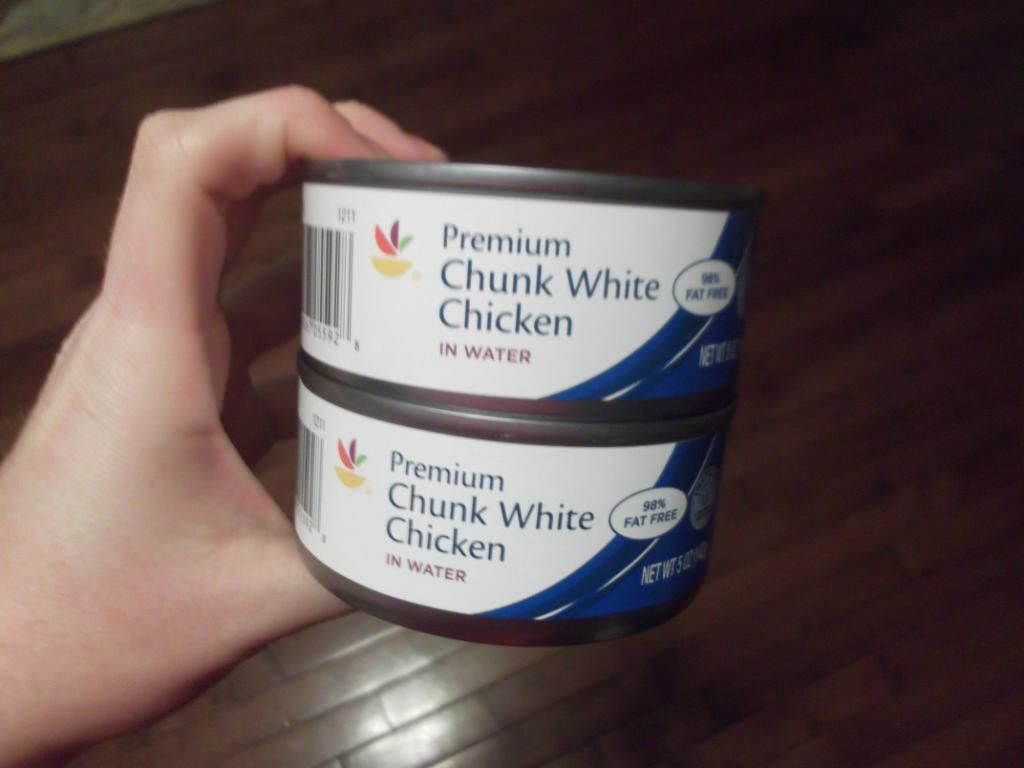 The awesome boyfriend says that chicken in a can is an abomination
against nature. Of course that did not stop him from eating this delicious
mac and cheese. If you're also skeptical you can always toss a chicken
breast in the oven and shred it for this recipe.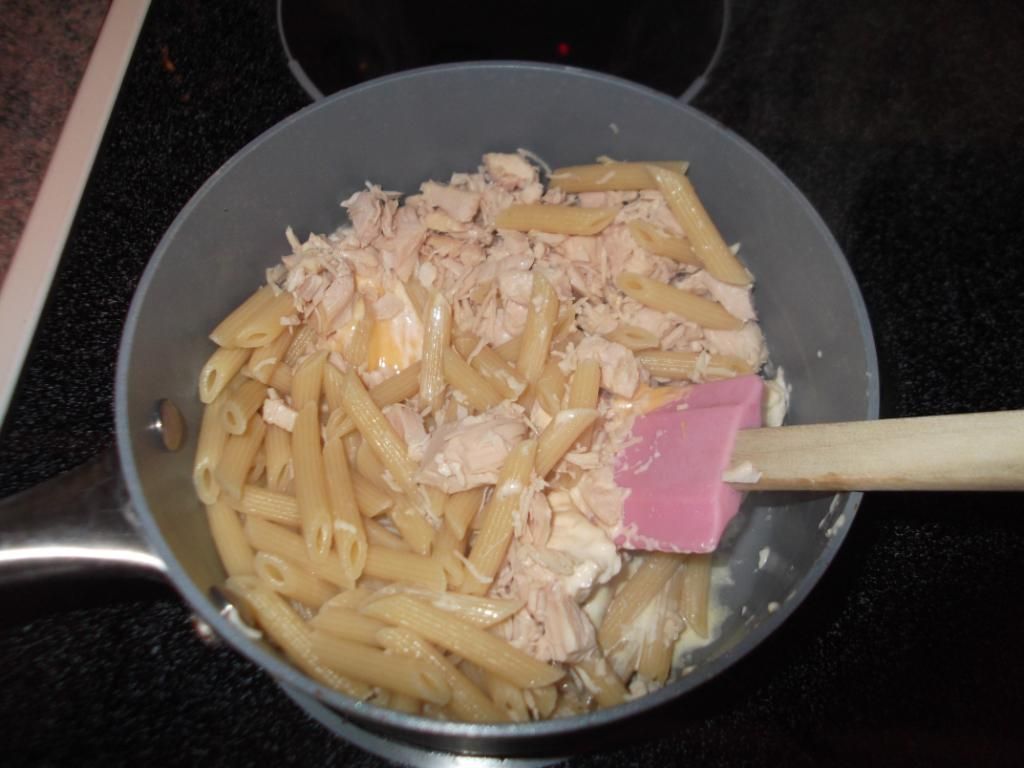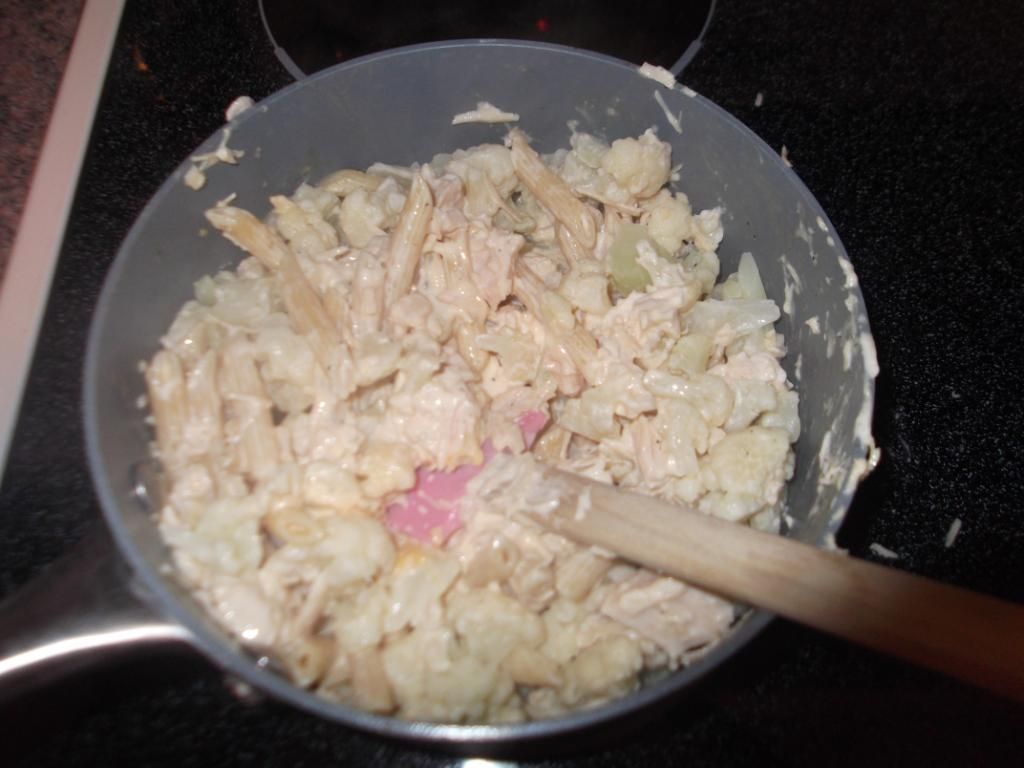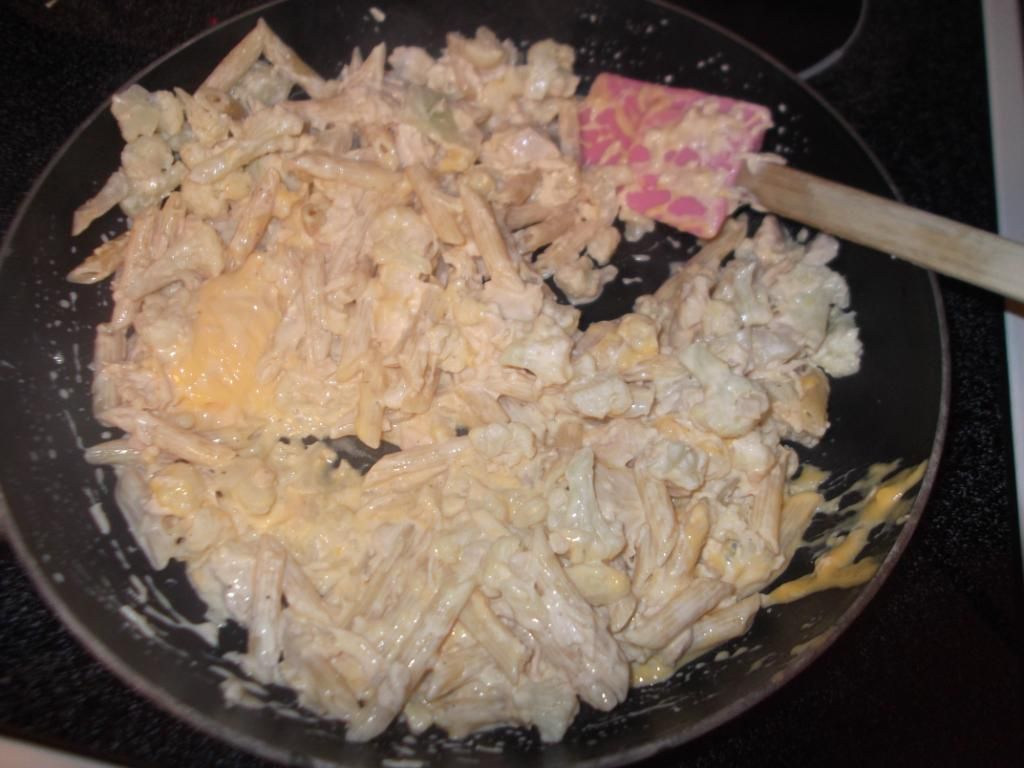 My saucepan was getting too full so I transferred everything to a large
skillet. You can use whatever works. If you're having trouble getting
everything to mix and melt, a skillet might help you to get the heat
distributed more evenly.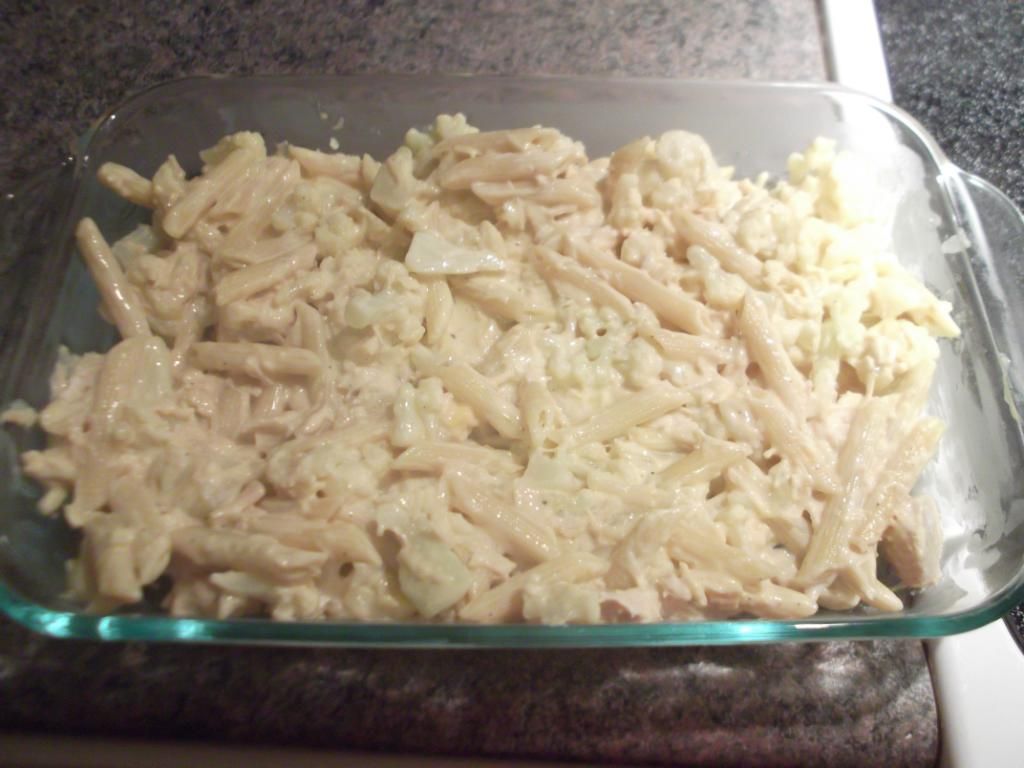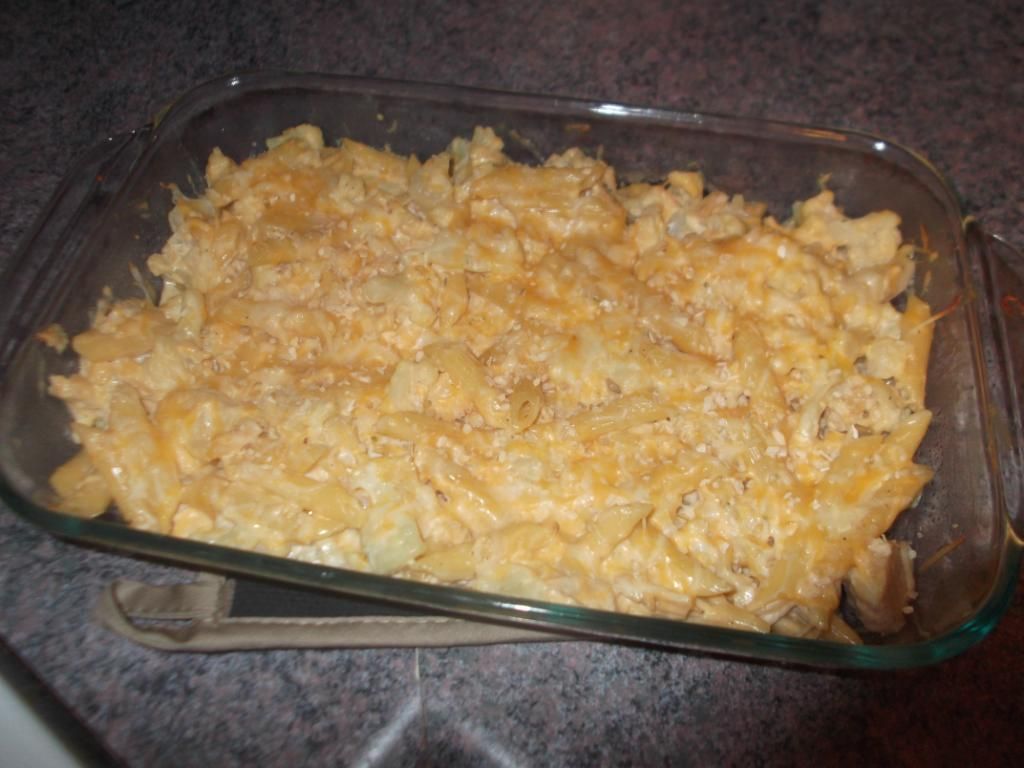 Ta-daa!