Soul food is one of my dirty obsessions. The awesome boyfriend comes from a family of amazing cooks and on Christmas I eat my body weight in mac and cheese, cornbread, sweet potatoes, coconut cake, and other carby deliciousness. The other 364 days of the year I quench my soul food thirst with options that are more sensible and won't completely blow my diet. Lucky for me there are lots of amazing choices.
I love ribs. Actually, I love pork in general but there is something special about a rack of ribs that has been slow roasting all day. There's an awesome sports bar (
Big Play Sports Bar
in College Park) across the street from my office and I like to sneak over there on Fridays for ribs and greens. I get the BBQ sauce on the side, plus a little hot wing sauce. Barbecue sauce is mostly sugar, unfortunately, so getting it on the ribs can turn an okay meal into a bad one. A rack of ribs comes with two sides so the awesome boyfriend and I can split it and both have a good lunch. Let me caution you that ribs do have a lot of calories. There's a misconception among low carbers that you can gorge yourself on as much meat as you want and still lose weight. This is true up to a point, but everything has limits. If you're eating 5,000 calories a day you're not going to lose not matter what it is you're loading up on. Naked ribs are a great low carb choice, but please practice moderation and don't eat a rack for lunch and another for dinner on a daily basis.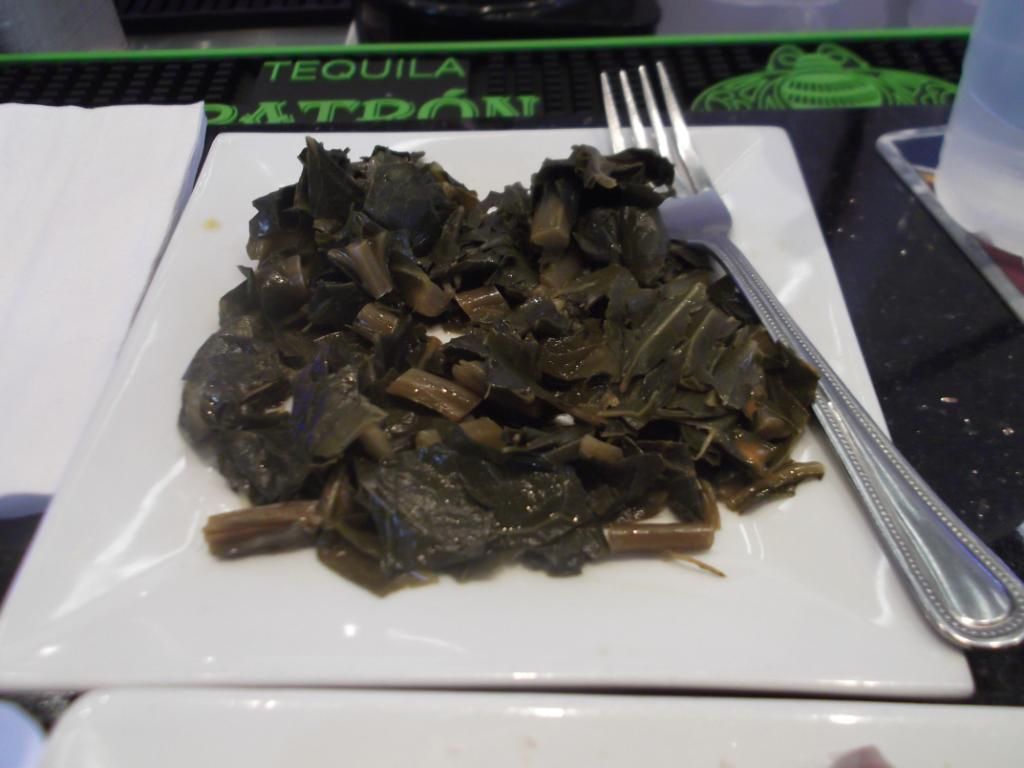 Another menu item at Big Play Sports Bar that is truly tasty is the collard greens. I posted a recipe for
Creamy Collards
yesterday that is delicious, but I have to hang my head and admit that these are better. I don't know what they do to these greens to create such a perfect salty, vinegary flavor. They wouldn't give up the recipe, but one of the owners did tell me that it was a family recipe from Georgia. If you're in the area and you have a hankering for some southern love, I highly recommend you schedule a trip to sample for yourself.