I've been doing a lot with turkey cutlets lately. They are a little bit more expensive than chicken cutlets, but they are much easier to work with. The shape tends to be more uniform and the cutlets are less slimy than chicken which makes them easier to roll or lay in a pan or whatever you happen to be doing.
I think we've established by now that I love pizza. It's one of my
trigger foods
, which means that when I start eating it I cannot stop. Pizza is one of the only meals that I truly miss from before I embraced a low carb lifestyle. You'll find low carb
pizza
recipes
popping
up here from time to time because I'm trying to
get my fix
. These little turkey pizzas are easy to make and totally tasty for when you need some cheesy goodness.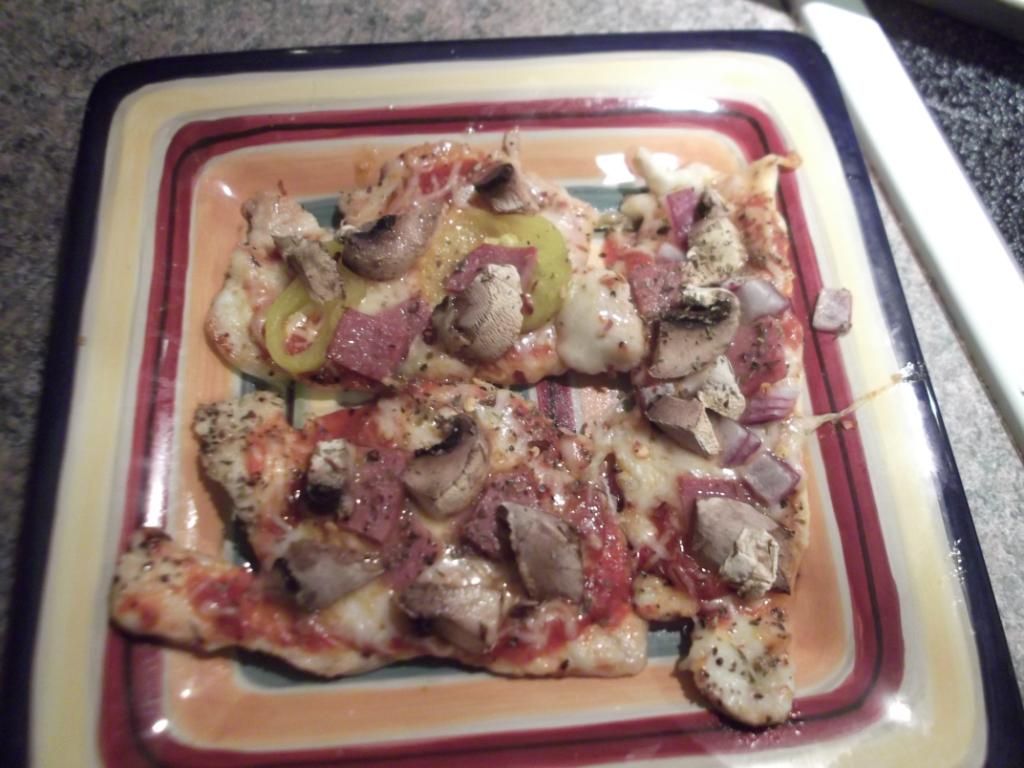 Ingredients
1 lb turkey cutlets
salt and pepper
2 Tbsp olive oil
1 packet Italian seasoning
4 Tbsp pizza sauce
2 C shredded mozzarella cheese
whatever toppings you like
Directions
Preheat oven to 350.
Lay turkey cutlets out on a plate and sprinkle both sides with salt and pepper.
Heat olive oil in a large skillet over medium high.
Once oil is hot lay turkey cutlets in skillet and cook for 1-2 minutes on each side. Turkey does not have to be cooked all the way through, but there should be no visible pink.
Remove turkey cutlets from pan and lay on a paper towel to drain for 3-5 minutes.
Spread turkey cutlets out on a baking sheet and top each cutlet with a spoonful of pizza sauce.
Layer shredded mozzarella over pizza sauce.
Place whatever toppings you like over shredded mozzarella.
Sprinkle Italian seasoning over entire pan of turkey pizzas.
Bake at 350 for 15-20 minutes. Toppings should be cooked through and cheese should be bubbly when turkey pizzas are finished.
Notes
The measurements listed above are approximate. When I made this recipe I just spooned sauce and sprinkled cheese over the turkey cutlets. Use as much as you feel good about.
We topped our turkey pizzas with whatever we had lying around in the fridge: banana peppers, onions, mushrooms, and salami.
After you cook your turkey cutlets in the skillet make sure to let them drain long enough for some of the moisture to wick away, otherwise you'll have turkey soup when you put these in the oven.