Super cheesy and delicious. We couldn't stop eating it!
Another one of my embarrassing food secrets is how much I love pizza. I can easily eat 4-6 slices in one sitting, which is why it's better for me to just stay away. There are a couple of wonderful pizza places near my house that awesome boyfriend and I like to visit when we are having a cheat day, but we've had a couple in the last few weeks and won't be eligible for another one for quite some time. This recipe is pizzalicious and extremely filling. We didn't even miss the pizza crust!
Awesome boyfriend doesn't like mushrooms so last time I made this I baked two separate casseroles- one with and one without. Because you stir all the ingredients together it's hard to keep them on just one half. Feel free to experiment with other toppings of your choice. I was thinking that this would be tasty with bacon or banana peppers.
Ingredients
(
click here for detailed grocery list with pictures
)
1 pound Italian sausage
4 ounces pepperoni**
8 ounces sliced mushrooms
4 eggs
1/2 C heavy cream
1/2 C pizza sauce from jar**
1/2 tsp oregano
1/2 tsp garlic powder
1/2 of 1 green bell pepper
1/2 of 1 red onion
8 ounces shredded mozzarella cheese
crushed red pepper to taste
Directions
Preheat oven to 350 degrees.
Heat a skillet over medium high and spray with cooking spray.
Add mushrooms to skillet.
Cut Italian sausage into slices with a sharp knife or kitchen shears.
Add Italian sausage to skillet with mushrooms and stir with a rubber spatula.
While sausage and mushrooms are cooking, add eggs, cream, pizza sauce, oregano, and garlic powder to a medium sized bowl and whisk together.
Butter a 9x9 or larger baking dish. I love my Pyrex dishes, but a metal pan will work as well.
Once sausage and mushrooms are cooked through, drain (if needed) and add to baking dish.
Cut pepperoni into bite size pieces and add to baking dish.
Pour egg mixture into baking dish on top of meat ingredients.
Slice green bell pepper and red onion into bite sizes pieces and add to baking dish.
Add shredded mozzarella cheese to baking dish.
Fold all ingredients with a rubber spatula until incorporated evenly throughout dish.
Sprinkle top of casserole with additional oregano and crushed red pepper if desired.
Bake for 50 minutes. When casserole is done, stick a knife in the middle and it should come out clean. If not, bake for an additional 10 minutes.
Let casserole rest for 10 minutes before cutting.
Serve with hot sauce, garlic powder, Parmesan, or whatever other pizza toppings you like. Enjoy!
Notes
I really wanted to use mini pepperonis for this dish but I couldn't find them. I cut the big ones into smaller pieces with kitchen shears.
If you prefer to make your own pizza sauce feel free, but I just don't think it's worth the effort. Pizza sauce can have a lot of carbs so make sure you check your labels! I usually get the kind by Ragu that comes in a jar with a green label. It's the lowest carb one I've found. Your local grocery store should carry it in the aisle with the spaghetti sauce and pasta.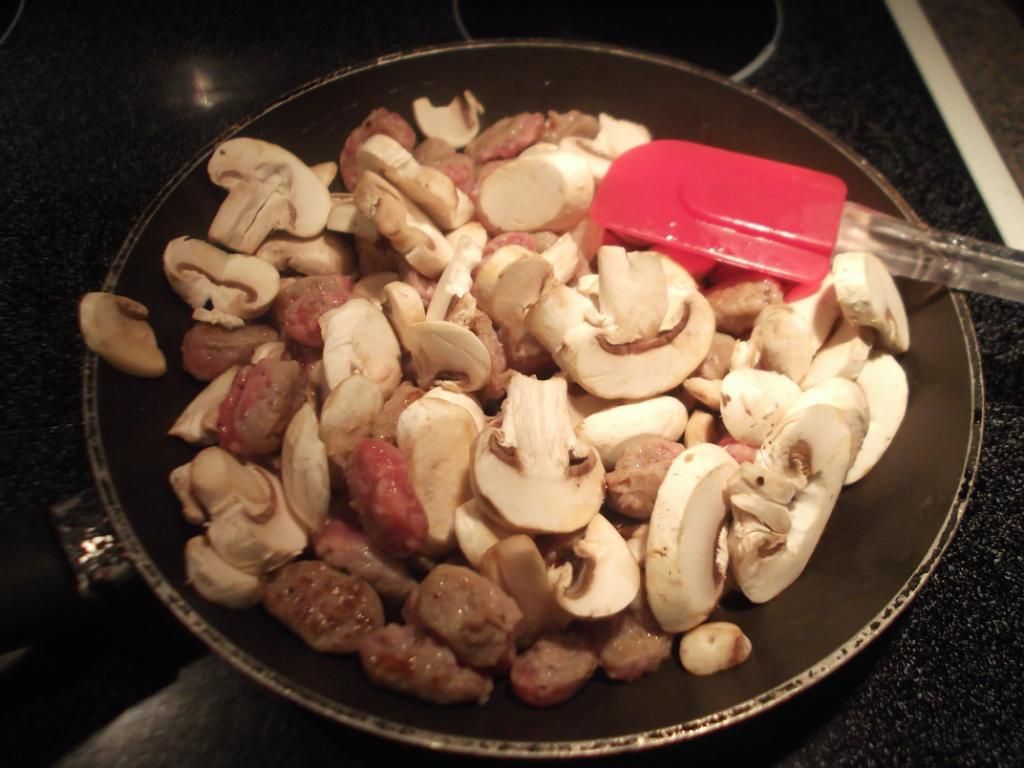 mushrooms and sausage
Bonus- this dish reheats very well in the microwave. It's a
great one to take for lunch.