I think we've established by now that I am a highly lazy person. Salads are absolutely included in this. Making a salad from whole ingredients is way too much work. I know that there are people out there who will disagree with me and talk about the values of super fresh vegetables, but I just can't do it. I've been eating bag salads for as long as I can remember. Now, they even have bag salads with extra veggies that might have things like snap peas and cherry tomatoes, for people like me that really don't want to do any work. Just add some goat cheese crumbles and dressing and you're done.
When I switched to a low carb diet, bag salads were one of the things that I was most sad to see go. Most of them have some form of dried fruit and a dressing with hidden sugar like a raspberry vinaigrette or a honey mustard. If I was in a pinch in the morning, I would just take one along with me to work and have the whole thing for lunch- which is not too terrible calorie wise but can have as many as 40 carbs.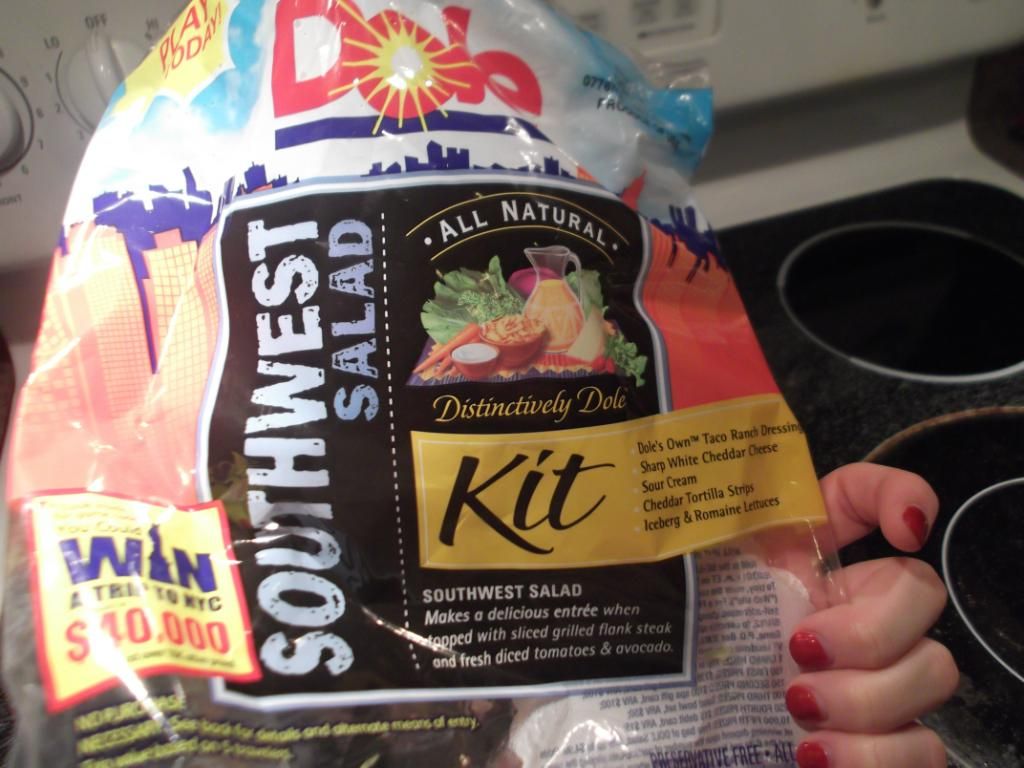 I'm not sure exactly why I wandered over to the bag salads and wistfully started checking nutrition facts but boy am I glad I did. Enter this little gem- Southwest Salad Kit by Dole.
In this bag you get lettuce, a little packet of white cheddar cheese, tortilla strips, sour cream, and a super delicious taco ranch dressing. I never even picked this one up to check before because I assumed that the tortilla strips would push it way beyond allowable carbs.
The only drawback is that the serving size is small- about 1 C. Good news is that there are only 8 carbs in that one C of this crunchy salad! Ranch dressings are generally low in carbs, so I'm pretty sure that most of the carbs in this bag are coming from the tortilla strips. I'm contacting Dole to see if I can get some more information on this for you all. I'm betting that you could throw out the tortilla strips and use some sunflower seeds instead and still get that fantastic crunchy texture. Lunch time bag salads are back!
Awesome boyfriend and I had these salads last night while we were waiting for our
flank steak
to finish cooking. We decided that the taco ranch dressing really tastes like a taco. Next time I make these I'm going to add some ground beef and salsa to the mix and serve them as a dinner salad. Yum.