If you've been reading for a while then you're sure to remember the original recipe for
Pizza Casserole
. It is a favorite of mine and awesome boyfriend requests it pretty frequently. You may be thinking, why mess up a good thing? The answer is you, lovely readers. I've been getting lots of emails regarding the many faux pizza crust recipes that are out there. I decided to take a crack at creating one myself. I will tell you that this 'crust' still required a fork, so if you're looking for a low carb pizza to eat by hand, I haven't gotten there yet. The consistency of this pizza was good, and it was nice to have something a little bread-y on the bottom. We'll be having this one again.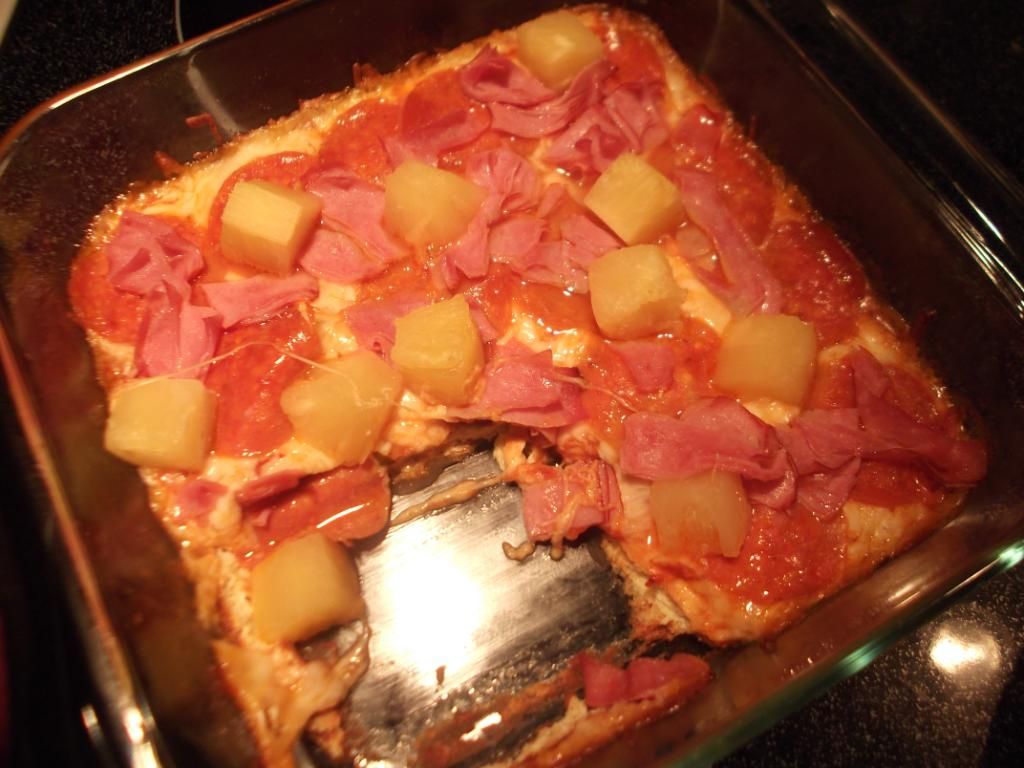 Ingredients
1- 18 oz package of cream cheese
2 eggs
1 C shredded Parmesan cheese
1 tsp black pepper
1/2 tsp cream of tartar
1 tsp garlic powder
1 tsp crushed red pepper
1/2 C marinara sauce
2 C shredded Mozzarella cheese
ham
pepperoni
1/2 of 1 small can pineapple chunks
Directions
Preheat oven to 400 degrees
Place cream cheese in a microwave for 30 seconds, or long enough to bring it to room temperature.
Add cream cheese, eggs, Parmesan cheese, cream of tartar, and black pepper to a large bowl.
Beat cream cheese mixture with a whisk or an electric mixer until you have a smooth consistency.
Grease a glass baking dish with butter or cooking spray.
Pour cream cheese mixture into baking dish and spread out with a spatula until you have a flat surface.
Bake the cream cheese crust in the oven for 20 minutes, until top of crust has toasted.
Remove crust from oven and pop any large air bubbles with a fork. Let crust cool for 5 minutes.
Top crust with marinara sauce. Spread evenly with a rubber spatula.
Spread cheese over marinara sauce. Make sure casserole is completely covered with cheese.
Tear ham into small pieces. Top pizza with ham and pepperonis.
Remove pineapple from can and drain. Place half of pineapple chunks on the pizza and discard the remainder.
Sprinkle pizza with garlic powder and crushed red pepper.
Bake pizza for 10 minutes, or until cheese is melted.
Let cool for 5 minutes before serving.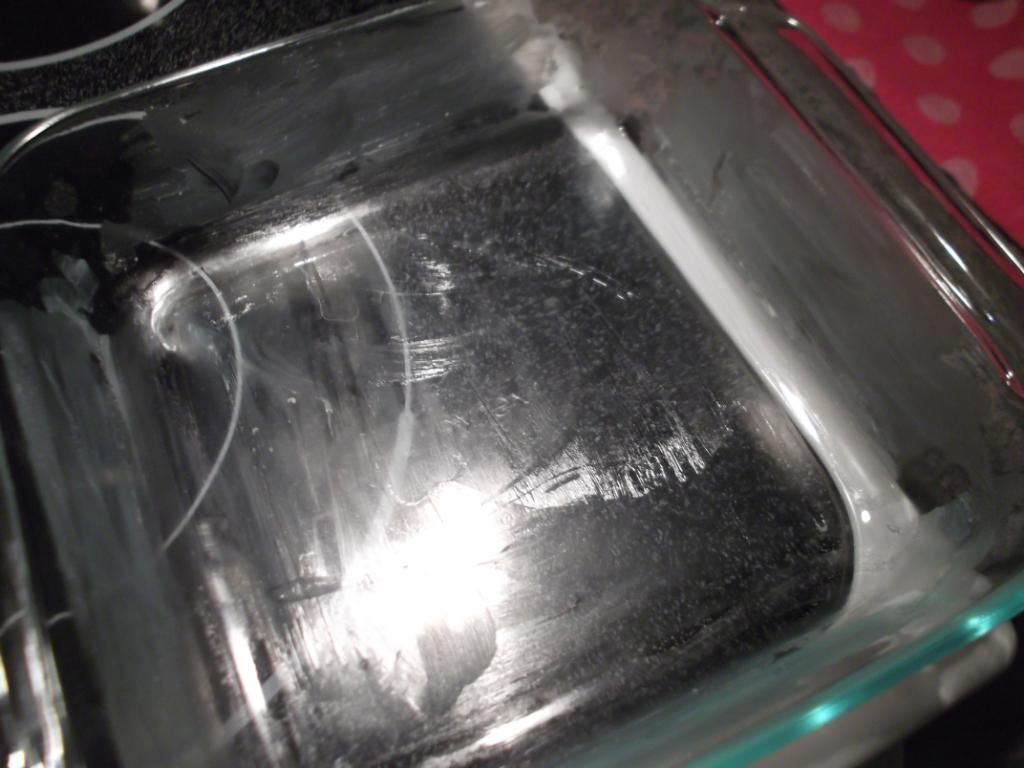 I love my Pyrex.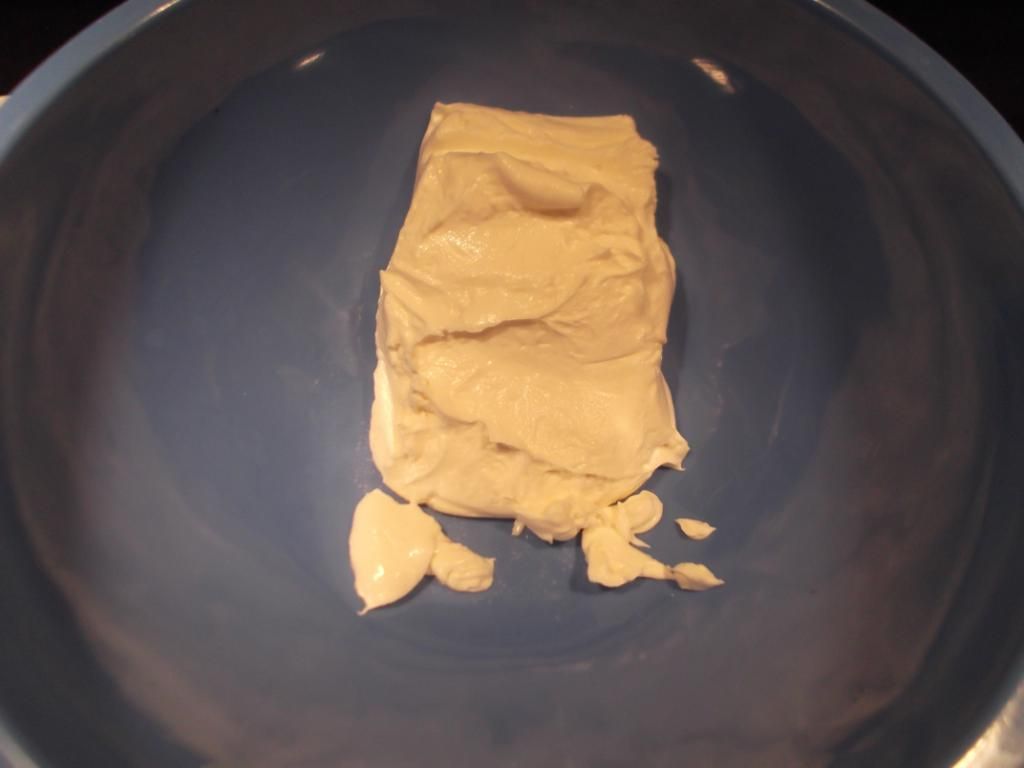 I generally melt my cream cheese for about 30 seconds. It doesn't have
to be super warm, just melted enough to get a spoon through easily.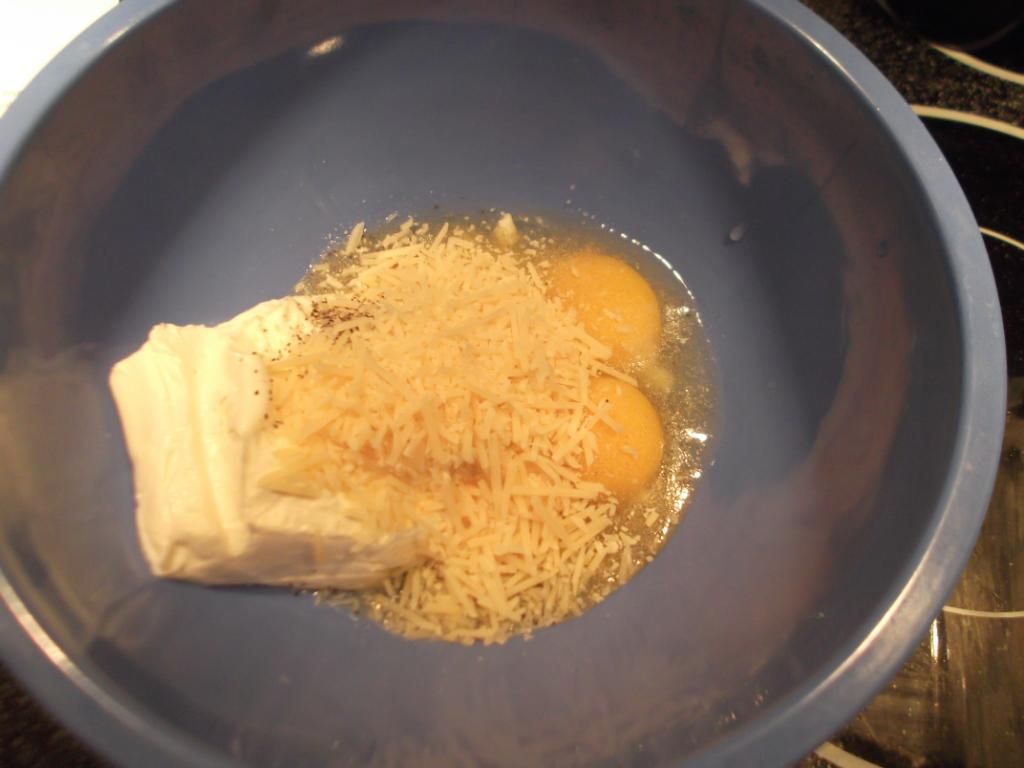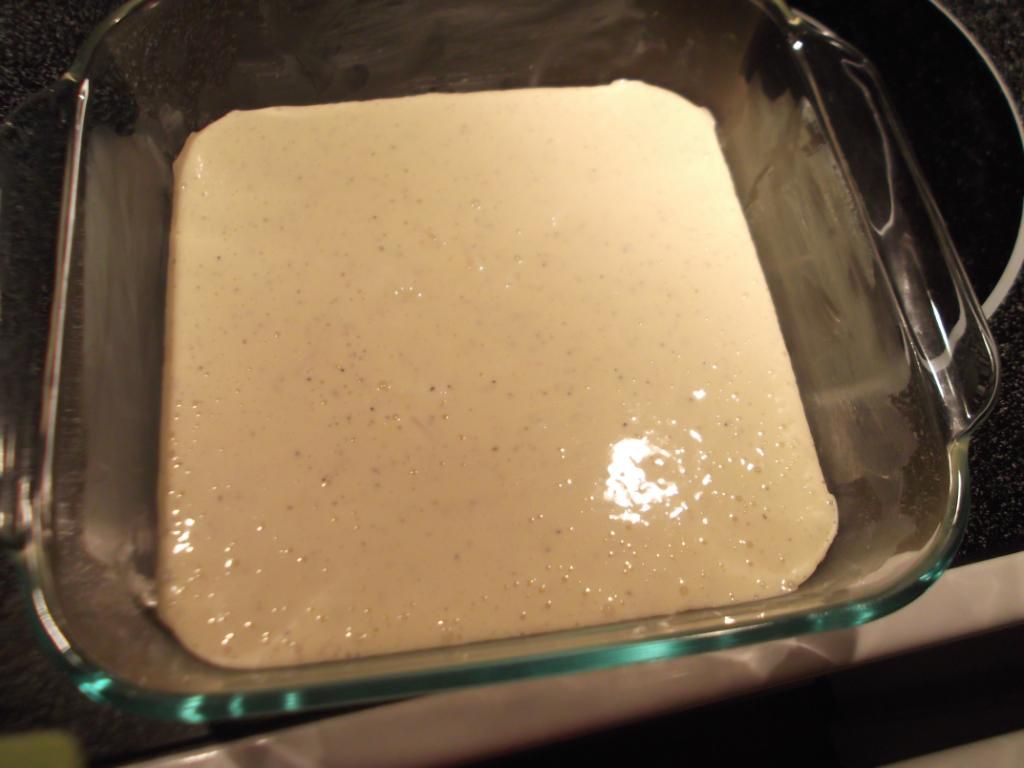 This reminds me of the skepticism I felt the first time I made Atkins
Revolution Rolls. How is something so wet going to turn into bread?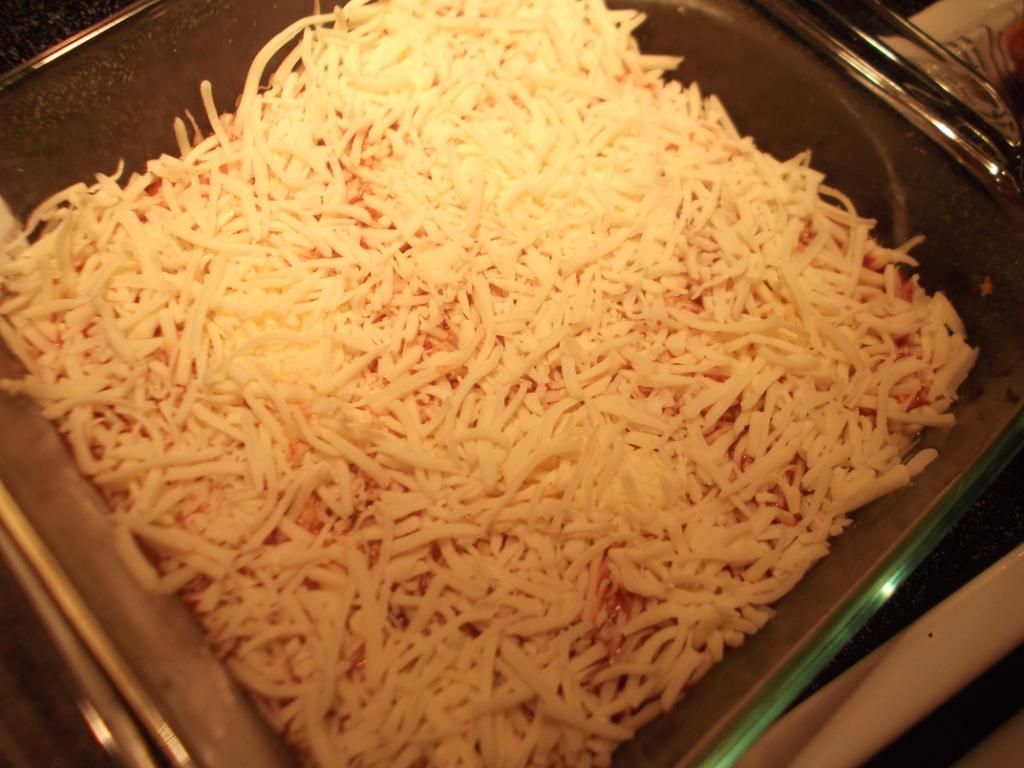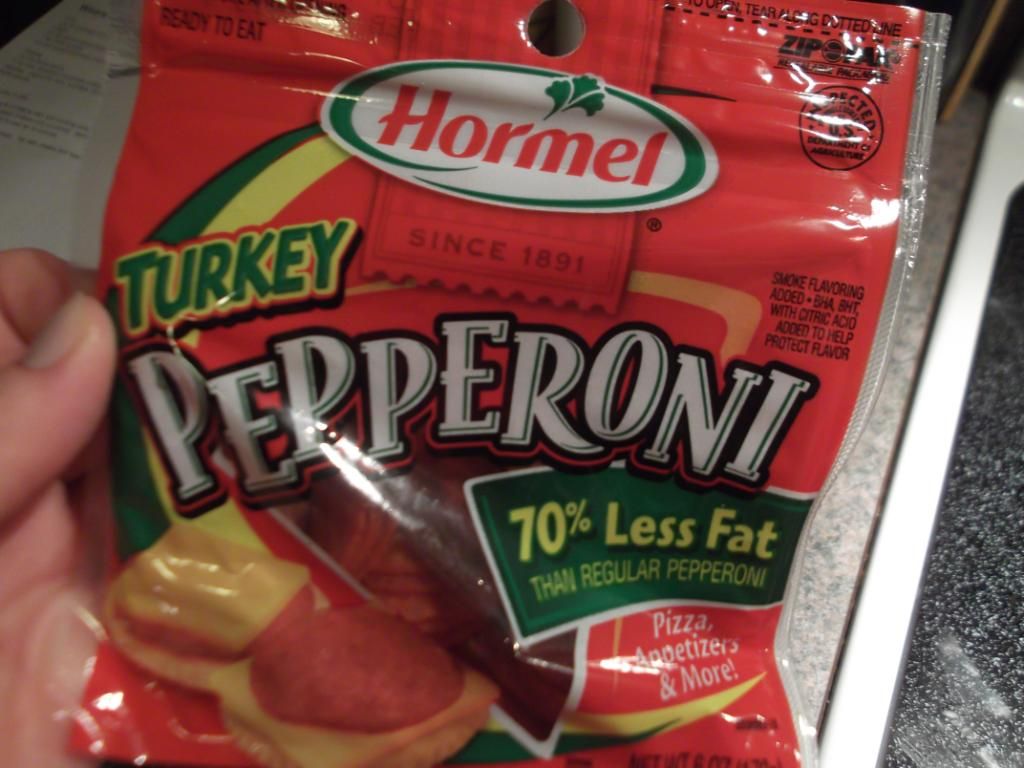 I accidentally bought turkey pepperonis. They are NOT as good as
regular ones, but we survived.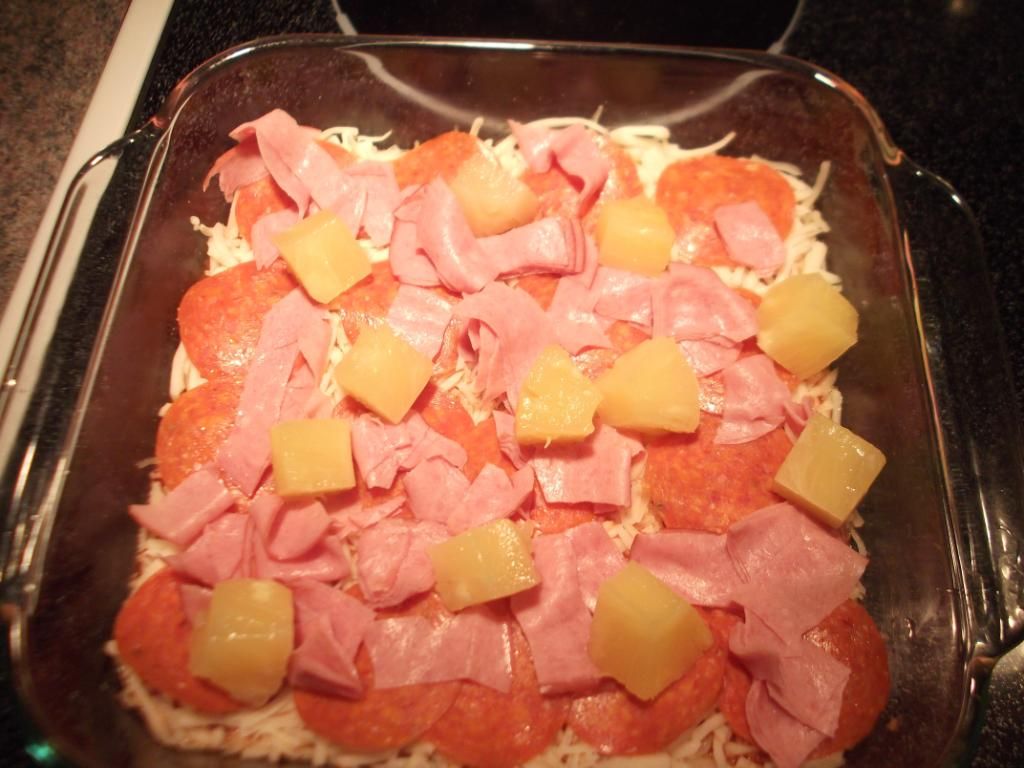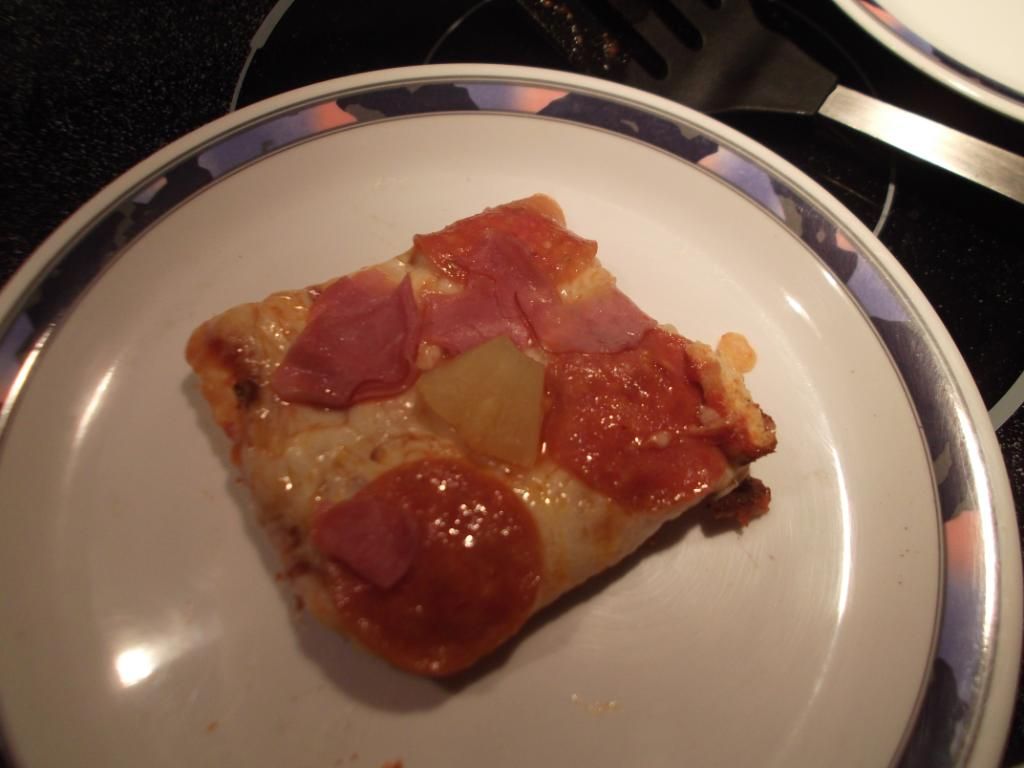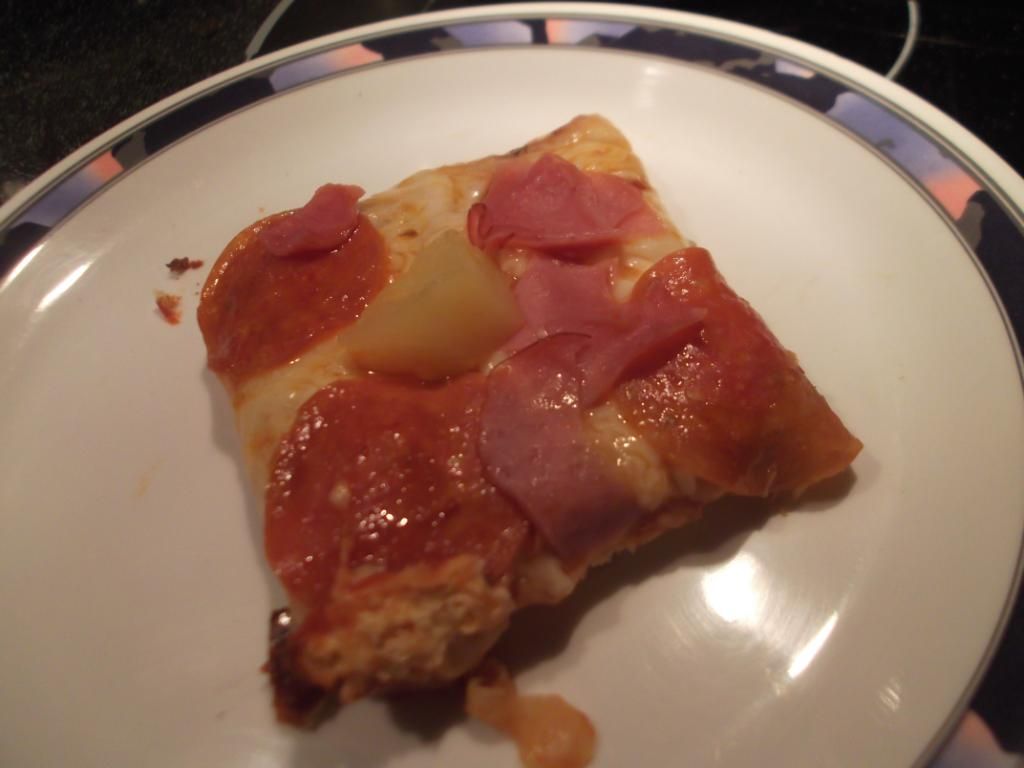 Yum! We both went back for seconds.