Breakfast
2 eggs scrambled with salt and pepper
2 sheets
Steak-umms
cooked with salt and pepper
1/2 Tbsp ketchup
coffee with 1 Tbsp heavy cream
Lunch
one
Tortilla Pizza
topped with
shredded mozzarella cheddar blend
pepperonis
chopped broccoli
cooked in toaster oven
A friend from North Carolina came to visit for the weekend!
Dinner
(out at
DuClaw Brewing Company
in Hanover, MD)
lamb burger, no bun with lettuce, tomato, onion
cucumber yogurt sauce
side of cauliflower mash
1 draft beer: Bare Ass Blonde Ale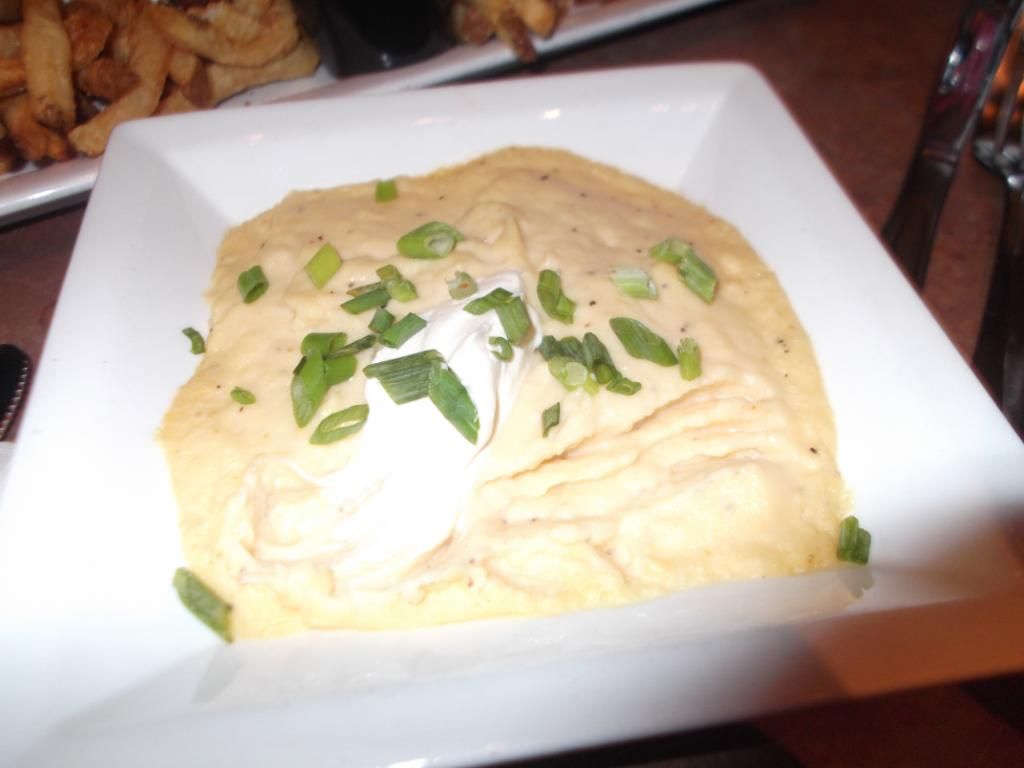 Cauliflower mash. I tried to recreate this at home
but have had pitiful results so far.
DuClaw is an awesome brewery that is in and around Baltimore, Maryland. We have one about ten minutes from our house and it just happens to be next to a
Dave and Buster's
and a movie theater so we find ourselves there about once a month.
There are a couple of reasons why I like this place so much. One is that they have LOTS of seasonal beers that are rotated in and out during the year. There is often something new to try when we stop in. Another thing that I love about DuClaw is the huge menu.
Awesome boyfriend and I have been there many times and there is always something to eat that I haven't tried yet. There's nothing worse than going to a bar and the only thing you can eat is a burger no bun with a side of coleslaw or a pitiful pile of lettuce and tomatoes. DuClaw has lots of low carb friendly menu options including: seaweed salad, asparagus, garlic broccoli, grilled zucchini, and cauliflower mash. There's also a roasted Mediterranean vegetable medley that has eggplant and olives. Some of the menu items are a little bit pricier than other sports bars, which is the only reason we don't go there more often. To me, the cost is worth being able to have a wide range of choices from a restaurant menu. If you're ever in the Baltimore area, I highly recommend you stop by one of these for a beer and a bite.
Water
80 ounces
Exercise
none today
Supplements
fish oil
one a day multivitamin
fiber
caffeine
green tea extract
Glutamine