There are not words for how happy it makes me when restaurants make their nutrition stats available online. Eating out is bad for you. Like, really bad for you. Have you ever heard someone on a new diet complain about how they have to cook all their food at home? It's because dining out is a refined flour and sugar minefield. When restaurants make their nutritional stats available it makes the minefield easier to navigate.
Some restaurants
(I'm looking at you, Panera Bread...)
like to pretend like they are serving health food by talking about fresh ingredients and hormone free chicken*. After all, how bad can a turkey sandwich be? It's not like you're having a cheeseburger for lunch. A turkey sandwich can be really bad, it turns out. The Sierra Turkey Sandwich at Panera has almost 1,000 calories and 80 grams of carbohydrate. Even with nutrition stats available online, some people are tricked into thinking that menu items are healthy when they are not.
If a restaurant wants to offer 1,200 calorie meals that is their prerogative. People are going to buy them, after all, and there's nothing wrong with that, in moderation. I, myself thoroughly enjoy a bacon cheeseburger with a side of cheesy sweet potato fries. I believe that completely depriving yourself of something you love is a path to failure for most people, and that we should live a little from time to time. But if I'm going to spend a cheat day eating junk food then, dammit, I want some real junk food. Nothing gets me more hopping mad than restaurants parading junk food around like it's health food.
All of the above are why I am so glad the awesome boyfriend and I stumbled into
Uno Chicago Grill
for dinner this weekend. I was bored with our usual places and wanting to go somewhere new. I remembered that there is an Uno around the corner and pulled up the
menu online
. I was pleased to find a Gluten Free menu, although gluten free breads still have a lot of carbs so I tend to stay away from them. The real surprise came when I clicked on the
Nutrition tab
and found out that the menu is divided into happy little categories including: less than 500 calories, greater than 30g protein, and
less than 30 carbohydrates
.
After perusing this little corner of the menu that was set aside just for me, I decided to go with the
Baked Stuffed Spinoccoli
. This dish is supposed to come with 2 sides, but the roasted vegetables were calling my name so I asked for double veggies and a side of marinara for dipping.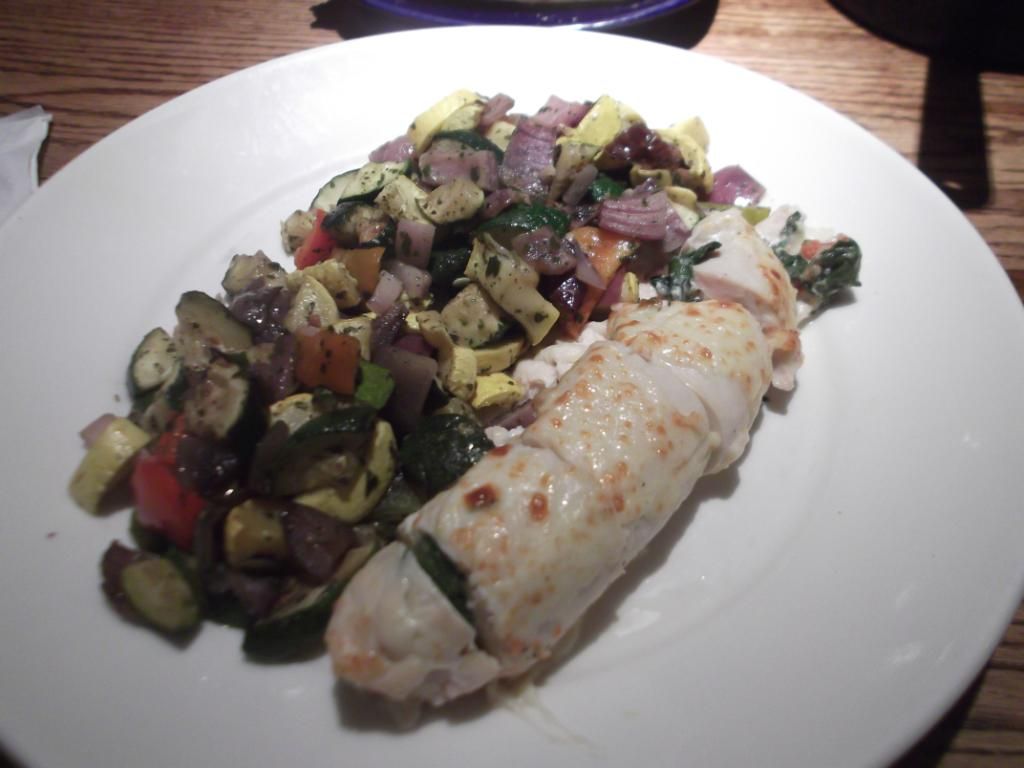 You can see from the picture that this meal brought a huge portion. I immediately asked for a box and put half of it away for later. The chicken is stuffed with spinach, tomatoes, garlic, and different cheeses. It was delicious, and filling, and made me a very happy girl. I was so impressed with the quality of the food that I stopped to tell the manager on the way out. It's not often that I feel like I get such a complete meal at a chain restaurant.
The awesome boyfriend and I will be visiting again soon because there are several other items on the low carb menu that I want to try. I almost ordered the Chimichurri steak, and there is also a blackened Cajun salmon that sounds tempting. This may be the first time ever that I plug a pizza place on this blog, but if there's an Uno Chicago Grill in your area it's definitely worth a visit.
*Hormone free chicken is important, and don't think that I'm knocking it. It is not, however, a cure all that will magically turn an unhealthy meal into a healthy one.