Y'all should know by now that I have a serious
aversion to throwing away food
. I think it goes back to my early 20's when I was waiting tables/bar tending/(insert random odd job here) and barely making ends meet. I used to save little leftover bites from everywhere and eat them, dammit, because there wasn't always money in my bank account to go buy more chicken breasts at the grocery store. Now I have a job that pays me enough to buy groceries whenever I want, and I am a much more savvy shopper, but I still get a little twinge of regret when I toss something that could have been eaten.
This twinge has caused me to create some very tasty dishes from odds and ends, and this breakfast pizza is one of them. Nutrition stats will vary based on your toppings. If you make sure to choose a crust that is low in carbohydrates and calories, and don't get too heavy handed with the cheese, you should be fine.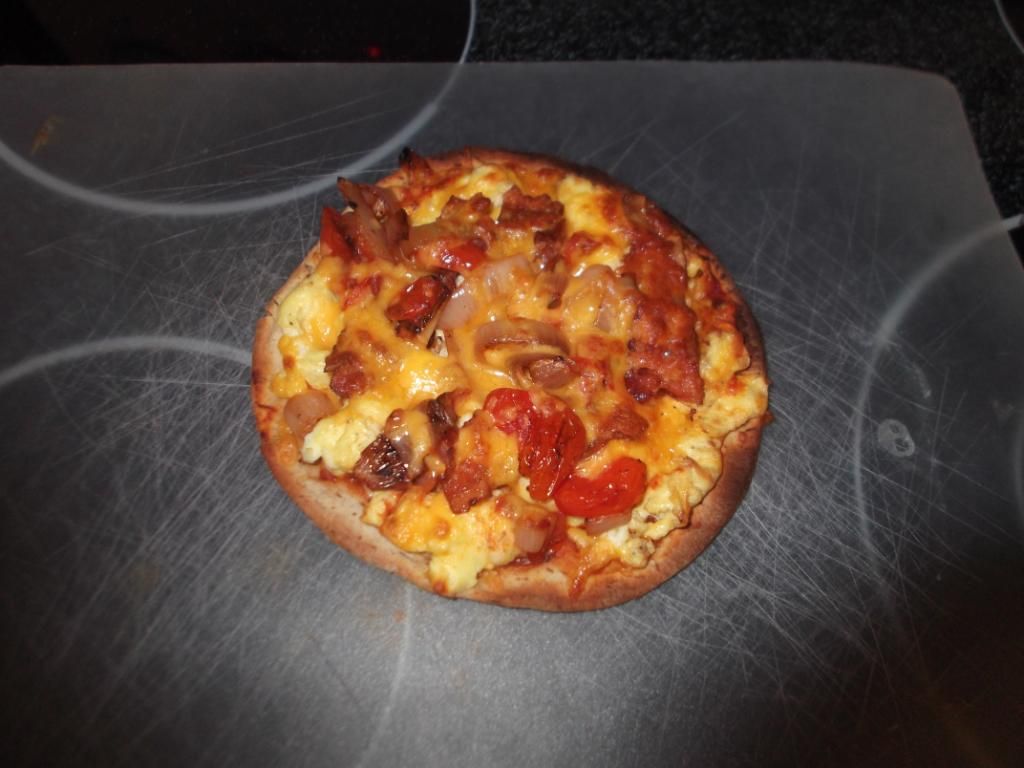 The beauty of the breakfast pizza is that you can make it from almost anything. You do need an egg, some cheese, and some form of crust, but you can throw whatever you want on top. Asparagus? Good. Grilled chicken? Good. Green onions? Good.
For this pizza I started with a flax pita from
Joseph's Bakery
. I crisped it in the oven for about a minute then added a spoonful of low carb barbecue sauce. I scrambled an egg and spread that on top, along with a piece of bacon that I stole from the awesome boyfriend. I had some leftover sauteed veggies (peppers, tomatoes, onions, garlic) that I spread over the egg, and then I sprinkled a small handful of shredded cheddar over the whole thing. I baked it under the broiler for a couple of minutes and removed it when the cheese was bubbly. Total cooking time? About ten minutes. Voila!