That
spaghetti squash that I made
a few days ago is a gift that keeps on giving. One serving of spaghetti squash is about one Cup so a medium sized squash will yield several servings. The awesome boyfriend is not crazy about spaghetti squash which means more for me! I finally ate the last of it for lunch yesterday.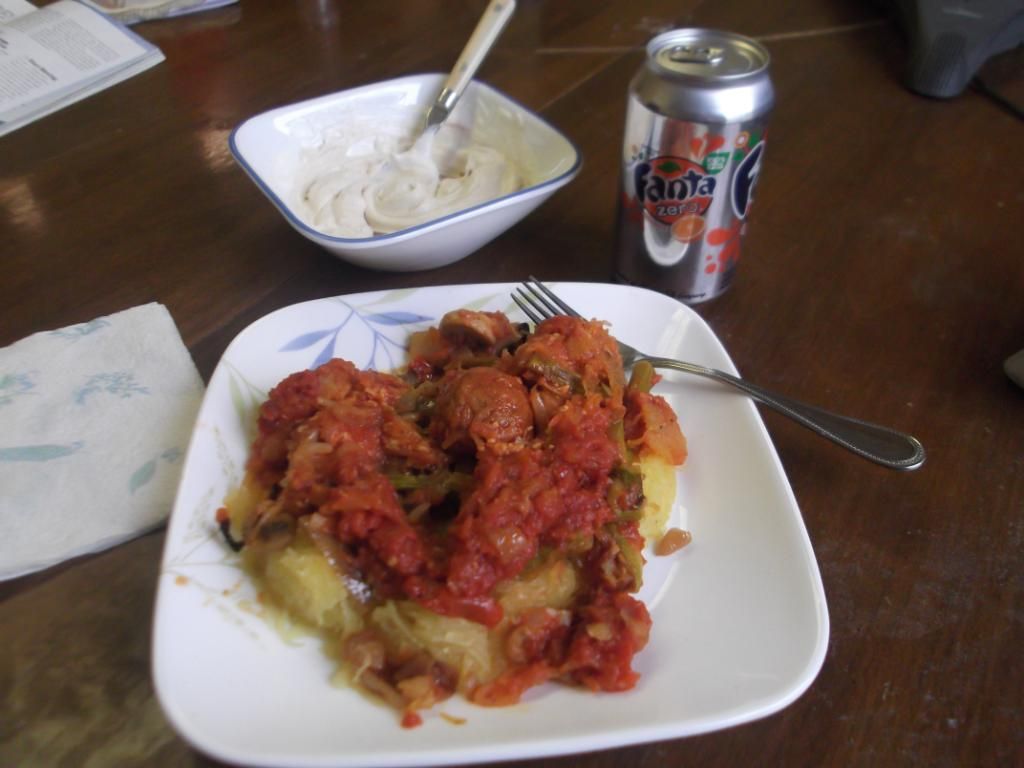 I had a little sauce with roasted veggies leftover and I cooked a couple more frozen meatballs in the microwave. I mixed 1 Cup of fat free Greek yogurt with 1 Tablespoon of peanut butter and ate that on the side for a little something sweet, and some extra protein.
After lunch I met a friend at
Franklin's Brewery
for happy hour. Franklin's is
one of my favorite places
to go for happy hour because they have these sizzling skillet mussels that I adore. It's in Hyattsville, about 6 miles outside of DC, and is truly a hidden gem.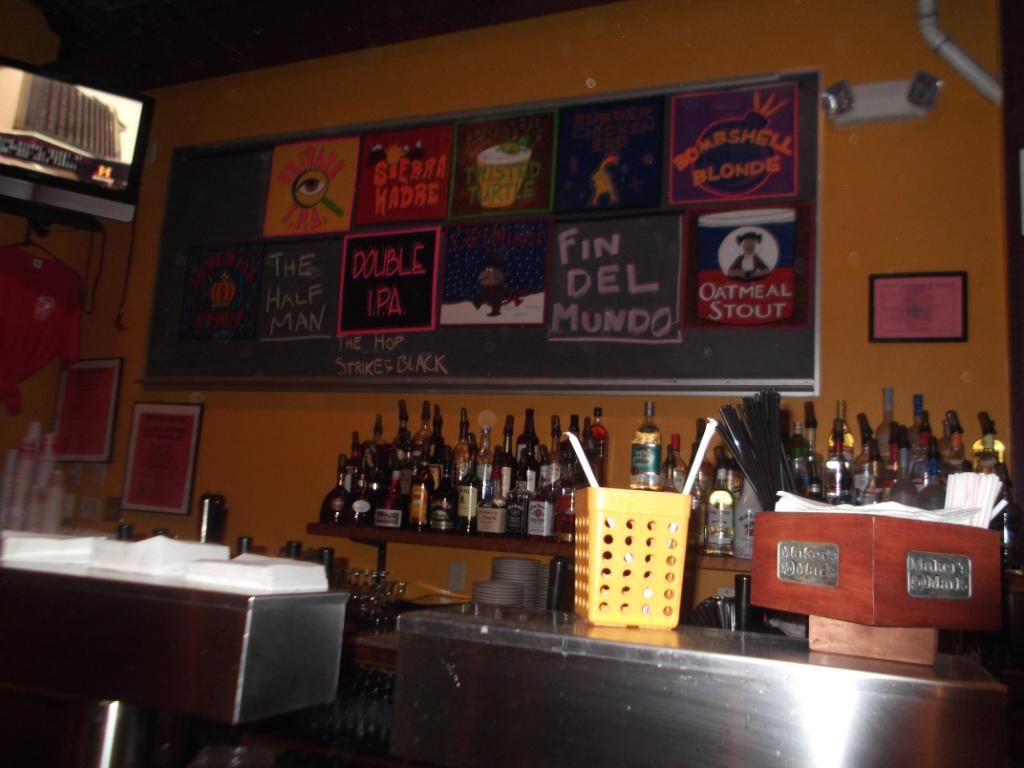 For happy hour I like to order my vodka sodas with lime in a tall glass. I feel like this gives me a little bit more volume and lessens down my alcohol consumption. Alcohol slows down your metabolism and also leads to bad decision making, which means that I am more likely to eat cheese fries or pizza after a few beers.
After happy hour I stopped by the grocery store to pick up some chili for the awesome boyfriend. The Giant grocery store by my house has a good soup and salad bar. They have a really meaty chili that we pick up occasionally when a craving strikes. I grabbed a couple of new and tasty low carb snacks while I was in there.
These salami and mozzarella snacks were very good, although I'm not sure I would spend six dollars on them again. I feel like I could get the same result by wrapping salami around some string cheese.
These chocolates were clearly leftover from Christmas and that is why they were on sale. That, of course, did not stop me from buying a whole bunch. I am quite bummed out about the fact that I can't get them anymore because they were awesome.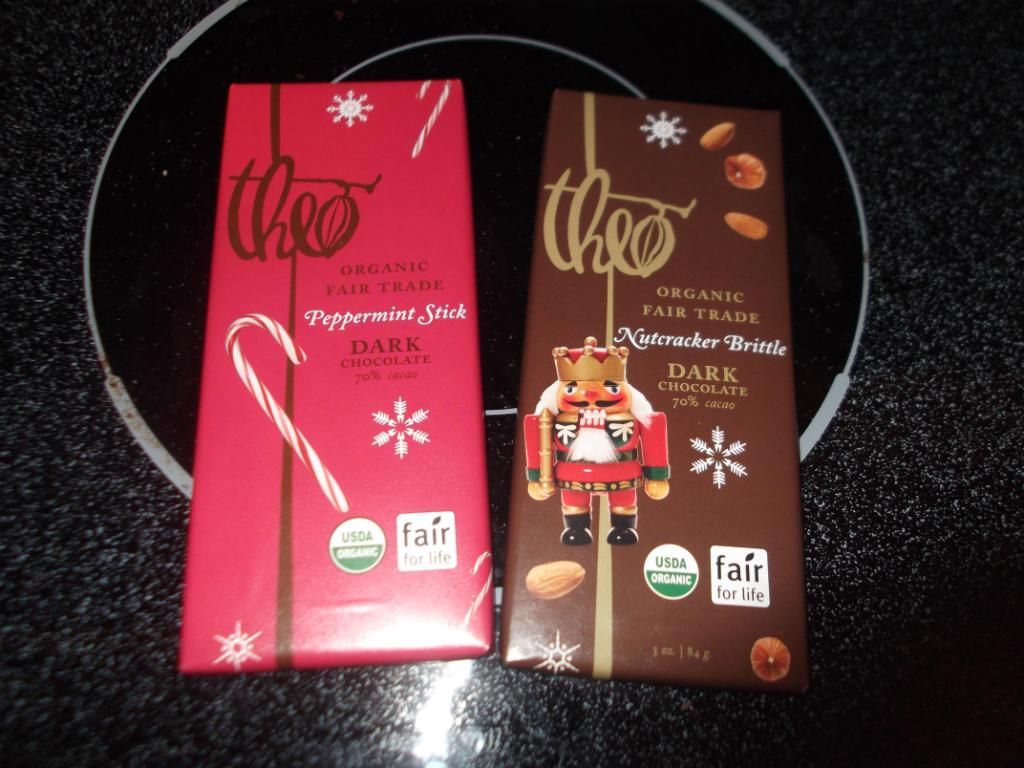 I've never heard of
Theo Chocolate
before, but I did a little research and found out that the company is based in Seattle, and is doing a lot of awesome stuff to support the farmers who produce their cocoa beans. You can read more about this
on their website
. Both the peppermint and the macadamia nut varieties you see here are very good. I'll be keeping an eye out for them when the next holiday season rolls around.
Dark chocolate (over 70%) can be very low in carbs. The nutritional stats can vary based on sugar and other additives so always make sure that you are checking. These bars only had about 7 carbs per serving, and the awesome boyfriend and I found one serving to be enough for the two of us to share. If you are a choco-holic keeping these in the house might represent a significant challenge, so take stock before you bring them home. One of the keys to low carb success is not having your trigger foods within easy reach. We like to have a little nibble after dinner in the evenings and one of these bars will last us about a week, so they are a perfect purchase for me.