This meal sounds way more complicated than it actually is, so it's a good one to serve to people that you want to impress. It seems like you made three dishes but you are really just roasting some veggies in the oven and heating your pasta sauce over the stove top. Spaghetti squash has about
8 net carbs per Cup
so it's not as low as tofu pasta, but it is a good alternative to regular pasta as long as you make sure to measure your servings.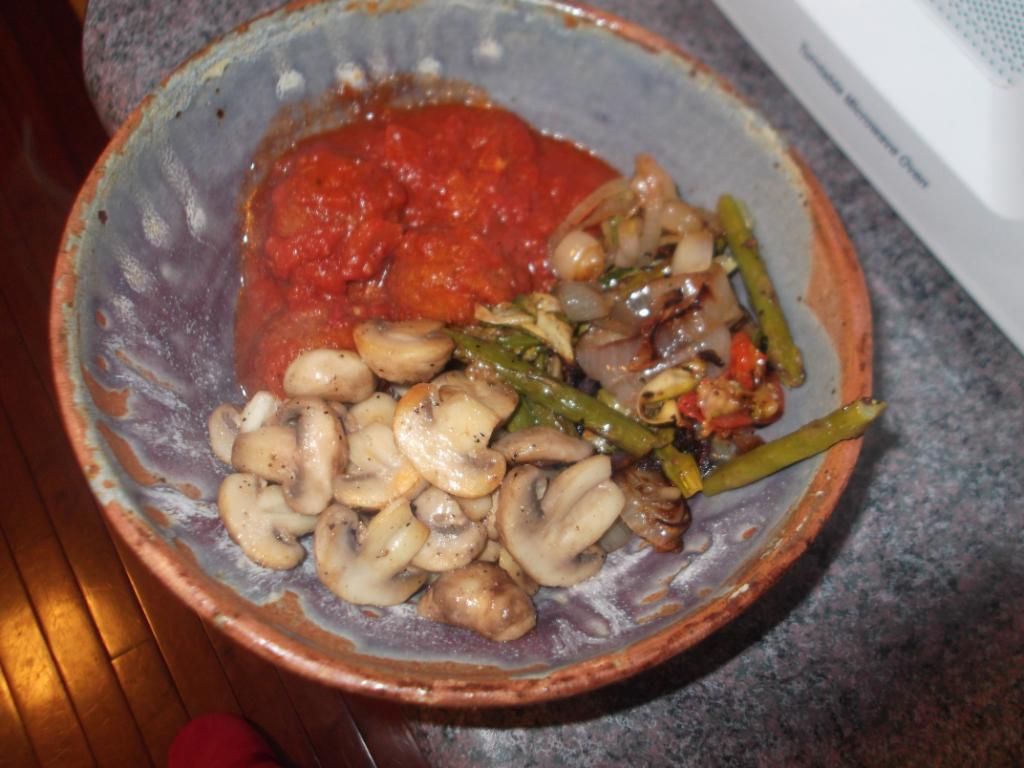 Ingredients
1 spaghetti squash
1 red onion
1/2 of 1 pint cherry tomatoes
1 zucchini
6 asparagus spears
4 oz fresh mushrooms
4 Tbsp olive oil
1 Tbsp salt
1 tsp black pepper
1- 26 ounce jar
low carb spaghetti sauce
1 package frozen meatballs
Directions
Preheat oven to 425.
Cut spaghetti squash in half and remove seeds. Place squash, cut side down, on a baking sheet. Add water to baking sheet until squash is surrounded.
Place squash in oven and roast for 40 minutes.
While squash is roasting, add tomatoes to a large bowl.
Cut onion into bite size pieces and add to bowl.
Cut zucchini into long, thin slices with a vegetable peeler and add to bowl.
Break asparagus spears into thirds and add to bowl.
Add 3 Tbsp olive oil, salt, and pepper to bowl, and toss with hands or wooden spoon until all ingredients are evenly incorporated.
Spread mixed vegetables over a baking sheet and add to oven with spaghetti squash. Veggies should roast for 20 minutes.
While squash and veggies are roasting, add spaghetti sauce and meatballs to a saucepan and heat over medium high. Stir occasionally.
Add remaining 1 Tbsp olive oil to a small skillet and heat over medium.
Slice mushrooms and add to skillet. Saute until mushrooms have browned and softened.
Remove mushrooms and set aside on a paper towel to drain.
Remove vegetables and spaghetti squash from oven.
Hold spaghetti squash with an oven mitt and run a fork down the length to shred the flesh. After you have finished one half repeat with second half.
To serve, add 1 C spaghetti squash to bowl and top with spaghetti sauce and meatballs. Add roasted vegetables next to squash. Add sauteed mushrooms third, next to roasted vegetables.
Top with Parmesan cheese and crushed red pepper if desired.
Notes
I love this recipe because it is easy to have all of the components working at once. If you get the squash started you have 20 minutes to prep your veggies before they go in. Then you have another 20 minutes while the veggies are cooking to get the sauce/meatballs and mushrooms cooking. This is a meal with a lot of complex flavors and it can easily get done in less than an hour.
Preparing a spaghetti squash is a little confusing the first time. I've added a video in case you've never seen it being done before. Skip to 2:45 if you just want to see how to shred it after it comes out of the oven.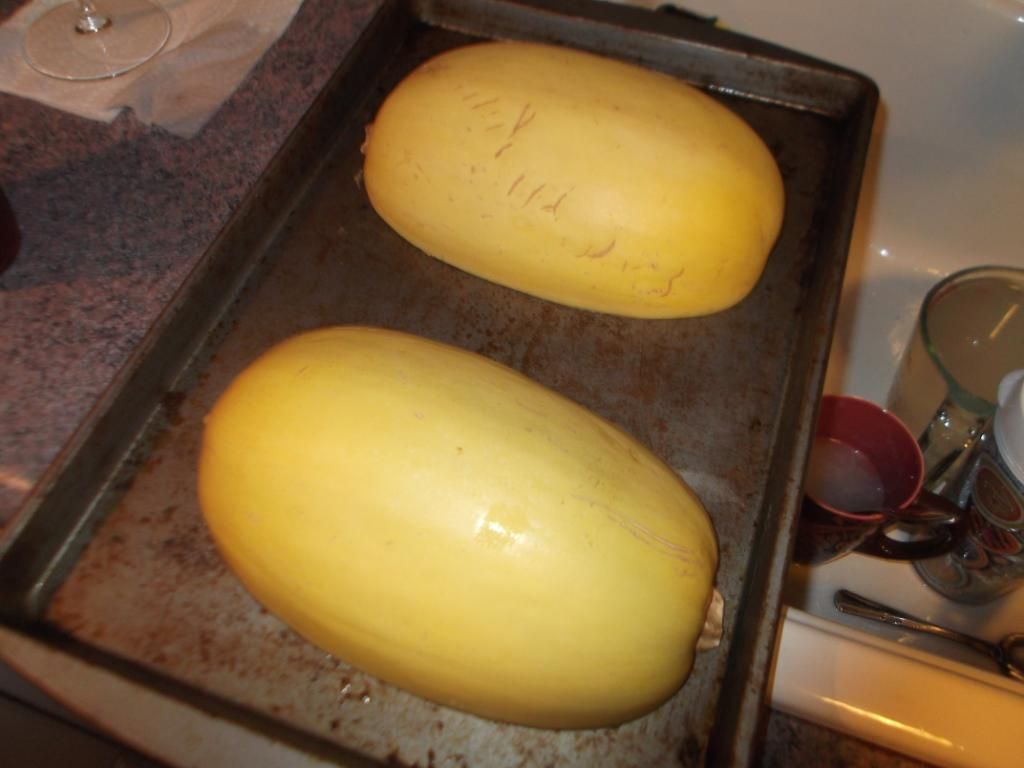 Spaghetti squash going into the oven.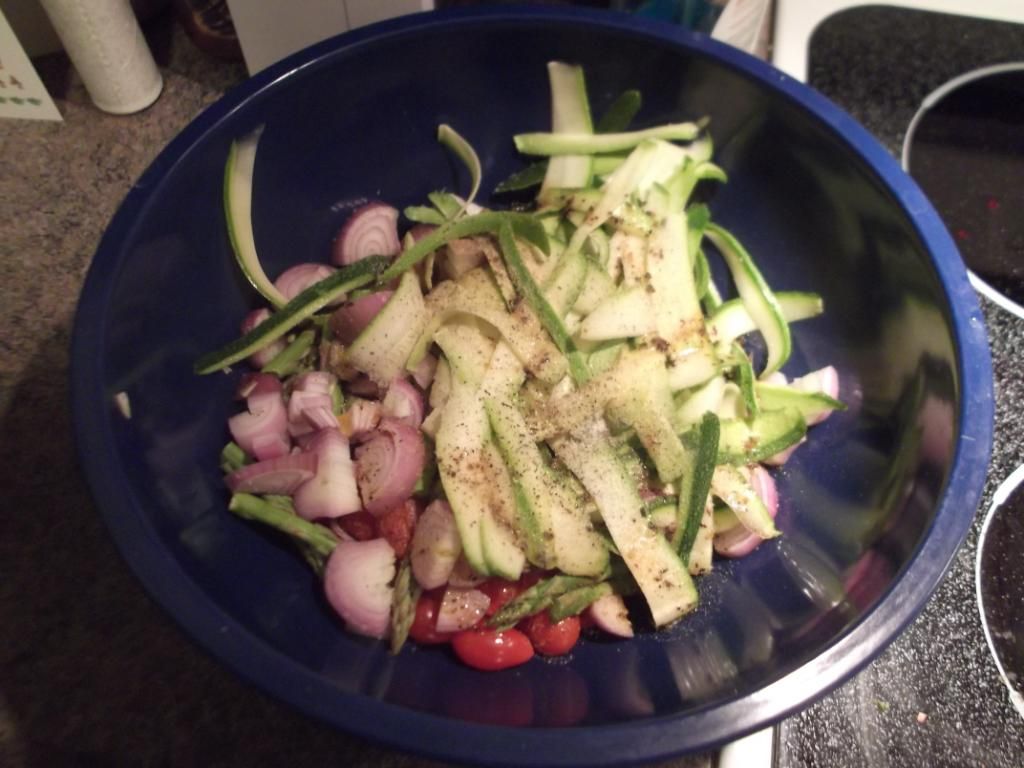 Veggies prepped to be roasted.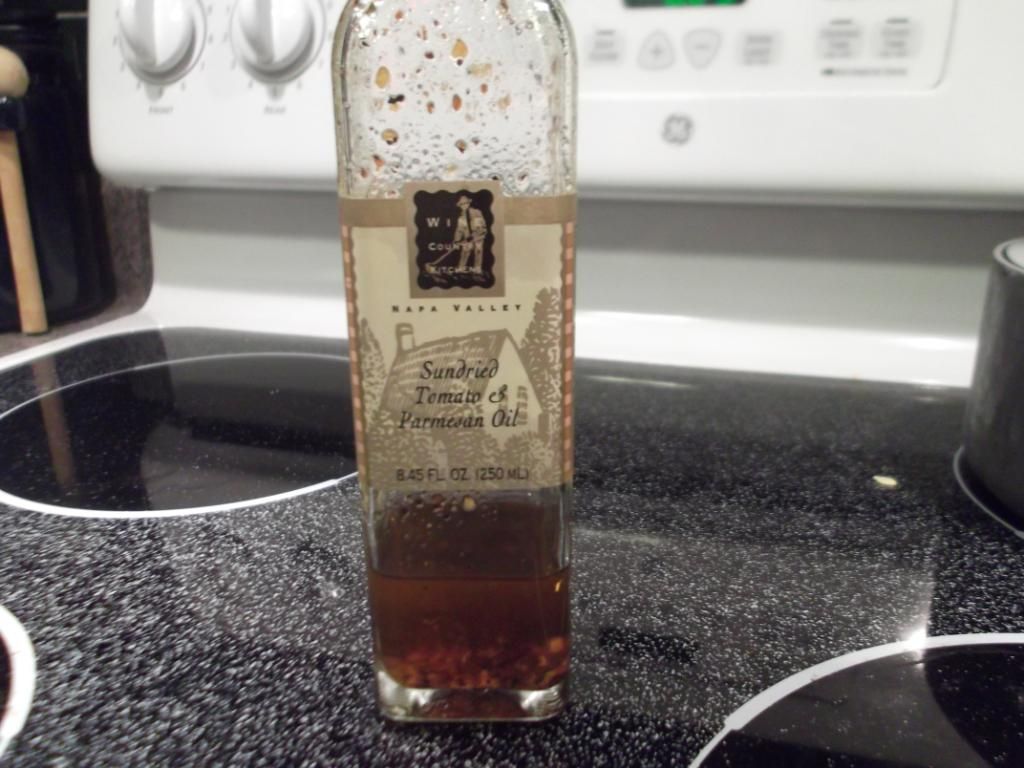 If you have a flavored oil like this one you can use it in place of the olive
oil. I picked this one up at TJ Maxx for around $3.00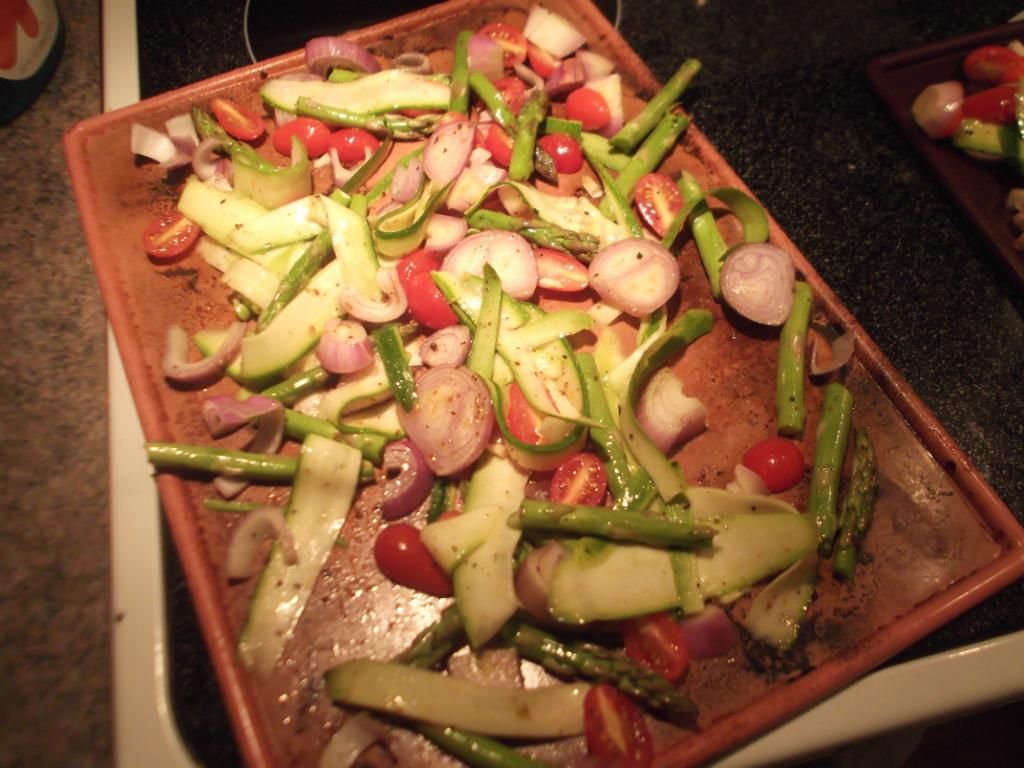 Veggies about to go into the oven.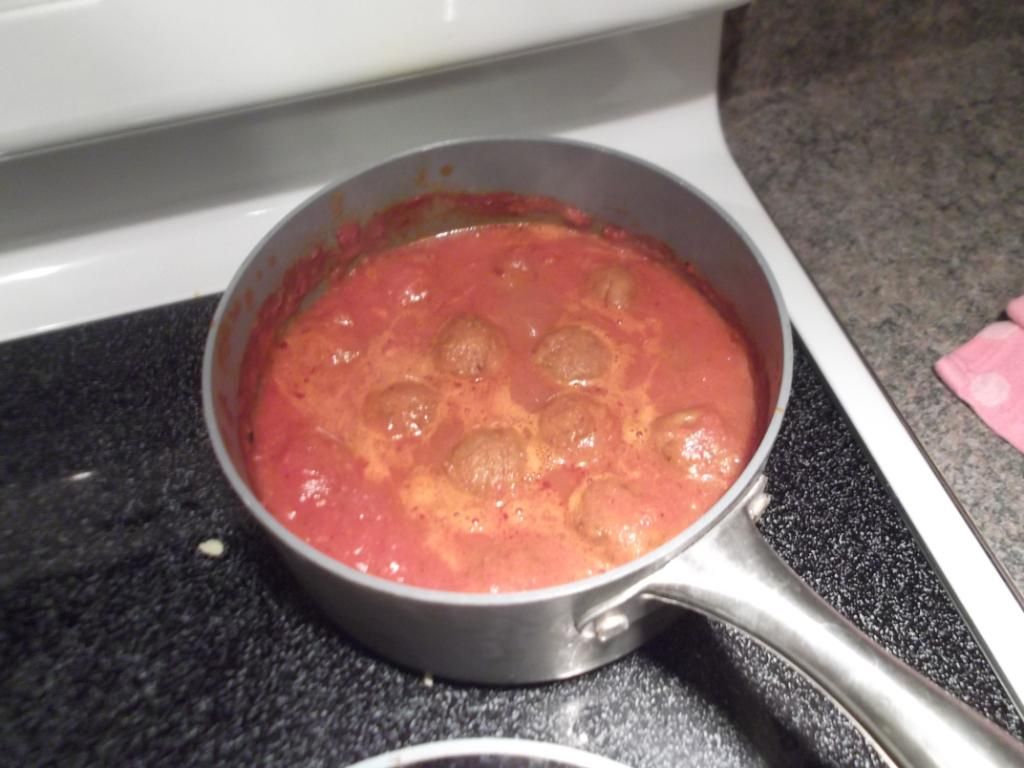 I like these meatballs because they don't require a lot of energy. Just
heat them up in some sauce and you're good to go.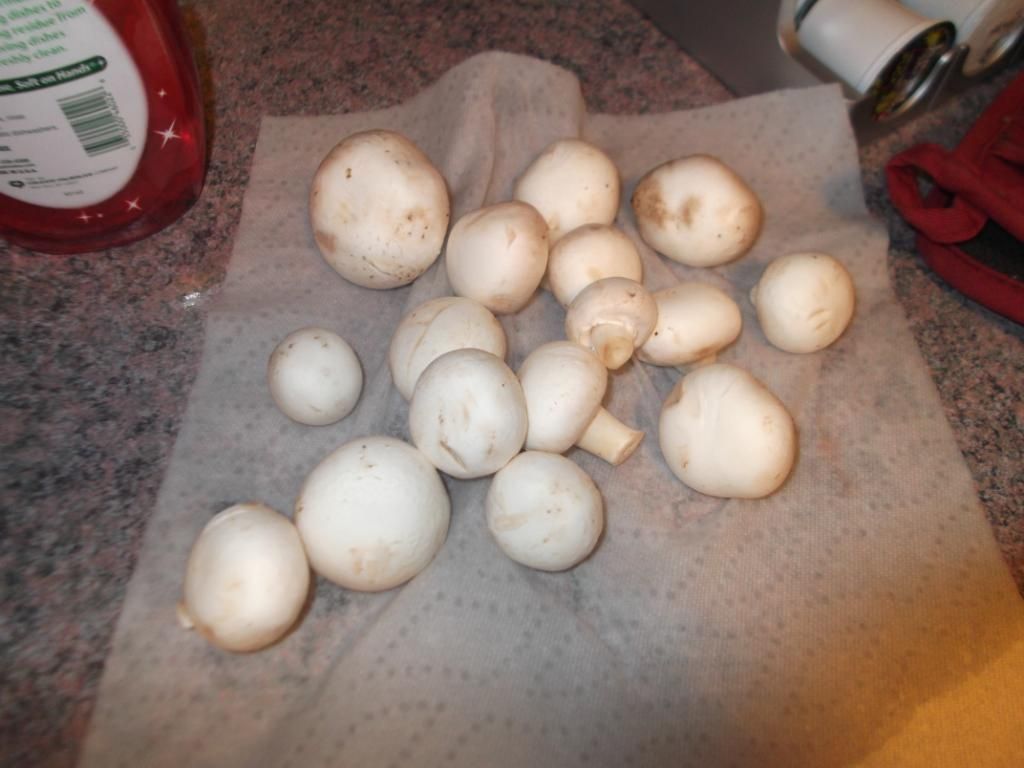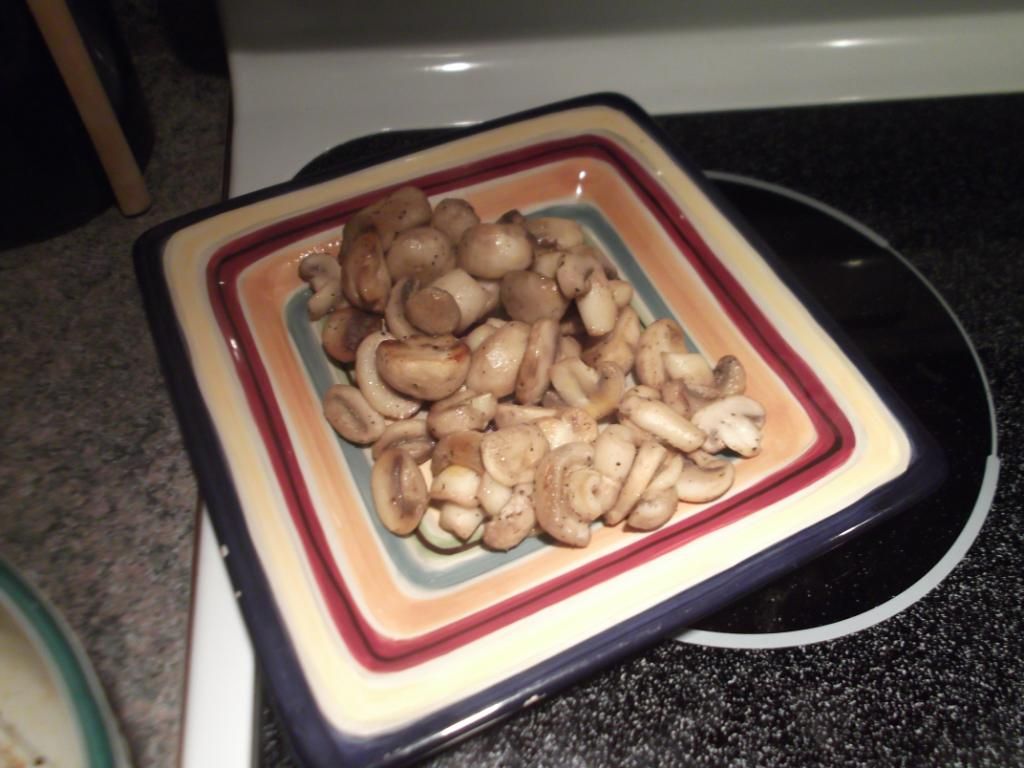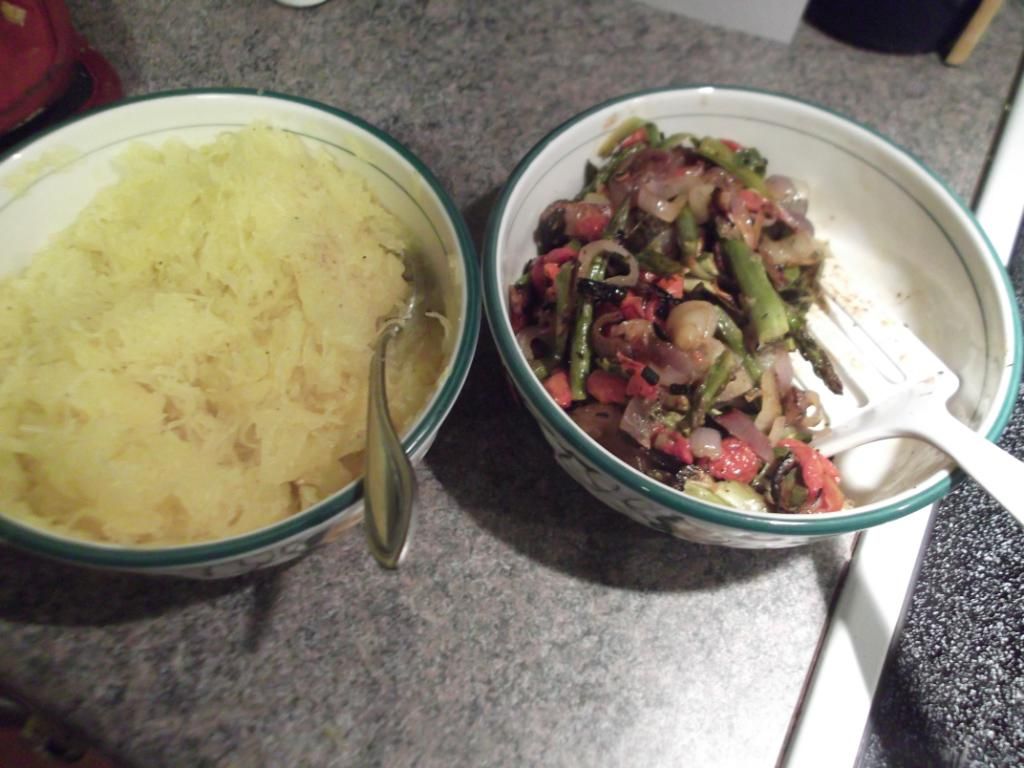 We had some friends over for this meal so I transferred everything to
large bowls for easier serving.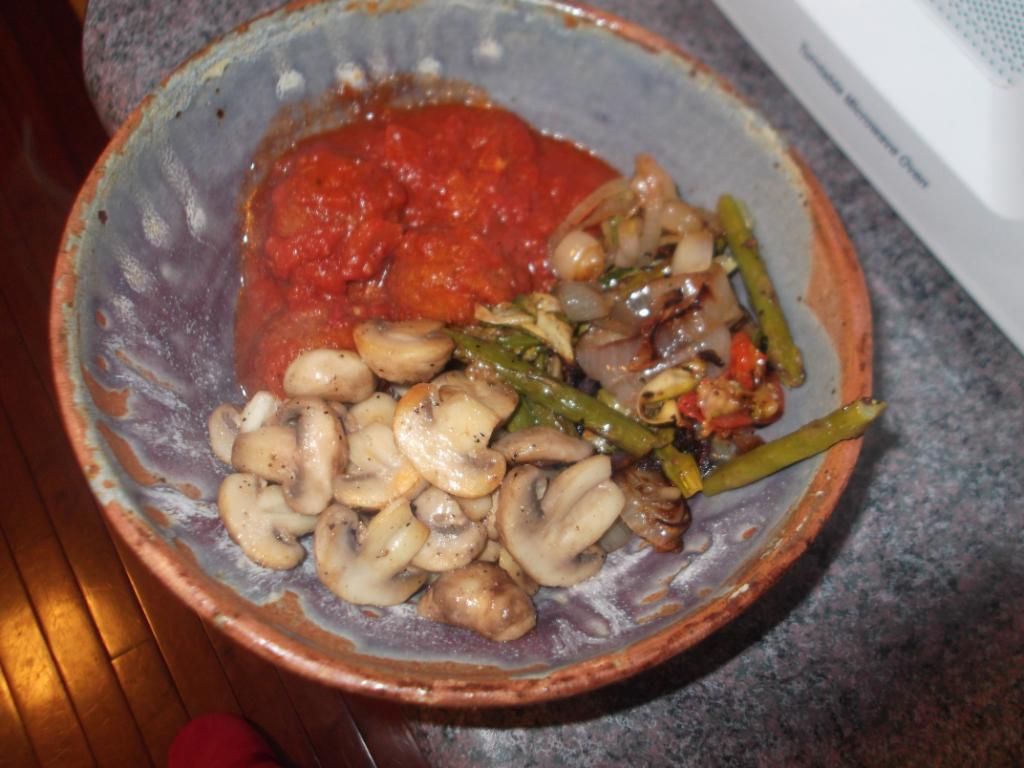 Yum, yum!