The awesome boyfriend and I moved from Greensboro, North Carolina to Ellicott City, Maryland almost 2 years ago. Moving from one suburb to another doesn't sound like it will be too tough, but it is. The actual move isn't so hard, and getting adjusted to new jobs isn't so hard. The hard part is re-establishing your day to day life. What dentist should you use? How do you find an honest mechanic? And for the love of God,
why are 25 cent wings not a thing up here?!
Once you've calmed down you'll start to ask around and eventually you will fill all those holes.
When we first moved we found a couple of bars that we liked and pretty much stuck to them. We got to know the bartenders and the other regulars; life was good. But the hole in my heart still burned for the ability to order enough wings for a meal (plus some to take home) and not feel bad about the tab because it's only $6. I eventually let it go, but I always kept an eye out for the next big happy hour.
One fateful day about six months ago we decided that we wanted to try something new and so we made our way to
T-Bonz Grille and Taphouse
. Shame on us for not going sooner because this place is about 2 miles from the house. The bartender handed me a menu and told me that all appetizers with a star were half price during happy hour. My thought process went something like this: '
Oh, they have wings. I wonder if the Cajun is any good? I wonder if they make the blue cheese in house? Wings are an appetizer with a star. Wings are $11 so half of that is...wait a minute...wings are $5.50! Ten wings for $5.50, that's almost like 50 cent wings! Where the eff is the awesome boyfriend? We need to order these right now...'
I know that 50 cent wings are not as good as 25 cent wings, but it is definitely a start. As soon as the awesome boyfriend came back from the bathroom we picked three kinds and dug in. The wings at T-Bonz are super crunchy. The Cajun, garlic buffalo, and Old Bay flavors were all the perfect blend of salty and spicy. The blue cheese dressing was lack-luster, but the wings were so good that I forgave them. We each had a happy hour beer which brought our total tab to about $20. Balance was restored to the world.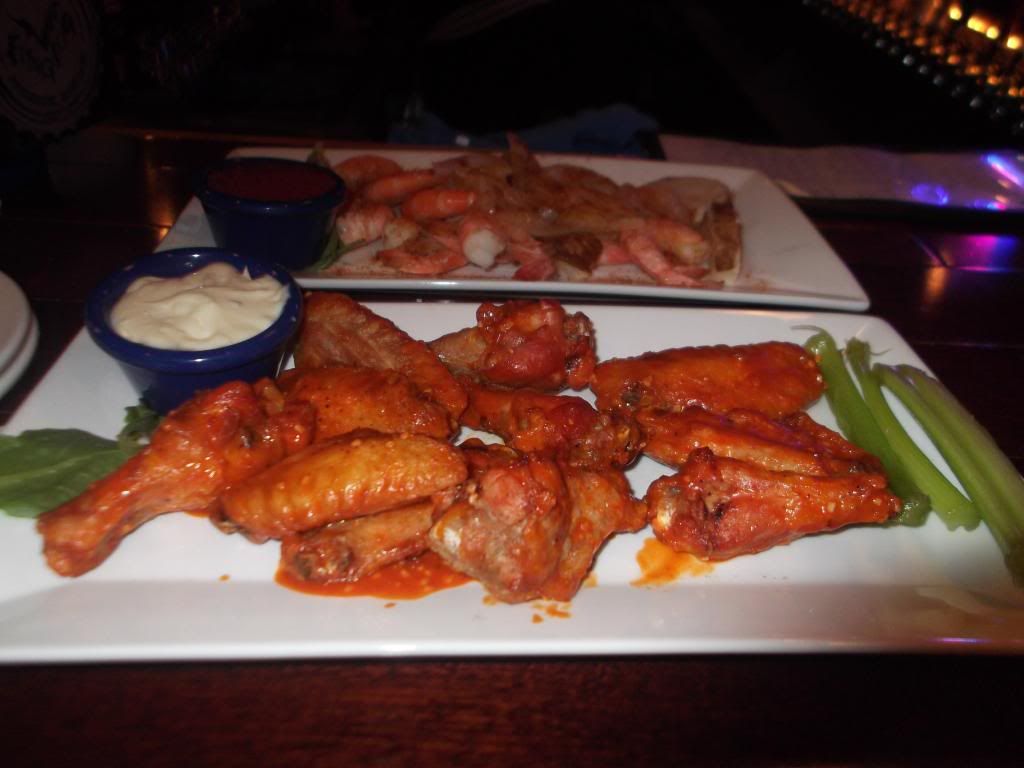 We also ordered some happy hour shrimp that came out topped with onions and lots of Old Bay. They were so filling
that we ended up taking about 15 wings home. Next time we order we will try to show a little restraint.