Do you ever have those nights when you just
don't feel like cooking?
I love to cook so they don't happen to me very often but sometimes I just want to sit on the couch and watch Hulu. Under the old regime awesome boyfriend and I would have either gone out for wings or gotten some Chinese food delivered but those days are on hold for now. This recipe is perfect for a rainy, cold, don't feel like cooking Sunday. You can buy frozen, individually wrapped tilapia fillets in the grocery store and keep them on hand. Just pull a couple out in the afternoon and leave them in the sink and they'll be ready in time for dinner.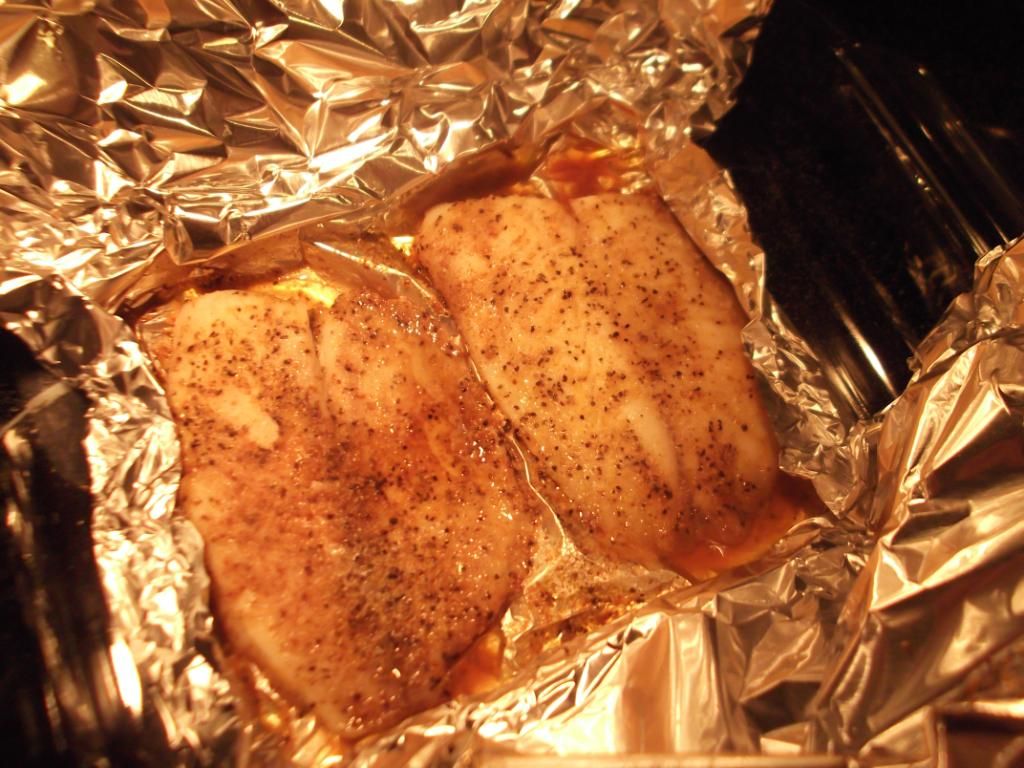 Yum. Serve these with a bag salad and you're good to go!
Ingredients
2 boneless frozen tilapia fillets
1 Tbsp lemon pepper
1 Tbsp garlic powder
1/2 Tbsp black pepper
1/2 Tbsp kosher salt
2 Tbsp butter
Directions
Preheat the oven to 350 degrees.
Line a baking pan or dish with a piece of foil. The foil should be big enough to completely cover the baking dish and still have enough on either side to fold over. (If you don't already have one think about investing in a Pyrex baking set. They are so useful and dishwasher safe.)
Grease the foil that is lining the baking dish with butter.
Lay tilapia fillets on the foil and sprinkle with half of the lemon pepper, garlic powder black pepper, and kosher salt. Flip tilapia fillets over and sprinkle the other side with the remaining portion. These measurements are not firm. Feel free to use more or less of any seasoning, or add another if there is something you like.
Cut butter into four portions. Place two portions of butter on each tilapia filet (see picture below).
Fold foil over to cover making sure to seal as much as possible. You are cooking with steam so you want to trap it in the foil if you can.
Bake for 30 minutes.
Unwrap and enjoy! You should be able to just slide these out with a spatula without them breaking or sticking.