I won't tell you a lie, this cheesecake recipe takes a little bit of doing. It has to bake for an hour, cool for an hour, and refrigerate for 24 hours. Awesome boyfriend and I spent the better part of our Sunday counting down the minutes until we could eat the cheesecake that had been taunting us all day. The good news is that the wait was worth it.
Ingredients: Crust
1/2 C pecans
1/2 C walnuts
4 Tbsp butter
1 C almond meal
You might be able to find almond meal in your grocery store. If not, they will definitely have it in your local health food store. It is basically just finely ground almonds.
Ingredients: Filling
24 ounces cream cheese
16 ounces sour cream
1 1/3 C Splenda
3 eggs
2 tsp vanilla extract
juice from one lemon
Directions
Preheat oven to 325 degrees.
Melt butter in the microwave.
Add pecans, walnuts, butter, and almond meal to a food processor and blend until you have a crumbly sand like texture. There may still be some larger nut pieces and that is okay.
Press the crust into a pie pan, going up the sides if possible. If you run out of crust just make some more with the same proportions. (I only coated the bottom with crust when I made this and it turned out just fine. Don't waste too much energy fussing over the crust.) Set crust aside.
Add cream cheese to a large bowl and beat with an electric hand mixer until fluffy.
Add sour cream, Splenda, eggs, vanilla, and lemon juice to cream cheese and continue beating with electric hand mixer until all ingredients are incorporated.
Pour cream cheese mixture into pie pan over crust.
Bake for one hour. Don't worry if it puffs up. It will shrink while cooling.
After one hour remove cheesecake from oven and let cool for one hour before refrigerating.
Once the cheesecake has reached room temperature, refrigerate for 24 hours.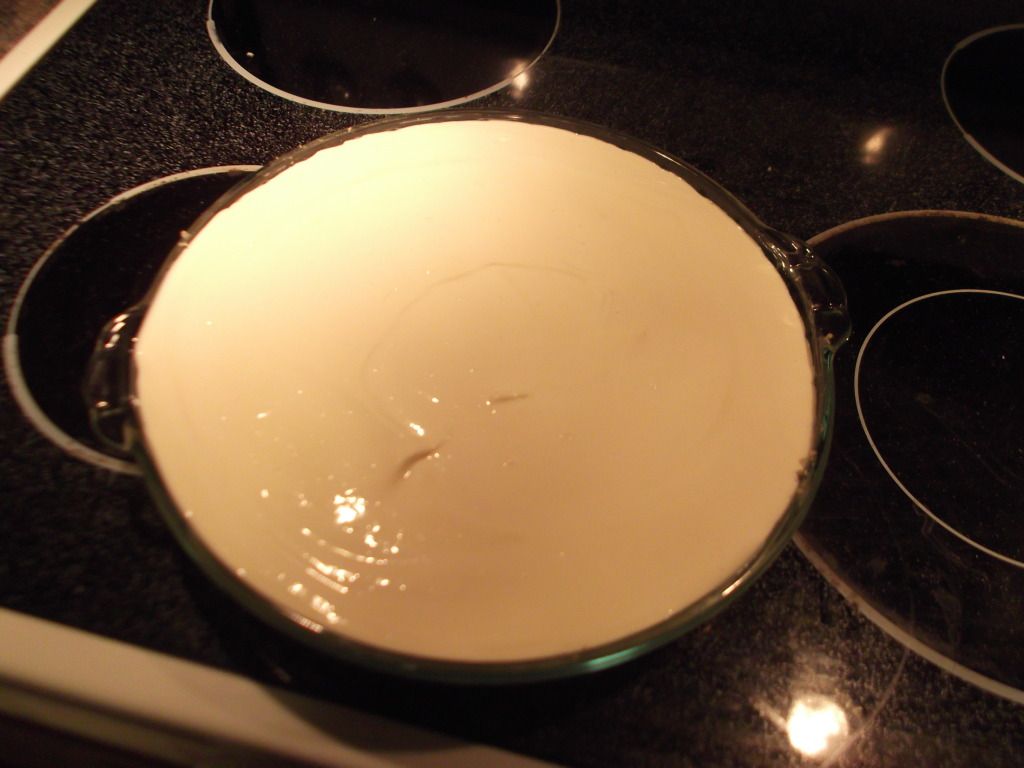 Cheesecake ready to go into the oven.
I've heard about recipes like this being split into 8, 12, and 16 servings. Awesome boyfriend and I split our cheesecake into 8 servings partly because we are greedy, but mostly because we are very strictly carb controlled during the day.
Splenda does have carbs. You could try sweetening with protein powder or a sugar free syrup if you want to cut back a little bit more. If you want to cut back even further, skip the crust. Place muffin cups in a muffin pan and add filling to those. You can even take those to go!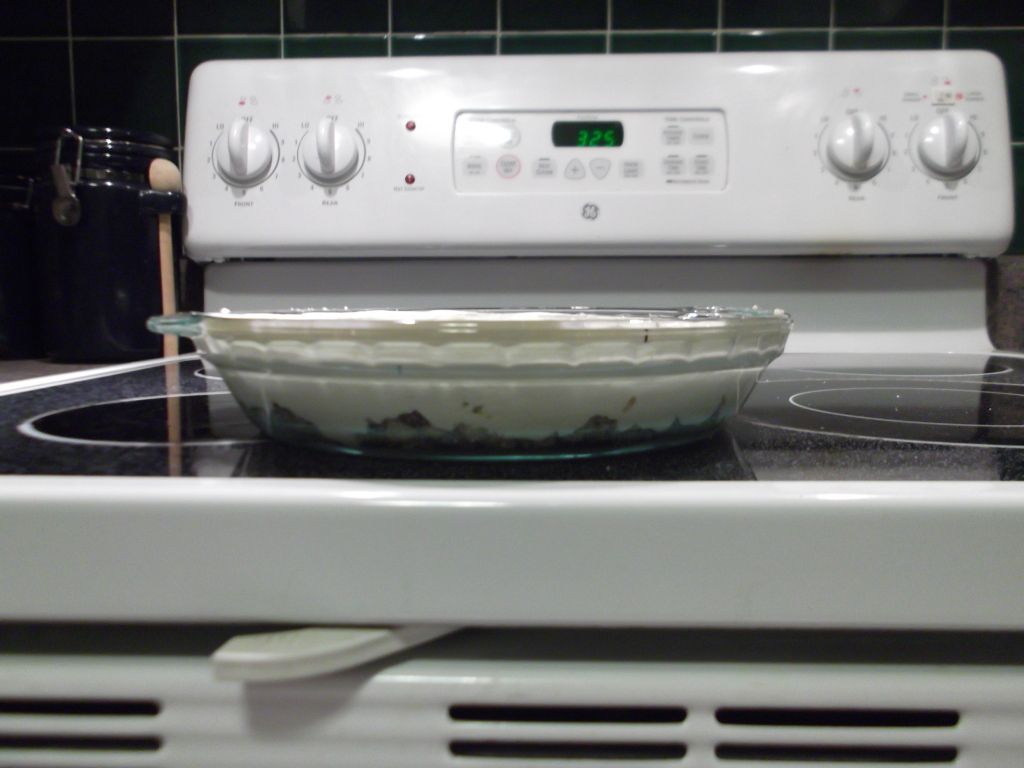 Side view before the oven.
You can see that my crust only covered the bottom of the
pie plate. It was still delicious!