I've been getting some questions in my email [
lifelovelowcarb@gmail.com
] about brands, costs, where to shop, and some other things related to the grocery store. I'm not sure if I've shared this with you all or not, but I LOVE the grocery store. It's a sickness.
I think part of it has to do with the fact that I have a tendency to flow into Type A territory and grocery stores are always so organized. I also love to chat with the people working behind the counters (slowly turning into my mother). I have a guy that I like to talk to at the fish counter. Every time I stop by he asks me about the flounder, or salmon, or mussels that I bought last time, and how I'm planning to cook whatever I'm buying today. At the Giant grocery store near my house, they have a restaurant style steamer, and I can swing by and get shrimp or crab legs steamed and tossed in Old Bay,
at no extra charge
. At the deli, there's always something new on sale. And the best part? They give out free samples! Why yes, I do think I'd like a slice of cheese and another of turkey to snack on while I shop. I like to squeeze the tomatoes, smell the melons, and poke the avocados. We all have our things- don't judge me, dammit.
I normally shop at Giant, but I've also been known to stop in at Mom's Organic Market in Jessup, Maryland. This is a whole other kind of grocery store and sometimes I end up wasting even more time in there than in the regular supermarket. The same thing is true for Trader Joe's, which is also nearby .
I'm going to start posting pictures and short descriptions of grocery store trips in the hopes that they will answer some of your questions and help you with your own shopping. Please feel free to send me an email if you're curious about anything that you see here.
Now, on to the main event: Groceries from Giant on May 29.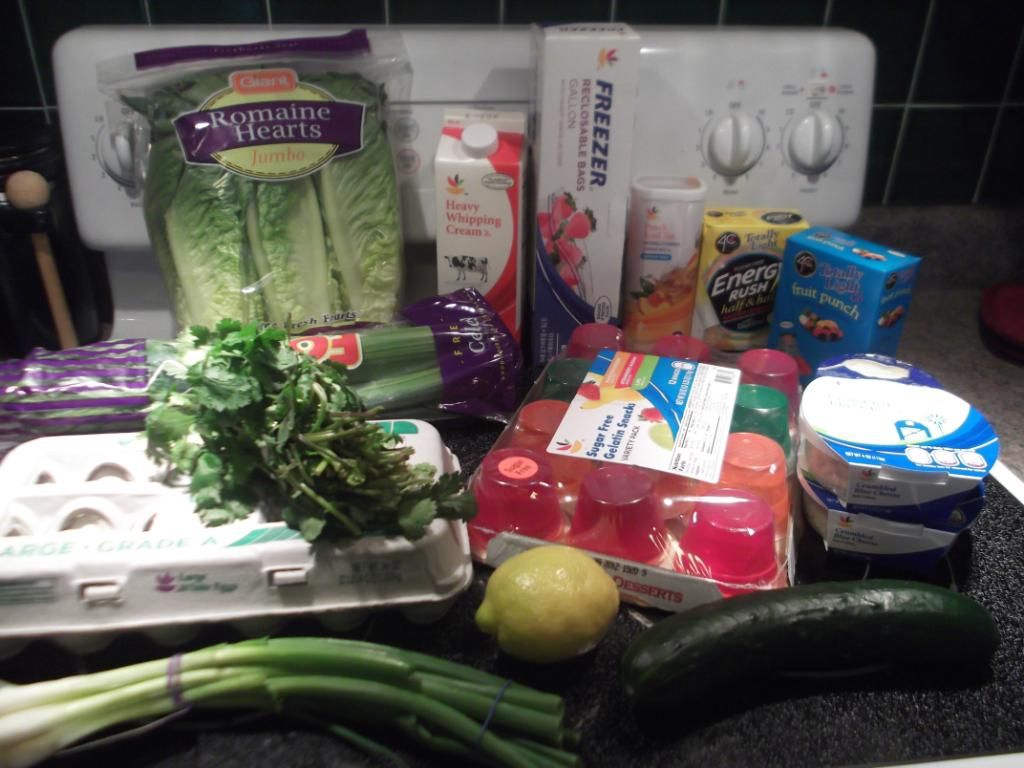 Romaine Hearts: I keep these on hand for quick salads or wraps
Celery with leaves: used in Celery and Cucumber Salad
Cilantro: I can't get enough of the stuff. I really like it in eggs and on salads.
Eggs: we eat so many I've had to switch to the 18 packs.
Green onions: Also used in celery and cucumber salad.
Heavy whipping cream: also a great item to keep on hand. So many uses for a low carb eater.
Gallon recloseable bags: I like to pack my salads in these for work, add dressing, and shake.
Lemon: used in celery and cucumber salad as well as in iced tea.
Sugar Free gelatin: a great snack when you need a quick sweet fix. Top with whipped cream.
Powdered drinks- peach tea, arnold palmer, and fruit punch: Awesome boyfriend doesn't like water as much as I do. He always wants a juice or tea with dinner, so I try to keep these in the house.
Cucumber: Also used in celery and cucumber salad.
Blue cheese crumbles: Used in celery and cucumber salad, and in Blue Cheese Dressing for Crunchy Buffalo Wings.