This is something of a twist on the
Beef Soft Tacos Recipe
from a week or so ago. I actually went to the grocery store to get some salad stuff and they were advertising enchilada kits near the front of the store. I was starving so, of course, we ended up having enchiladas for dinner.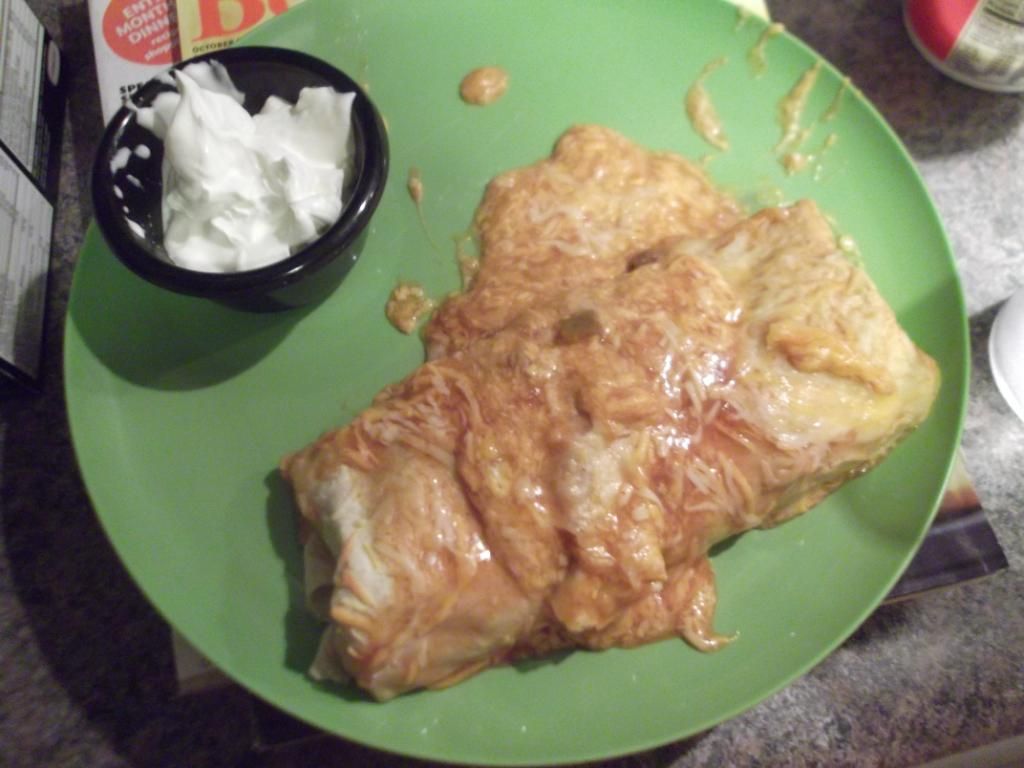 Ingredients
low carb tortillas from La Tortilla Factory
1 lb ground beef
1 4-oz can chopped green chilies
1 packet taco seasoning
2 C shredded Mexican cheese blend
1 can enchilada sauce
hot sauce for serving
sour cream for serving
Directions
Preheat oven to 350.
Heat a large skillet over medium high and spray with cooking spray.
Add ground beef and break up with a wooden spoon.
Once ground beef is about halfway done, add entire can of chilies and seasoning packet.
Stir with wooden spoon until all ingredients are incorporated.
After ground beef is cooked though, drain with a wooden colander and set aside.
Grease the inside of a baking dish with butter or cooking spray.
Fill one tortilla with several spoon fulls of the ground beef mixture and top the mixture with 1/4 C of cheese.
Fold in the edges and roll up the tortilla and place it with the seam down in the baking dish.
Repeat until baking dish is full.
Cover stuffed tortillas with entire can of enchilada sauce.
Sprinkle remaining cheese on top of enchiladas.
Bake for 20 minutes.
Let cool for 5 minutes before serving.
Serve with sour cream and hot sauce.
Notes
When I made this I had a good amount of ground beef leftover. I took it to work the next day for taco salad.
Although these tortillas are low carb, you still need to exercise some control. Better stick to two per serving at the most.
I completely forgot to take pictures while I was making these- shame on me! I'll try to make them again in the near future and update with more photos. Stay tuned.