Recipes that have multiple parts can be tricky. If you don't get things started at the right time, the timing will be off and one part will be cold by the time the other is done. If I'm cooking several dishes for a lot of people, I actually write out a schedule for myself of when things need to go into the oven/pan so that I don't forget anything. I'm hoping that this recipe will help you get your surf and turf to come out at the perfect time for maximum deliciousness.
I really hate that this picture is blurry. I need to invest in another camera that is designed for shooting indoors at
close range. If anyone has suggestions I would appreciate them!
Ingredients
one pound Ribeye steak
two lobster tails, frozen or fresh is fine
1 tsp crushed red pepper
1 Tbsp dry minced onion
1 tsp black pepper
1/2 Tbsp garlic salt
1/2 C olive oil
2 Tbsp balsamic vinegar
2 Tbsp Worcestershire sauce
1 Tbsp butter
2 Tbsp minced garlic
2 Tbsp capers
2 Tbsp melted butter for serving with lobster tails
Directions
If your steak or lobster is frozen you'll need to defrost those before getting started. Lobster tails can be defrosted in cool water. Steaks should be defroster overnight in the fridge.
Preheat oven to 350.
Use a fork to poke holes over one side of the Ribeye. Flip over and repeat on the other side.
In a large Ziploc bag combine crushed red pepper, dry minced onion, black pepper, garlic salt, olive oil, balsamic vinegar, ans Worcestershire sauce.
Add steak to Ziploc bag and massage marinade into steak. Steak should rest in marinade at room temperature for 20 minutes.
Coat a glass baking dish with cooking spray.
Place your lobster tails in the baking dish with the legs down.
Top each lobster tail with 1 Tbsp minced garlic and spread it around with the back of a spoon.
Top each lobster tail with 1/2 Tbsp butter.
Sprinkle capers over the lobster tails in the dish.
Place lobster tails in the oven to bake for 20 minutes.
Once lobster tails reach the 10 minute mark, heat a skillet over medium.
Once skillet is hot (about 1 minute), remove Ribeye from Ziploc bag and place directly into skillet.
Cook for 2-4 minutes on each side, depending on desired degree of doneness.
Once Ribeye steak has cooked on both sides, remove from skillet and set on a paper towel to drain.
While steak is resting, melt butter in microwave for serving with lobster tails.
Lobster tails should be done by now. Remove from oven and allow to rest for 2 minutes before serving.
Cut Ribeye steak in half to make two servings.
Add one serving Ribeye steak, one lobster tail, and melted butter to plate to serve. Enjoy!
Notes
Lobster tails are one of those items that go on crazy good sales sometimes. These were marked down from $10 each to $5 each at my grocery store a couple of months ago so I bought them and tossed them in the freezer. Keep an eye out and you'll be able to find some that are affordable.
Lobster tails $10 + Ribeye $12 + Brussels sprouts $2 = $24 total for two surf and turfs. Way cheaper than any restaurant.
A one pound Ribeye is HUGE. I like to cook it first and then cut it because it's easier to manage, but if you're cooking for one you could easily cut the Ribeye before you cook it and freeze the other half.
Steak can rest in marinade overnight in the fridge if you want to prepare it ahead of time.
To eat the lobster tails flip them over and cut straight down in between the legs with kitchen shears or a sharp knife. The meat will pop right out.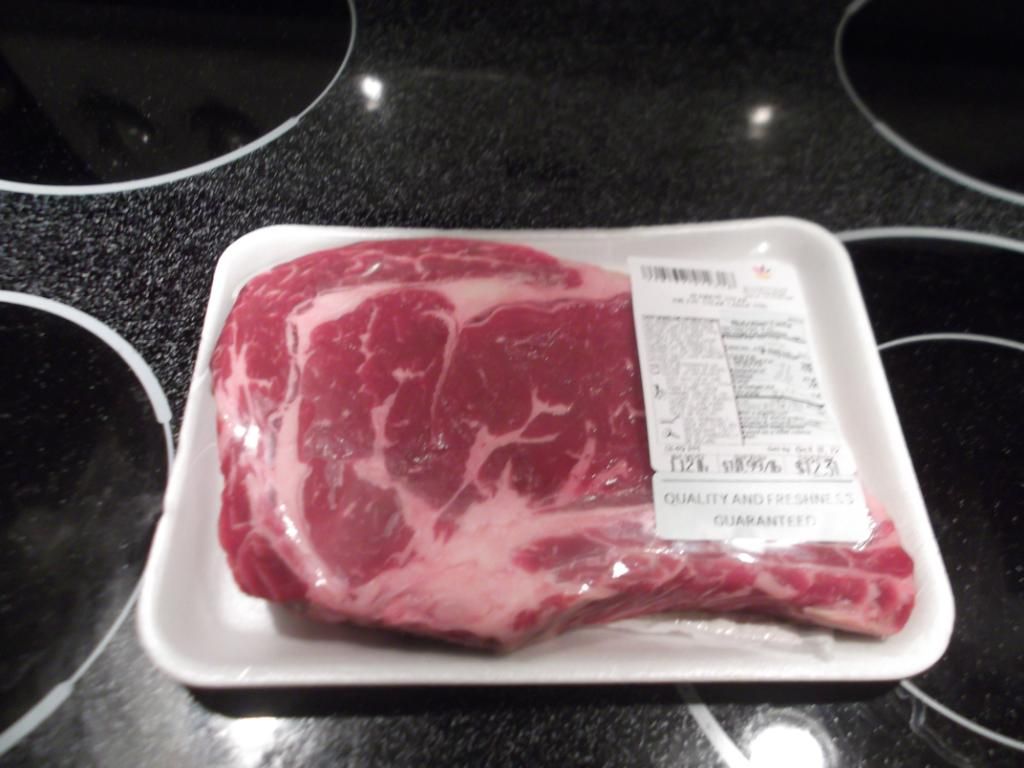 Don't worry about adding oil to the pan to cook your Ribeye. This cut
of meat will have fat marbled throughout that will render and
allow the steak to cook in it's own juice.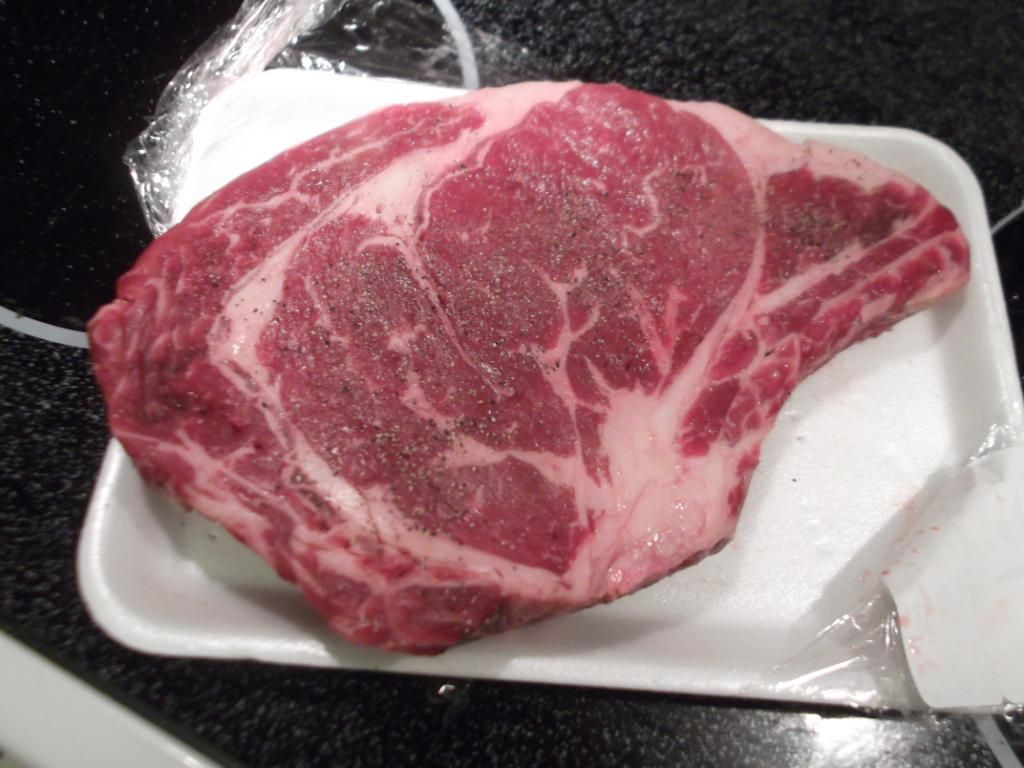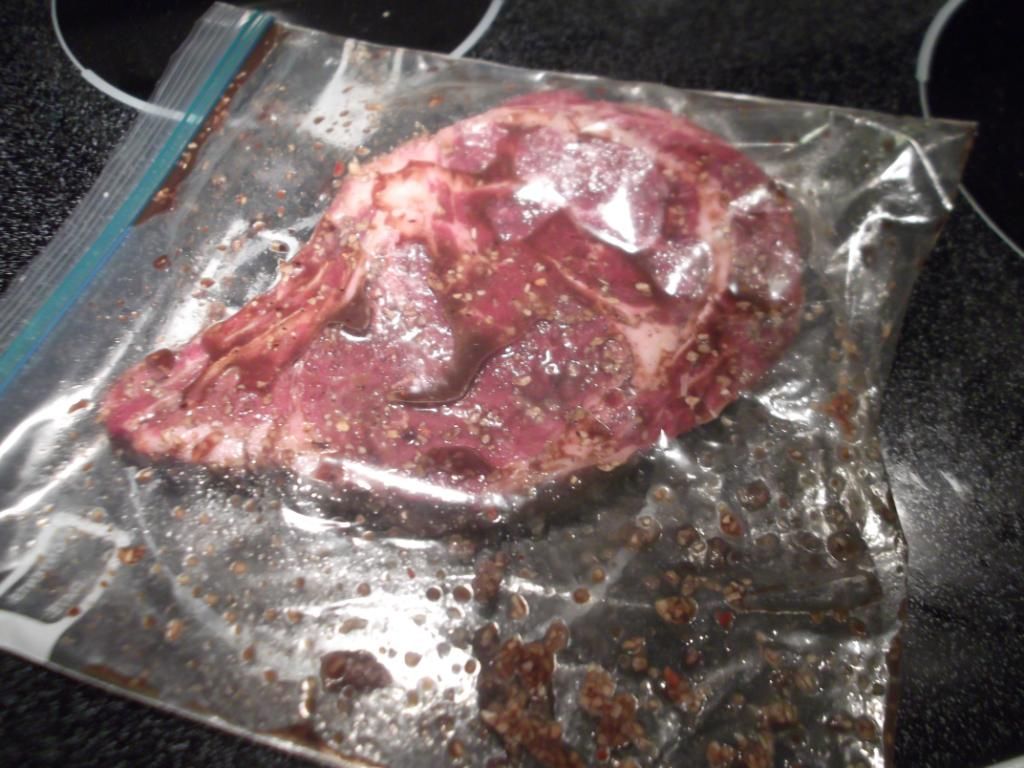 I love Worcestershire sauce.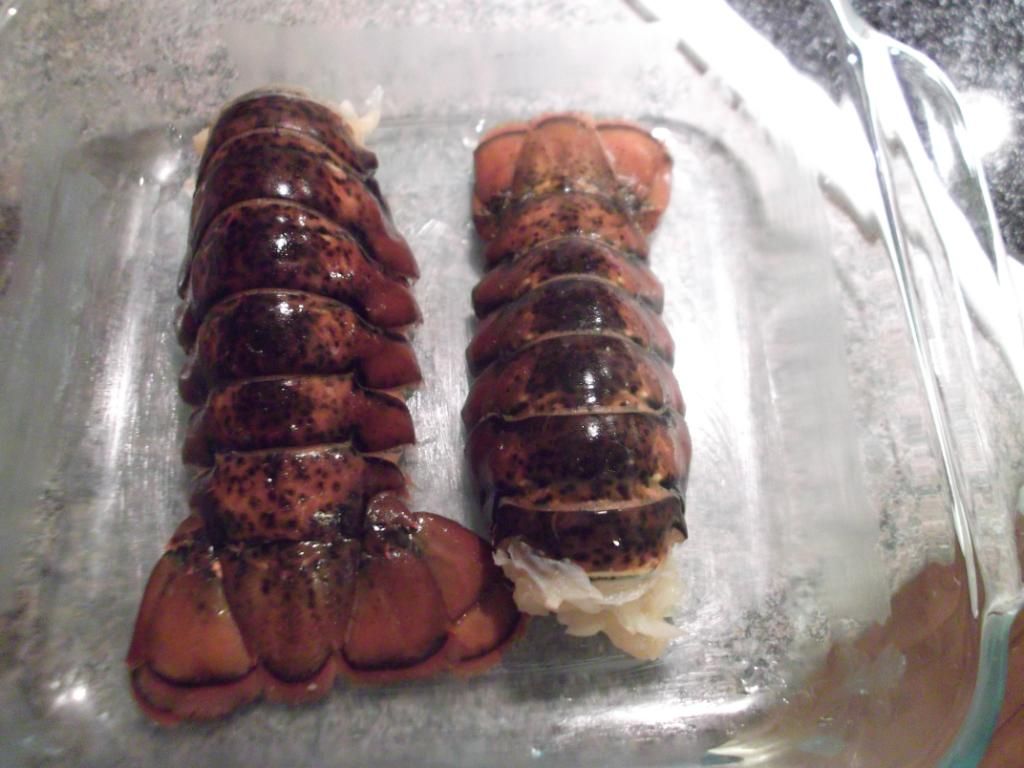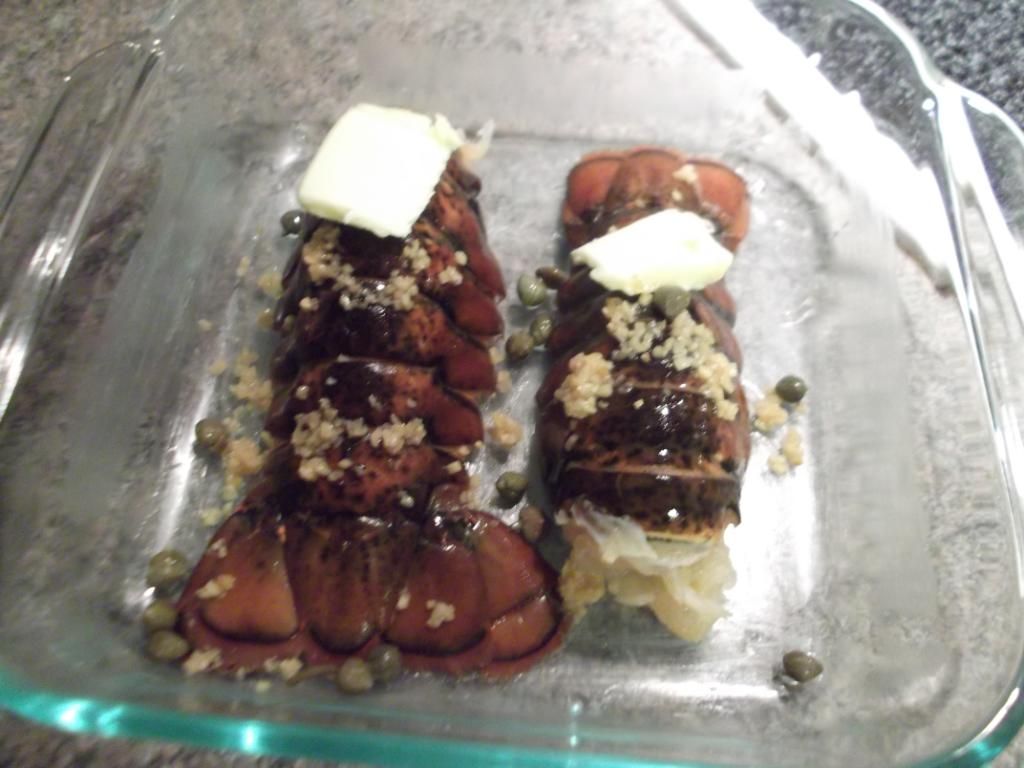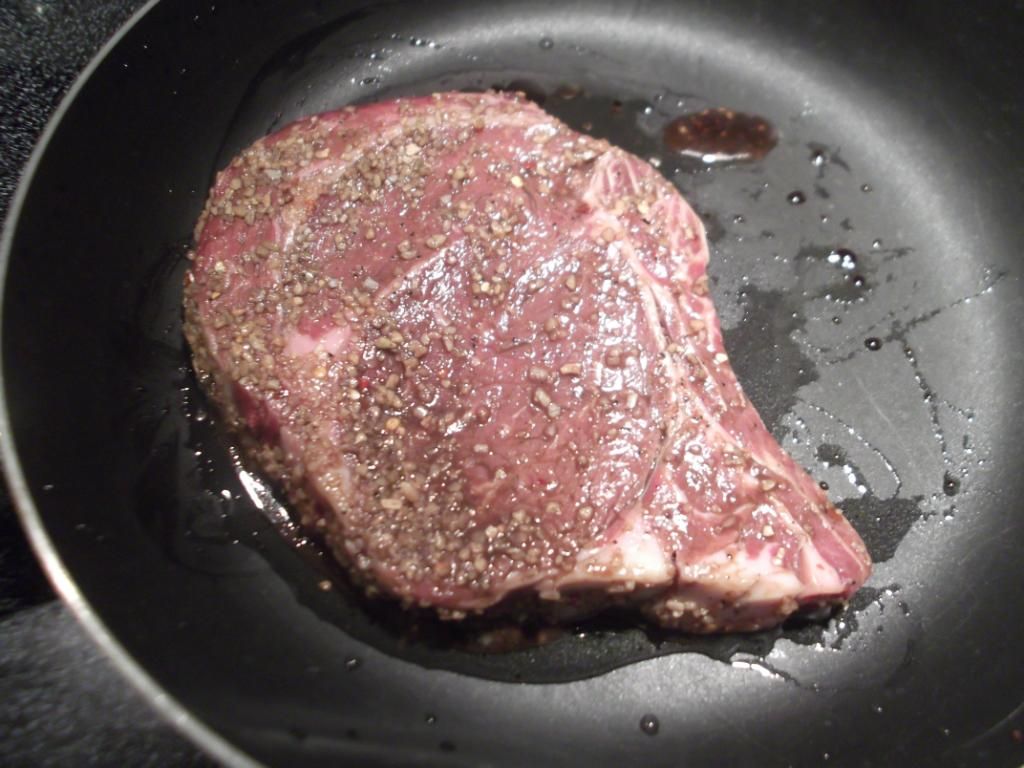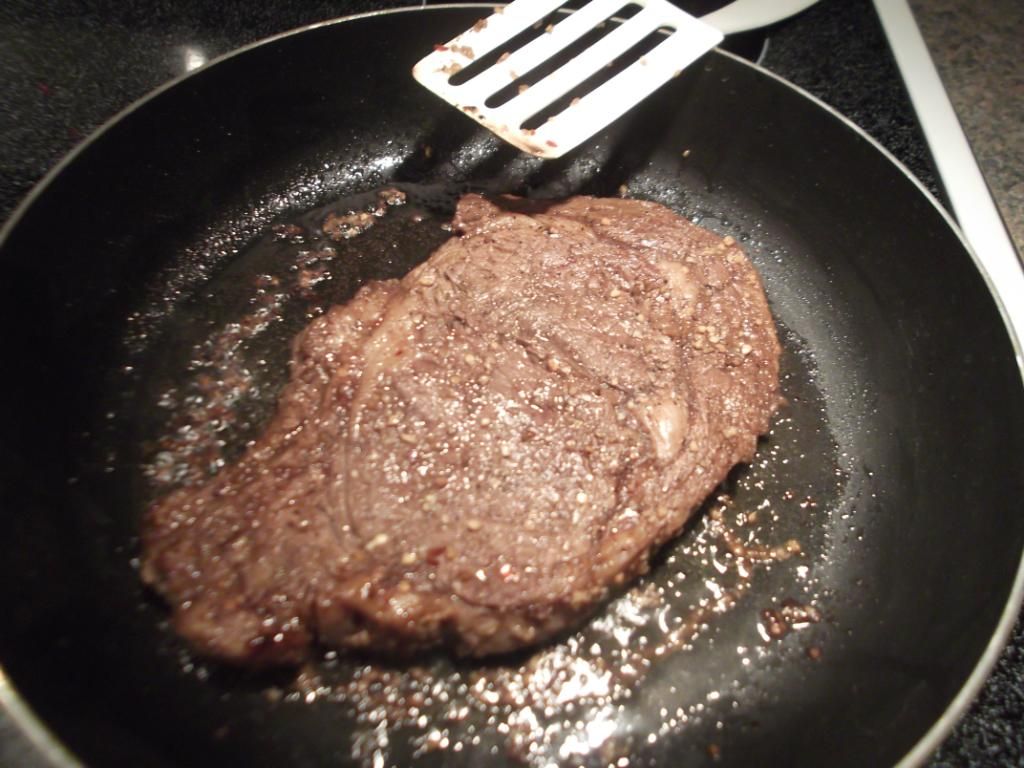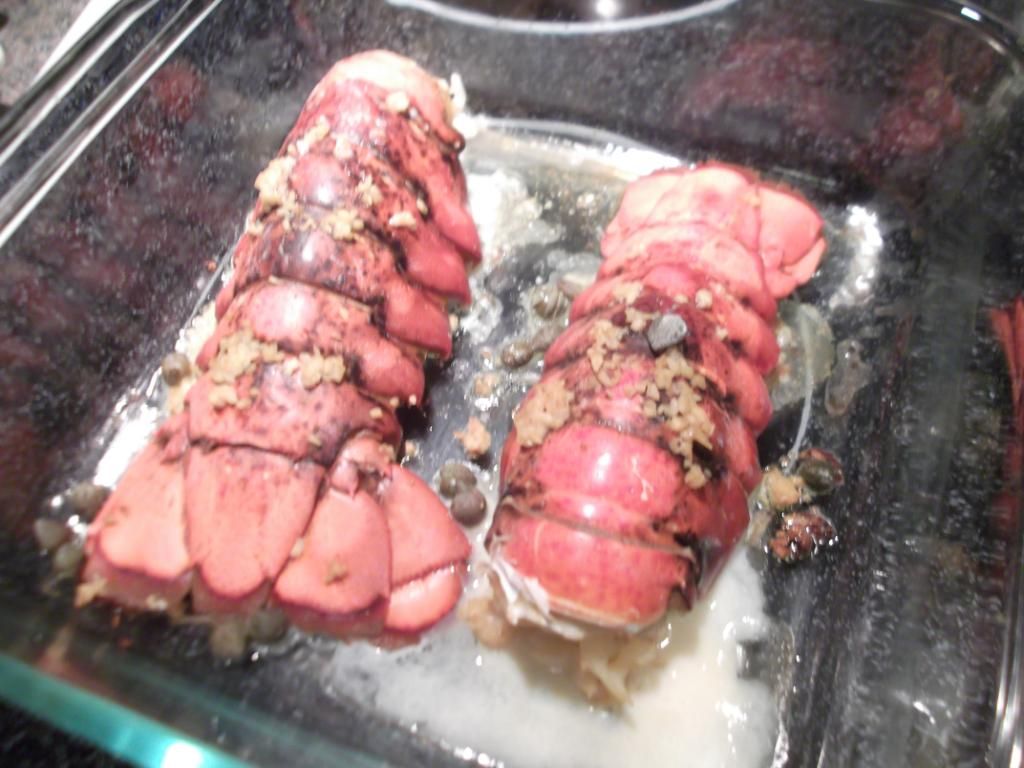 When your lobster tails turn this bright pink color they are done.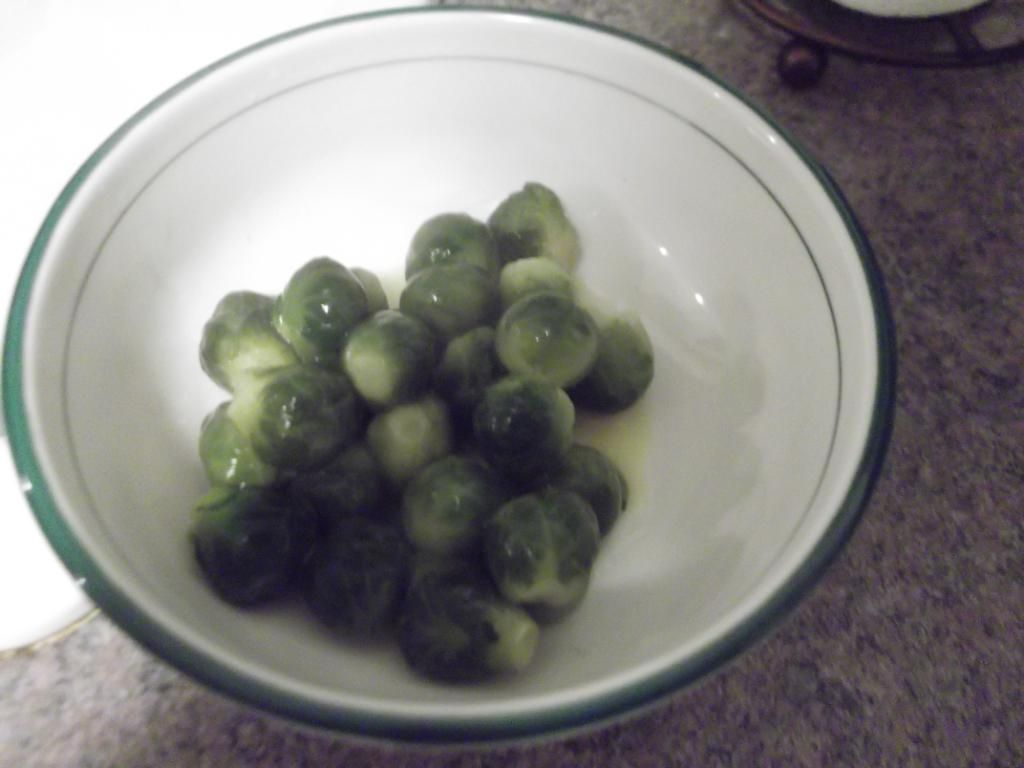 I'm not ashamed to say these came out of a box in the freezer section of my
local grocery store. They were actually really good!