I love seafood. It has been somewhat of an adjustment for awesome boyfriend who has never been a seafood person. We started out small, having peel and eat shrimp when we were out at bars, and putting salmon on the grill from time to time. I am excited to say that we have graduated to...scallops! This happened through compromise and encouragement, and a conversation that ended with, "Well, that's what I'm cooking. If you don't want to eat it you can fix your own damn dinner." Ahhh, true love....
Jokes aside, we both thoroughly enjoyed this meal. The sauce is easy to make and low carb if you have the right ingredients. If you can't find the specific brands I have mentioned here that is fine, but make sure that you check the labels, as I have specifically chosen these brands for being the most carb friendly. Pre-made pesto and Alfredo sauce are both things that can have sneaky sugars. You could easily sub in chicken or shrimp if you would prefer. Bay scallops tend to be less expensive and are much easier to work with than the larger varieties. I usually keep a bag in the freezer and pull them out as needed. If you like the larger ones, prepare those separately and just serve them on top of the pasta.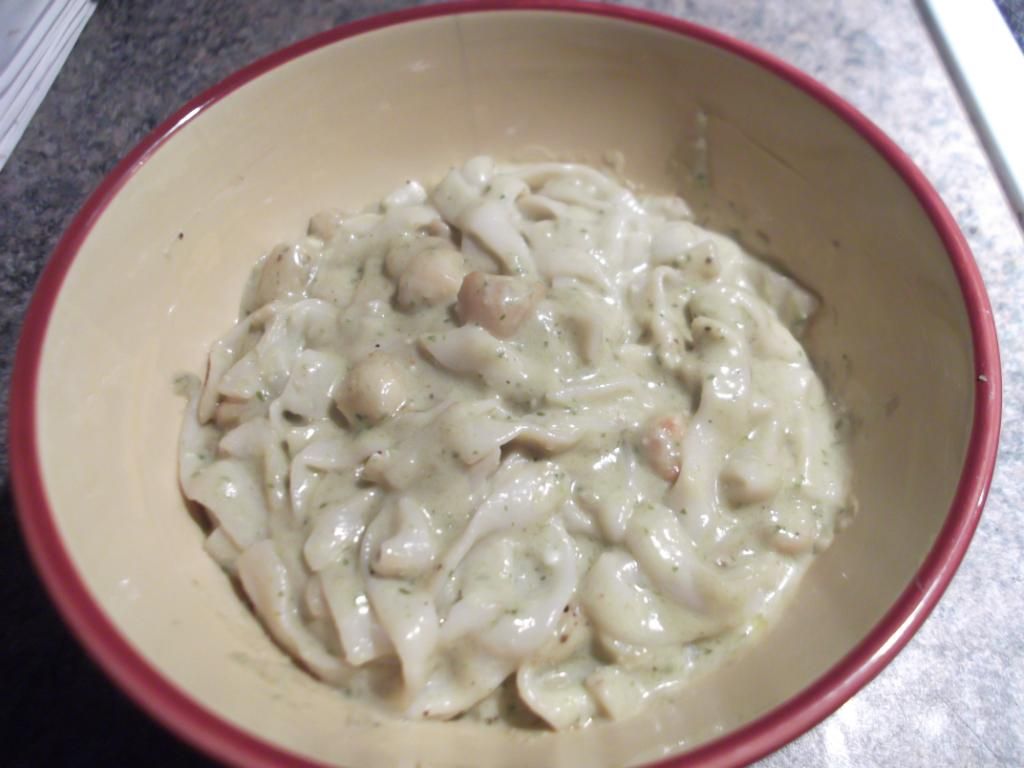 Ingredients
8 ounces bay scallops
1 Tbsp coconut oil
1 Tbsp minced garlic
2 Tbsp Italian seasoning
1/2 jar Cheesy Ragu Classic Alfredo Sauce
1/2 container Buitoni Pesto
1 C shredded Parmesean cheese
2 packages Tofu shirataki noodles
Directions
Add coconut oil to a large skillet and heat over medium high.
Add minced garlic and cook until fragrant (about 1 minute).
Add bay scallops and Italian seasoning to skillet and saute until scallops begin to brown.
Scallops will release water while cooking. If pan begins to become soupy, pour off water and continue to cook. You may have to add more oil after doing this if you feel like scallops are sticking.
While scallops are cooking, heat a medium sized sauce pot over medium. Add alredo, pesto, and Parmesan cheese to pot and stir with a rubber spatula until all ingredient are incorporated.
Remove tofu noodles from package and rinse/drain in a colander.
Once noodles have drained, add to sauce pot. Stir again with rubber spatula until noodles have incorporated into sauce.
Once scallops have finished browning, add entire contents of sauce pot to large skillet and continue to stir with a rubber spatula. The oil in the pesto will warm and all of the ingredients will come together nicely when you do this.
Serve immediately.
Top with Parmesan cheese, crushed red pepper, or garlic salt if desired.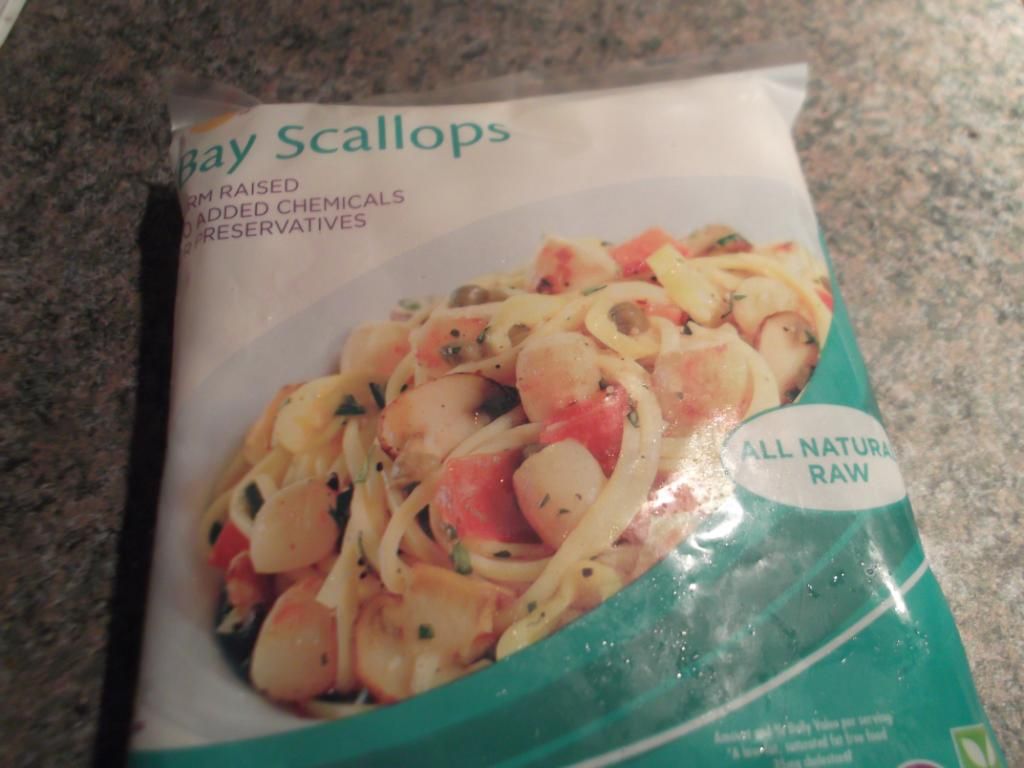 Keep an eye out for a sale. These can keep in your freezer for quite a
while so I always buy when they are cheap.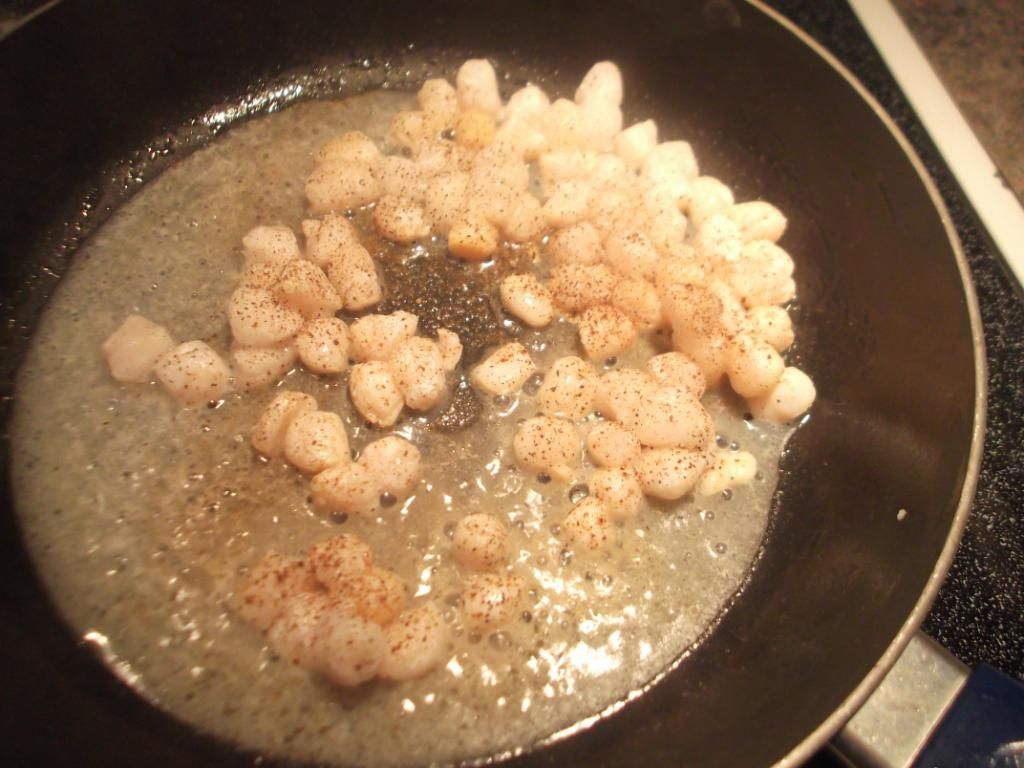 You can see that the scallops have released a lot of water. Just pour it
off and add more oil if needed.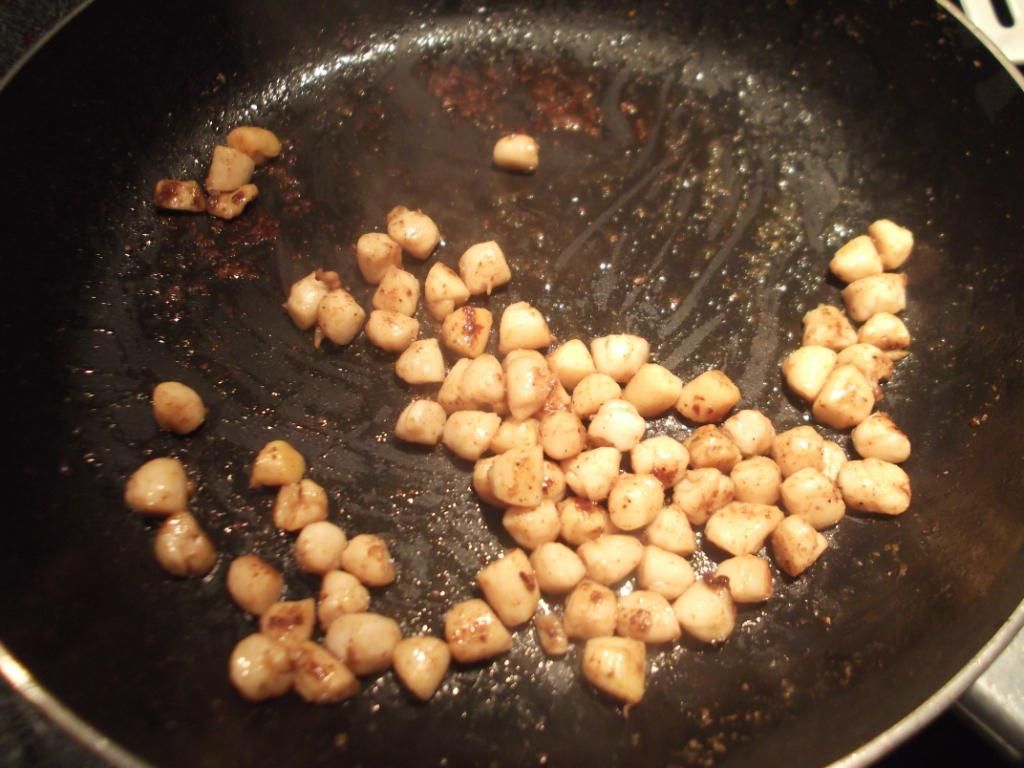 Scallops are beginning to brown here. Just a few more minutes.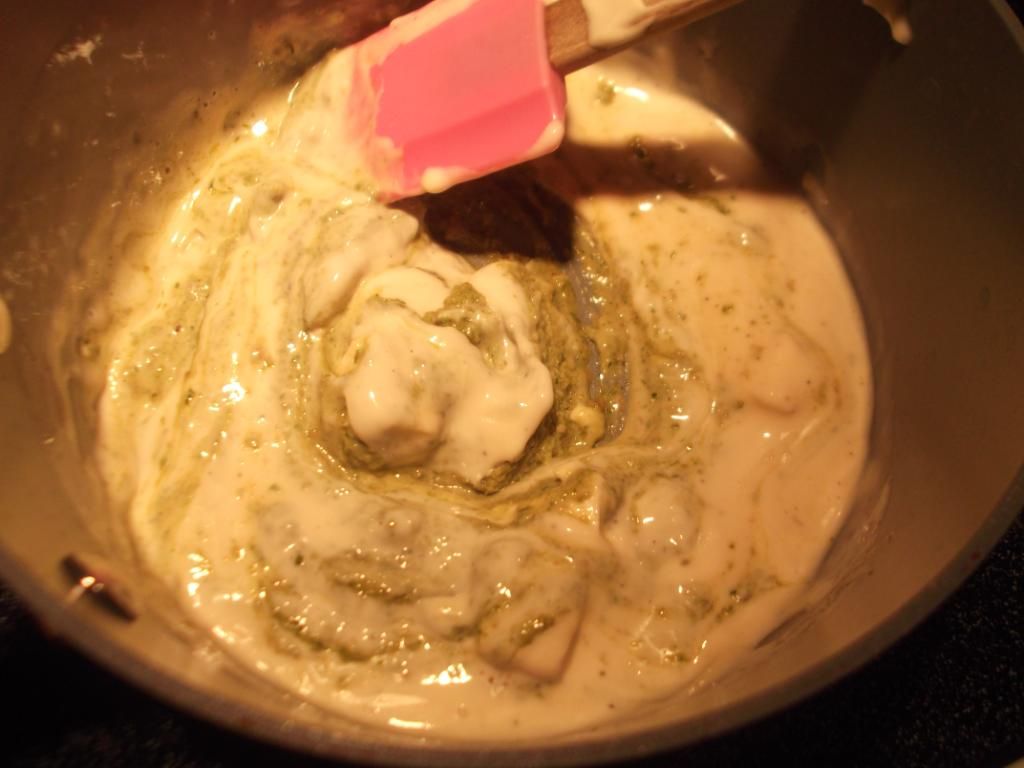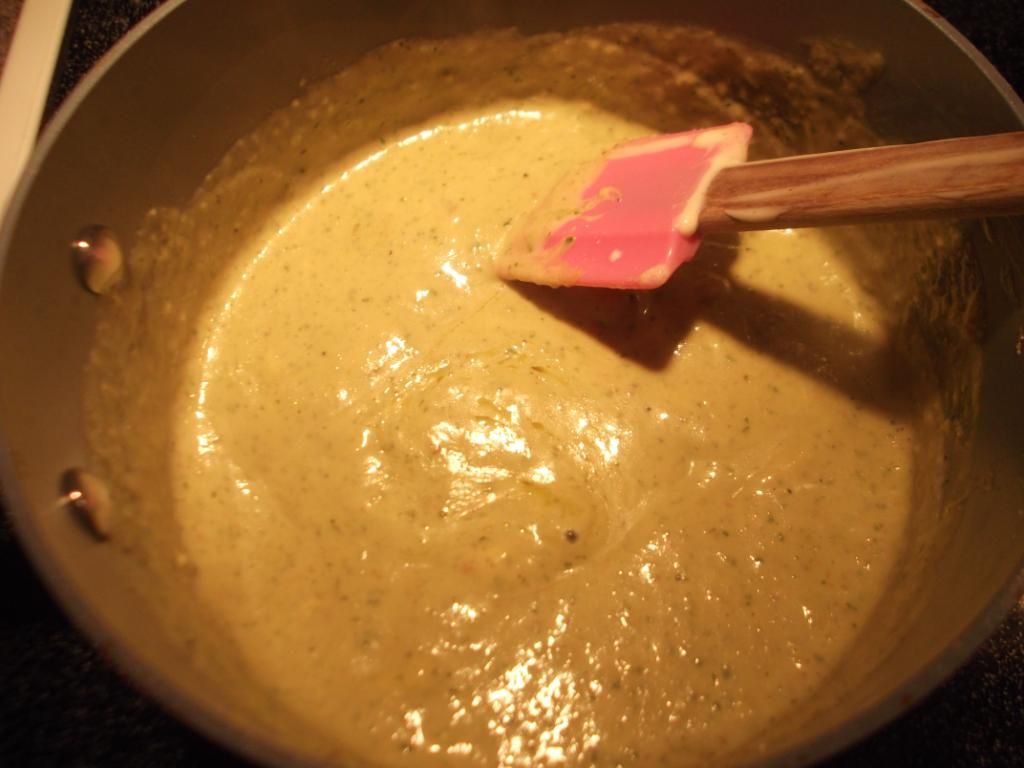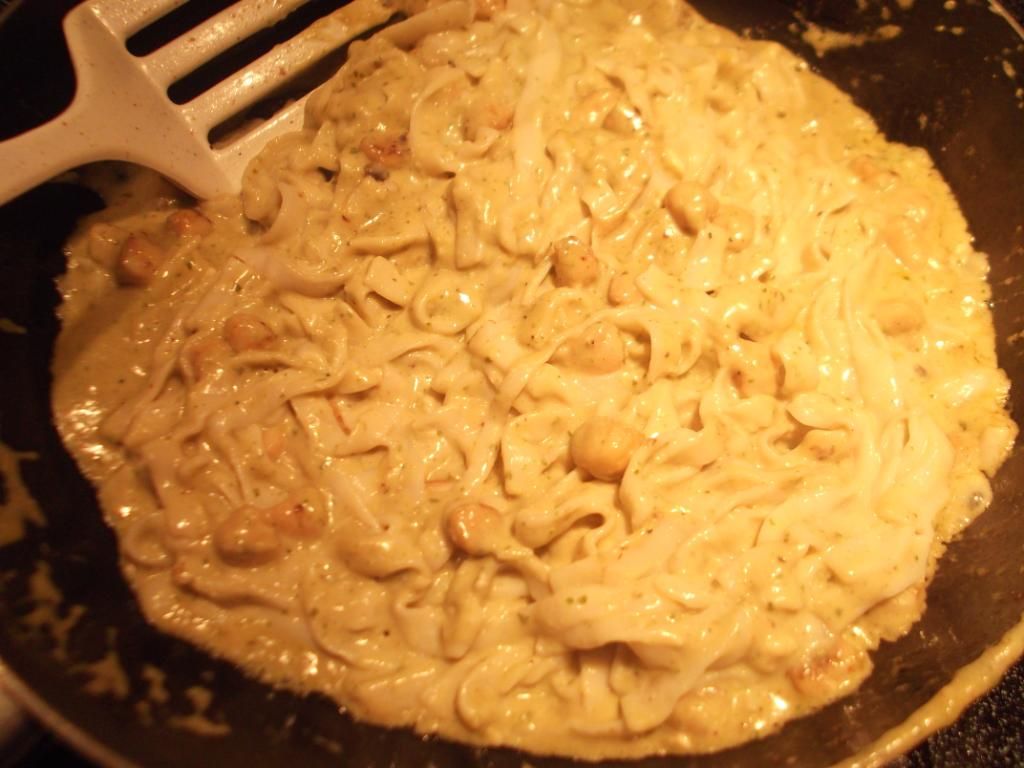 You can see that the oil in the pesto has started to bubble at the edges
of the pasta. When it looks like this, it's ready to serve. Yum.