I love creamed spinach, but a lot of the varieties you find in stores have lots of carbs. The same goes for creamed spinach that you get at a restaurant. Whenever there's a food like this that's hit or miss in terms of carb count, it's always better to make your own at home.
Ingredients
2 medium sized shallots
2 Tbsp butter
2 10-ounce boxes of frozen spinach
1 Tbsp Worcestershire sauce
1 C chicken broth
1/2 C sour cream
1 tsp salt
1 tsp cayenne pepper
1/2 Tbsp black pepper
1 C shredded Parmesan cheese
Directions
Remove frozen spinach from packages and thaw. You can either do this naturally or in the microwave.
Using a colander, press as much water as possible out of the spinach. Set aside to continue to drain.
In a large skillet, head butter over medium.
Add shallots to skillet and cook until shallots begin to caramelize.
Once shallots are soft, add spinach to skillet and combine ingredients with a wooden spoon.
Add Worcestershire sauce, chicken broth, sour cream, salt, cayenne, and pepper to skillet and stir until all ingredients are incorporated throughout.
Once ingredients are mixed, add Parmesan cheese. Continue to fold in cheese with a wooden spoon or rubber spatula until all cheese is melted and no longer visible.
Reduce heat to low and cook for 5-10 minutes, until spinach achieves desired thickness.
Serve hot. Enjoy!
Notes
If you like a creamier spinach, add another 1/2 C of sour cream.
If you like a spicier creamed spinach, add more cayenne or top with crushed red pepper.
If you like a cheesier creamed spinach, add another cup of Parmesan or Asiago.
This recipe makes many servings. Awesome boyfriend and I each ate about 1/2 C with dinner then I bagged the rest into sandwich bags and packed them for lunch for a few days.
Remember, spinach does have carbs. It also has a lot of fiber so it's okay to enjoy this, but make sure that you do so in moderation. A serving should be 1/2-1 C, depending on how good you've been that day. Definitely do not eat the whole bunch in on sitting.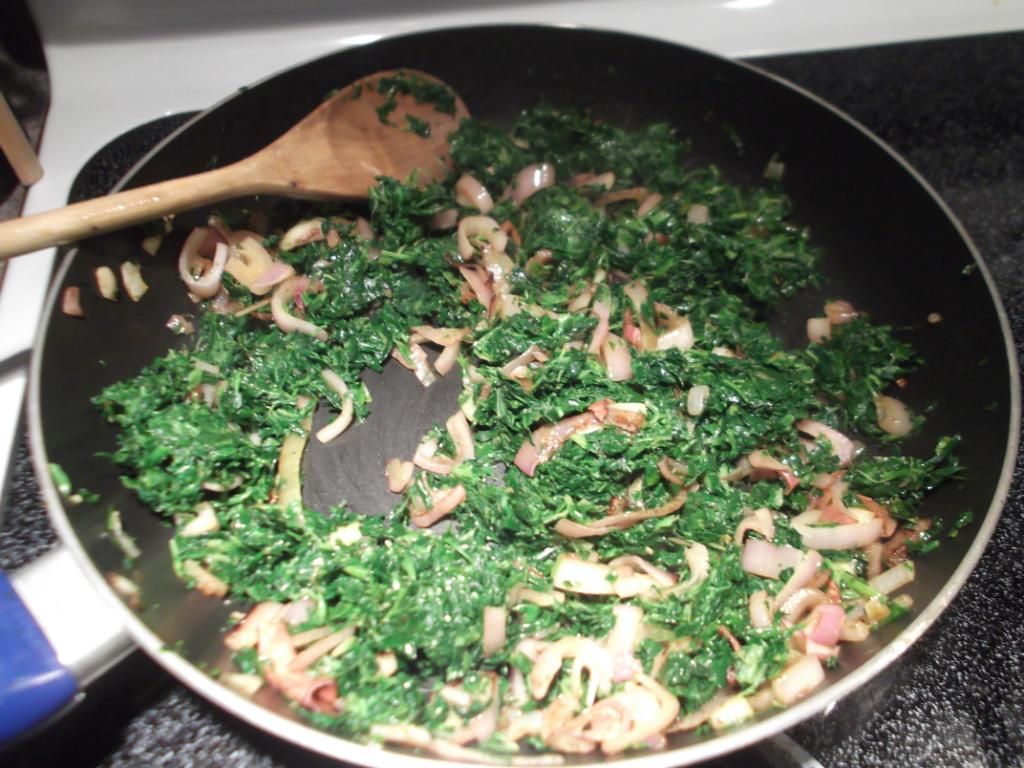 When you add spinach to the pan it will turn a bright green color.
Continue to cook until it looks more like the above picture.