There is a weird thing I do that you all have probably noticed by now. I add spices and flavors to everything. Got a recipe for spaghetti? Nope- I think it needs some orange juice. Pizza? Let's top that with some celery salt and see how it goes. Grilled chicken? I think I'll close my eyes, reach into the depths of my spice cabinet, and then just use the first three bottles that I touch. This method works out
most
of the time. The more you cook, the more you will get a feel for what kinds of things go together, as well as your own personal taste. These shrimp are the result of a happy experiment. They are sweet and spicy, salty and tangy. Try them and love them, then use what you like to make them your own. That's what it's all about.
Ingredients
1 pound raw shrimp, deveined (fresh or frozen is fine)
2 Tbsp olive oil
2 Tbsp minced garlic
1 bunch fresh cilantro
2 limes
1 Tbsp chili powder
1/2 Tbsp cinnamon
1 tsp salt
1 tsp black pepper
Directions
If necessary, thaw shrimp in a colander. Remove shells and discard.
Add olive oil to a large skillet and heat over medium.
When oil is hot, add garlic and cook until fragrant, about 1 minute.
Add shrimp to skillet and stir with a rubber spatula.
Add chili powder, cinnamon, salt, and black pepper to shrimp and continue to stir with a rubber spatula.
Shrimp will cook pretty quickly. Once they turn a bright pink color they are done. Remove from skillet and place on a paper towel to drain.
While shrimp are still on paper towel, cut limes into wedges. Reserve 4 lime wedges for serving, and squeeze remaining wedges onto shrimp.
Tear cilantro leaves off of stems and add to shrimp until shrimp are pretty well covered. Remove paper towel and toss shrimp and cilantro leaves with a spoon.
Serve shrimp with extra lime wedges. This makes a great appetizer (serve with toothpicks), or a dinner portion (makes 2 servings). Enjoy!
A great way to save some money is
to buy when things are on sale and freeze.
I found these 2 lb bags of shrimp for $12
last week and scooped up a couple of them.
I used 1/2 of 1 bag for this recipe.
image via
Shrimp will turn from grey to pink very quickly, so it's important to keep
stirring and remove them when they are done. They will dry out and
become chewy if you cook them too long.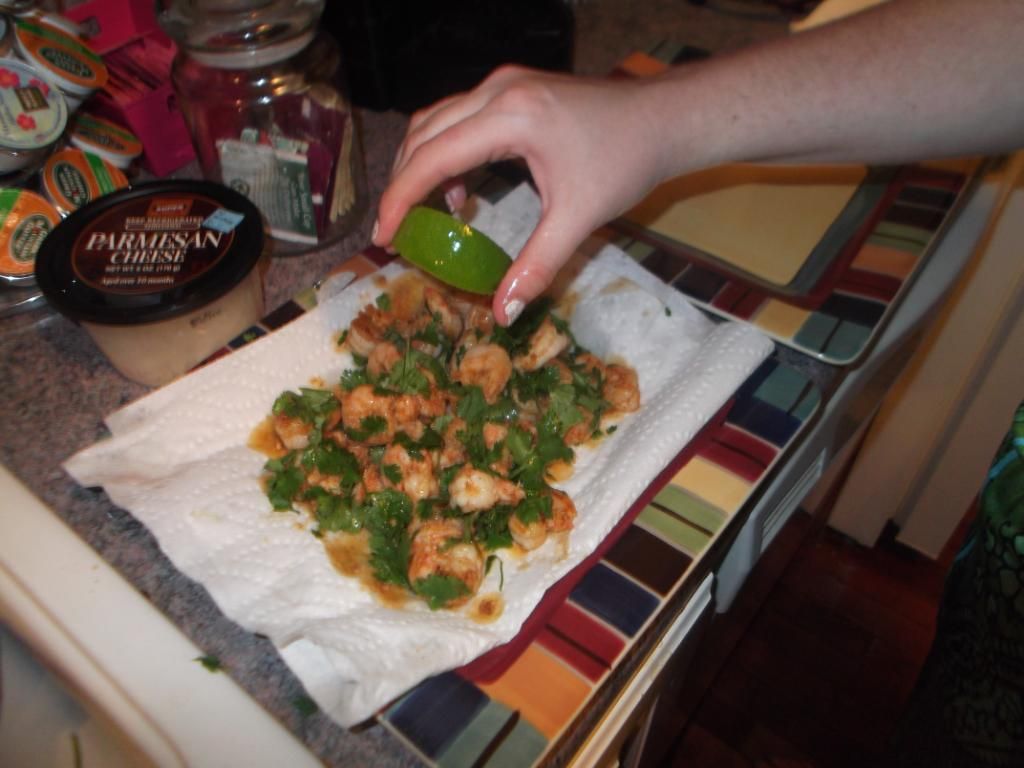 A paper towel is useful to remove any excess olive oil, and water that
the shrimp have released while they cooked.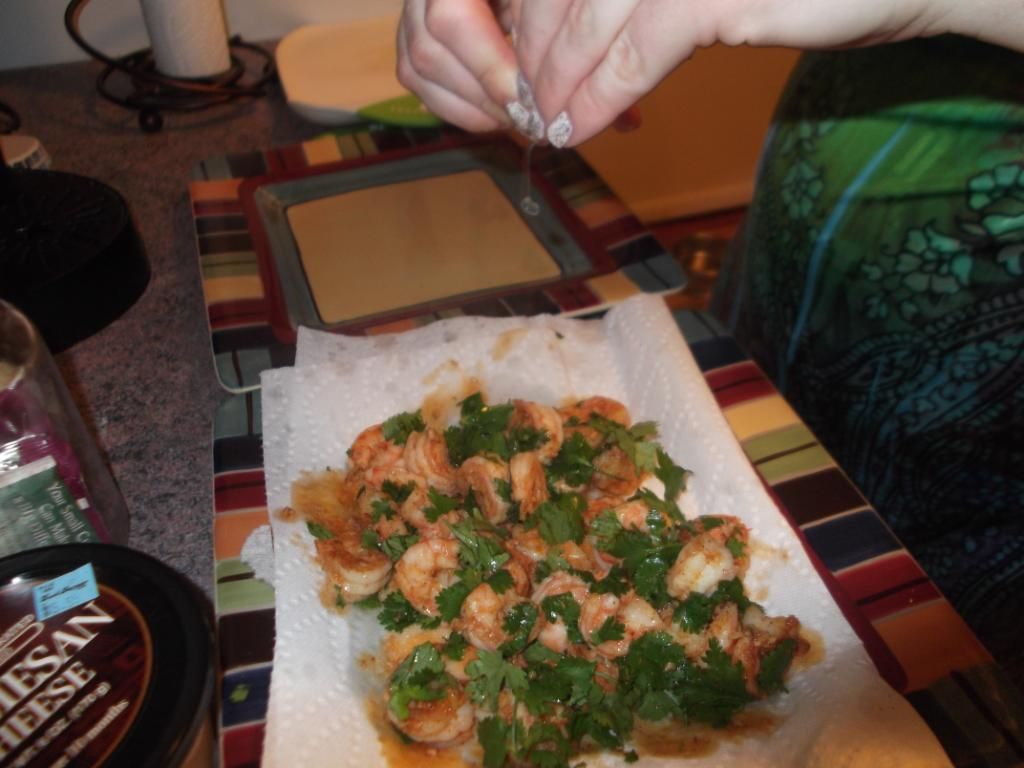 You can see I added a lot of cilantro to the shrimp. I just tear big pieces
right off the stem and throw them on there. After you remove the paper
towel and toss, the cilantro will appear less prominently.