There's nothing I love more than getting home from a long day of work, stepping out of the car, and smelling a grill. Everyone in my neighborhood seems to have caught the charcoal bug this summer, and I love it. This recipe for pork chops is not only delicious, but also inexpensive. I cooked on the electric grill portion of my smoker for this one because I didn't feel like messing with charcoal, but I believe that either would be delicious.
Ingredients
2 boneless pork chops
1/4 C olive oil
1/4 C apple cider vinegar
1 Tbsp thyme
salt
black pepper
2 strips of bacon
1 C shredded jack cheese
1/2 of 1 medium sized zucchini
1/2 of 1 medium sized yellow onion
Directions
Heat grill to medium temperature.
Using a fork, poke holes evenly in both sides of pork chops. This will help marinade absorb.
In a medium sized bowl, whisk together olive oil, vinegar, thyme, 1 tsp salt, and 1 tsp black pepper.
Add pork chops and marinade to a gallon Ziploc bag and toss to coat. Place bag in fridge and allow pork chops to sit for at least 30 minutes.
While pork chops are soaking, cook bacon strips in a small skillet over low heat.
Once bacon is crispy, set on a paper towel to drain. Reserve bacon grease.
Chop zucchini and onion. Add both to bacon grease and cook until tender.
Once vegetables have softened, remove from grease and set on a paper towel to drain and cool.
Crumble bacon. Add cheese and zucchini/onion mixture and mix ingredients together to create filling for pork chops.
Remove pork chops from marinade.
Using a sharp paring knife, cut a pocket into one side of each chop.
Stuff pockets with filling and pinch closed.
Place stuffed pork chops onto grill and cover. Cook for 6 minutes on each side. Pork chops should be cooked to an internal temperature of at least 145.
Serve hot. Enjoy!
I was walking through the grocery store looking for ingredients for steak
kabobs when I spied these chops on sale.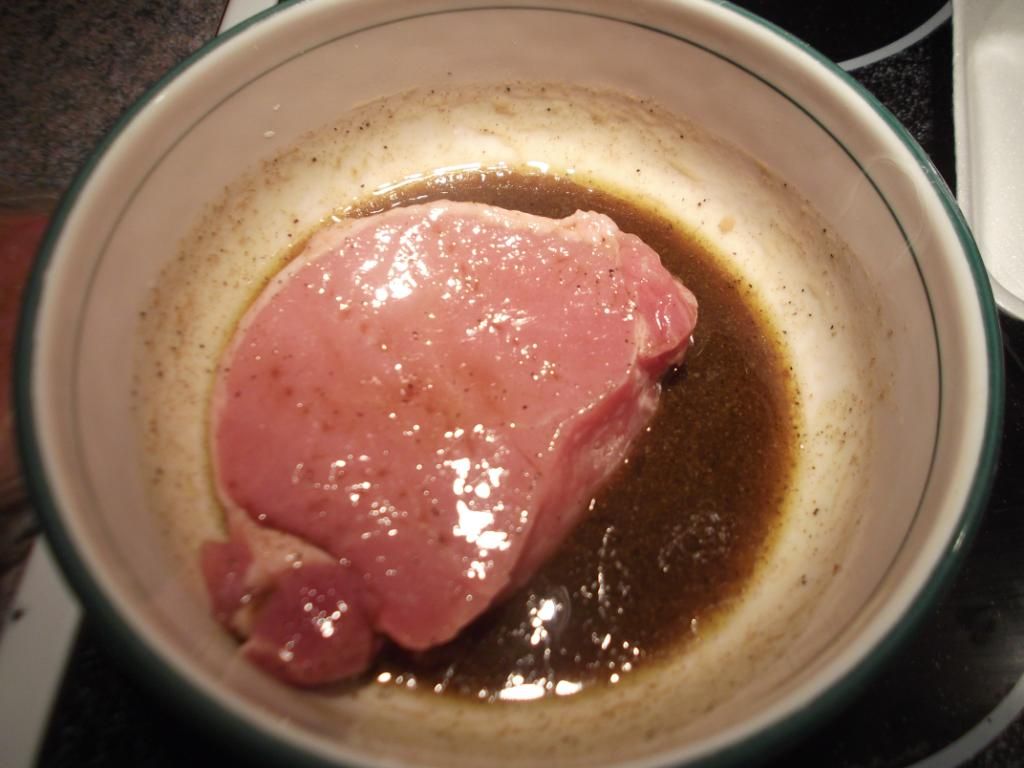 If you look close you can see where I punched holes with a fork. This
marinade has a wonderful sweet/salty flavor.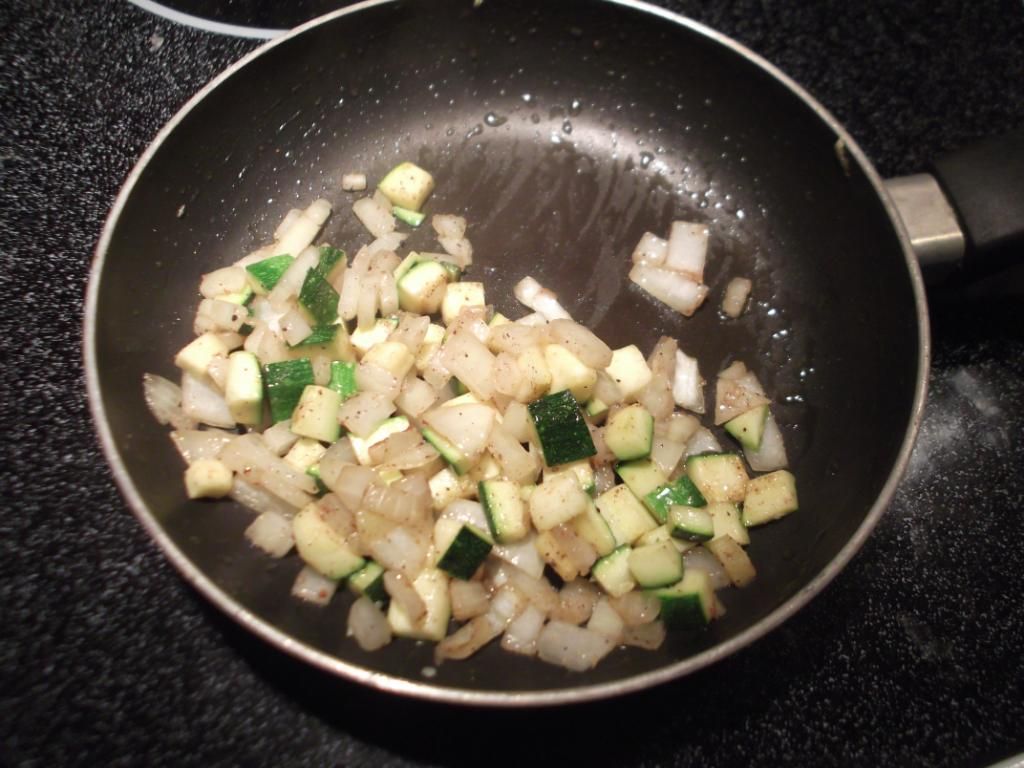 My Brinkmann electric smoker is literally one of my favorite things that
I own. I cook with it at least once or twice a week, even in the winter. You
can see the smoke chamber in the background that can hold several racks
of ribs. Or, you can remove the chamber and just have a small electric grill.
Be careful not to cut the pockets all the way through. They should be
just wide enough to hold filling.
Filling before going into chops. Resist the temptation to add more cheese!
It will melt and leak out, and make a mess of your grill.
Chops should be stuffed almost to the top. Leave enough room to pinch
them closed so that stuffing doesn't spill out.
Again, electric smoker/grill is so easy. All you have to do is plug it in.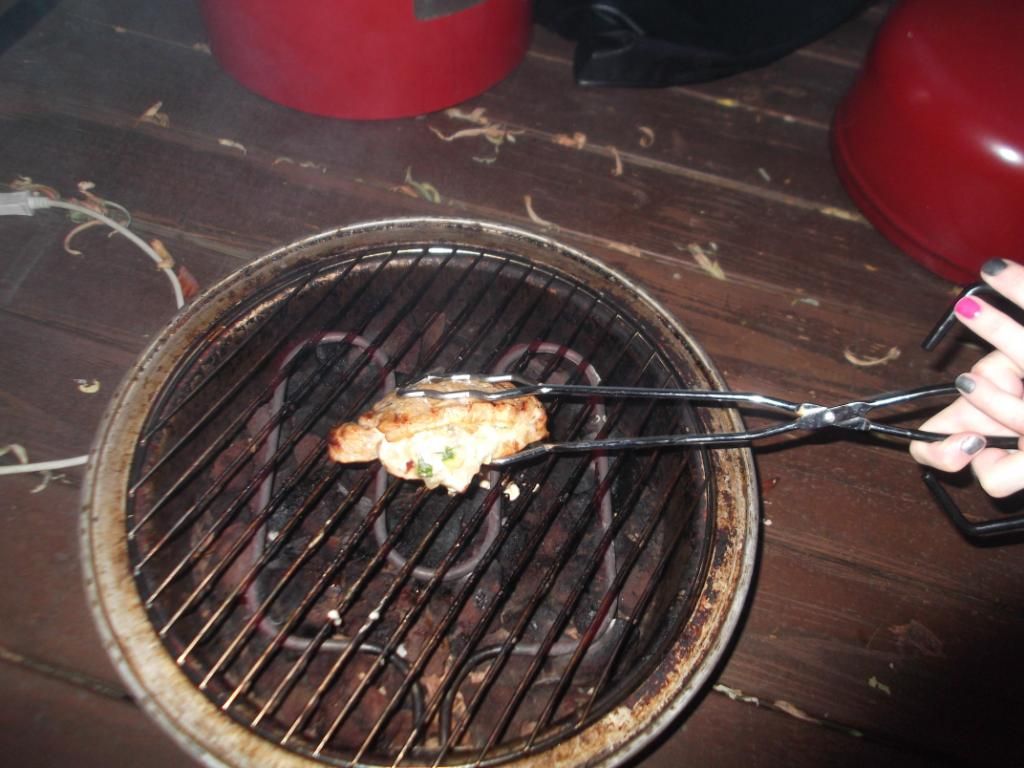 When you have grill marks and cheese is melty, they're done.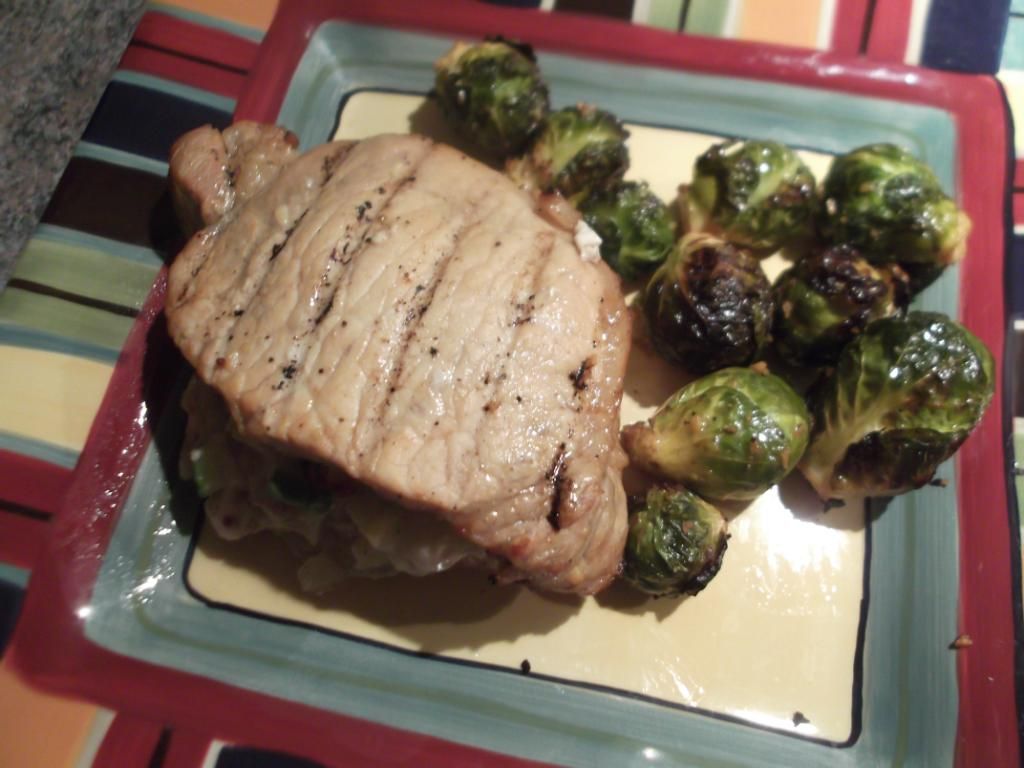 Serve with grilled veggies for a super delicious low carb meal.