Who doesn't love baked spaghetti? It's cheesy, it's meaty, it's a meal all by itself. Pasta is, of course, off limits on a low carb diet, but we have tofu shirataki noodles to the rescue. Tomato sauce is another culprit and this one may be a little bit trickier. For this recipe, I used Simply Enjoy tomato basil pasta sauce, which as only 4 carbs per cup. If you can find a low carb sauce at your local grocery have at it. If not, you might have to make your own. Either way, this baked spaghetti is sure to please. It makes a HUGE portion, so awesome boyfriend and I were able to eat it for dinner and take leftovers for lunch the next two days. Any day I don't have to make lunch is a good one, so we will definitely be seeing this one again sometime soon.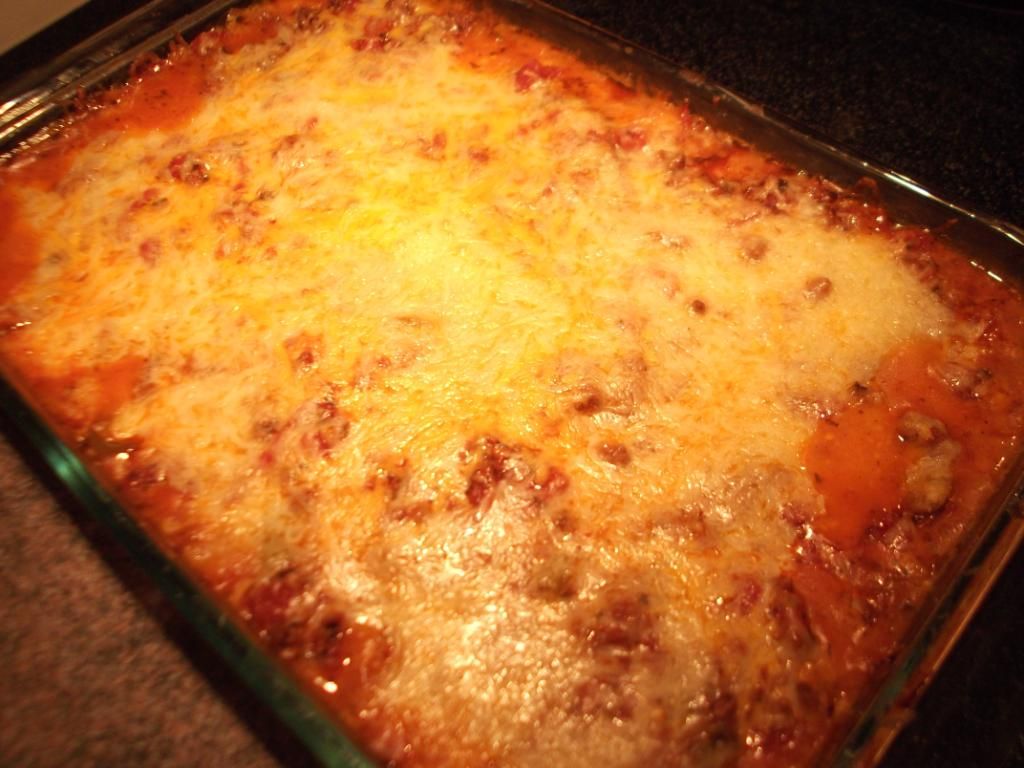 So cheesy.
Ingredients
2 cans diced tomatoes
1-25 ounce jar low carb pasta sauce
1/2 C diced onion
1/2 C diced green pepper
2 Tbsp minced garlic
1/4 C dry chopped parsley
1 Tbsp Italian seasoning
2 packets of Splenda
3 bay leaves
1 Tbsp salt
1 Tbsp black pepper
1 1/2 lbs ground beef
2 Tbsp chili powder
2 packages of tofu shirataki spaghetti noodles
1 bag (2 cups) shredded cheddar cheese
1 bag (2 cups) shredded jack cheese
Directions
Preheat the oven to 350.
In a large pot with a lid, combine the tomatoes, pasta sauce, 1 C water, onion, bell pepper, garlic, parsley, Italian seasoning, Splenda, bay leaves, salt and pepper. Mix with a wooden spoon.
Bring ingredients to a boil over high heat, then reduce the heat to low. Cover and let simmer for 30 minutes.
Add the ground beef to a large skillet over medium high.
Sprinkle chili powder over ground beef to season. Cook ground beef, using a wooden spoon to stir, until no pink remains.
Drain the fat from the meat and add the meat to the large pot with the tomato sauce mixture. Stir until ground beef and all other ingredients are incorporated.
Cover pot and allow to simmer for another 20 minutes.
Rinse tofu shirataki noodles in a colander and allow to drain.
Grease the bottom of a 3 quart baking dish.
Cover the bottom of the baking dish with 1/3 of the meat sauce.
Layer 1/2 of the pasta on top of the meat sauce.
Spread a layer of cheese on top of the pasta layer. You should use both cheeses, about 1/3 of the total amount.
Repeat the layers: meat sauce, pasta, cheese, meat sauce.
Top with remaining cheese and bake for 30 minutes.
Remove from oven and allow to rest for 10 minutes before serving.
Serve with crushed red pepper or Parmesan topping if desired. Enjoy!