The inspiration for this recipe came from a friend of mine who likes to make cream cheese and bacon jalapenos for football games. I was aimlessly wandering the supermarket aisles one afternoon searching for some inspiration for dinner when I spied a bunch of fresh jalapenos in the produce section and thought of these. I added them to my cart and continued to wander, only to be truly struck with an idea when I passed the chicken cutlets.
If you're nervous around very spicy things never fear. You can make these as spicy (or not) as you like them by washing the inner flesh with warm water. The spice in a fresh jalapeno is stored in the seeds and the oil, and if you wash away the seeds and oil that spicy quality will disappear as well. Like a spicier jalapeno? Scrape out the seeds but don't wash the interior flesh of the jalapeno. Some of the oil will stay and give you that spicy kick.
Many thanks to Whitney and Ryan for inspiring this recipe, and for being awesome football buddies!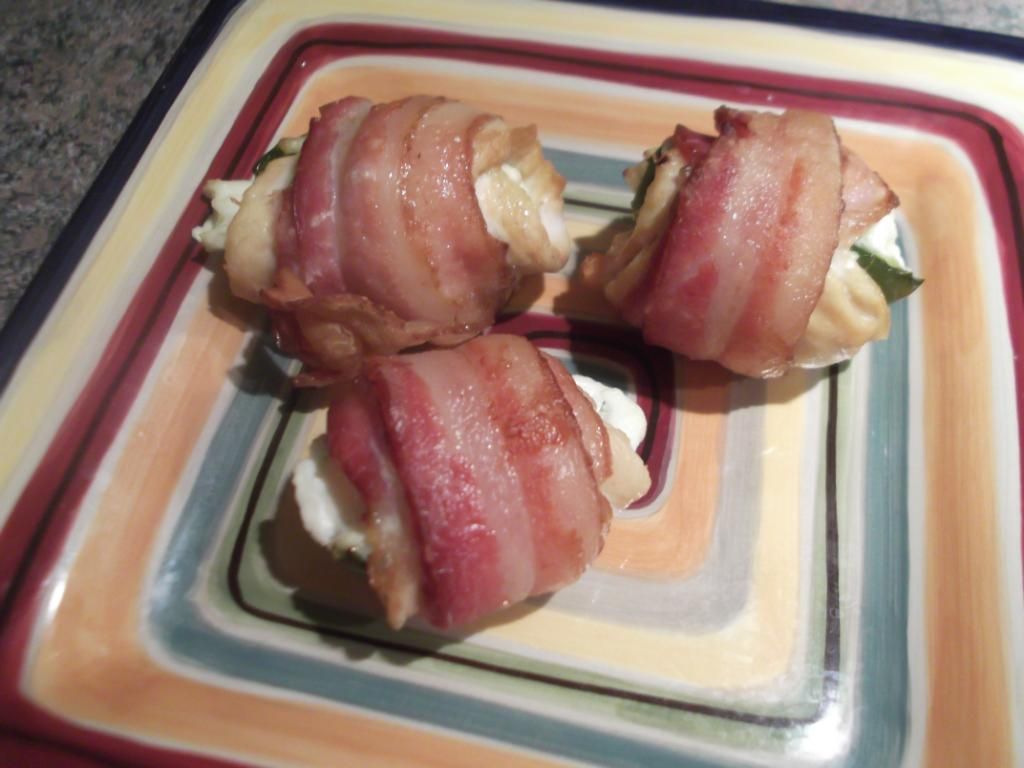 Ingredients
6 fresh jalapenos
6 chicken cutlets
12 pieces of bacon
6 Tbsp cream cheese
cooking spray
Directions
Preheat oven to 400.
Cut the jalapenos in half and remove the stems.
Under running water, use a knife to scrape the seeds out of the jalapenos. If you want a jalapeno that is not spicy at all, continue to run water over the interior flesh for a few seconds.
Pat jalapeno halves dry with a paper towel.
Using a spoon, add 1/2 Tbsp of cream cheese to each jalapeno half. Jalapeno should hold cream cheese like a bowl.
Cut chicken cutlets in half length-wise. This should give you 12 pieces of chicken.
Place a wire baking rack on top of a cookie sheet and set to the side near your work station.
Wrap one of the chicken cutlet pieces around each cream cheese filled jalapeno.
Wrap one piece of bacon around each chicken wrapped jalapeno.
Place the bacon and chicken wrapped jalapenos on the wire baking rack.
Once you have wrapped all 12 jalapenos, place the cookie sheet and baking rack in the oven.
Cook for 30 minutes at 400. If bacon does not appear dark and crispy, cook for additional 5 minute increments until desired color is achieved.
Serve hot. Enjoy!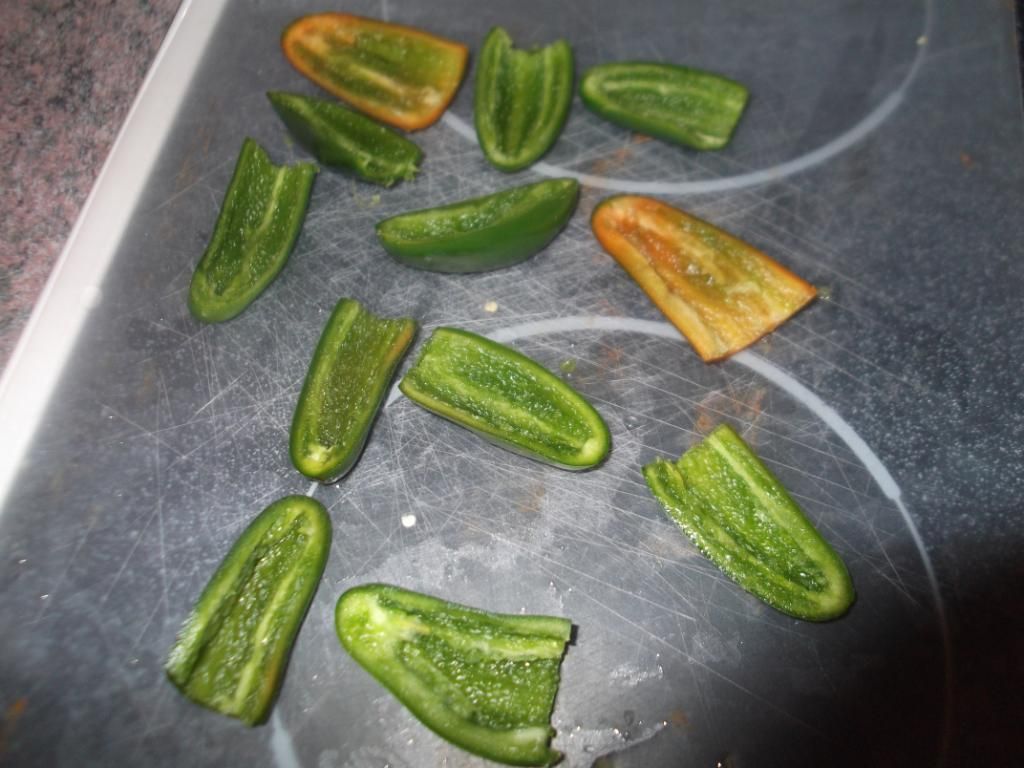 My cleaned jalapenos. Notice that I have removed all seeds and only
the outside flesh of the pepper remains.
Adding cream cheese. Don't worry too much about measuring exactly
1/2 Tbsp. Just use enough to fill the jalapeno.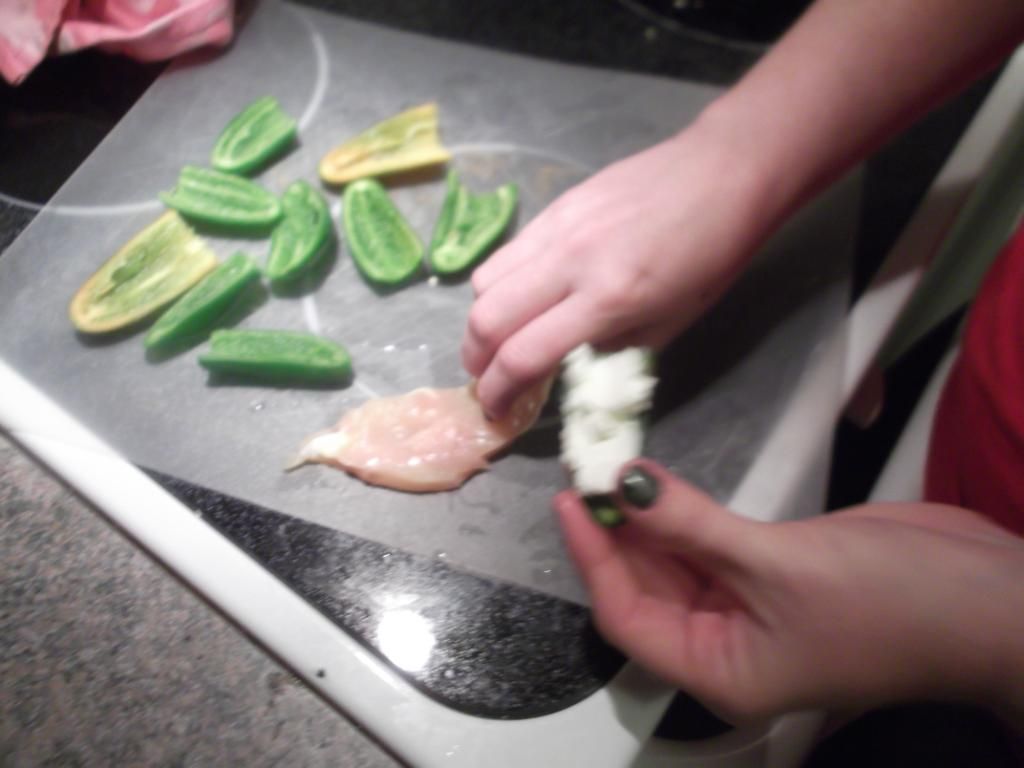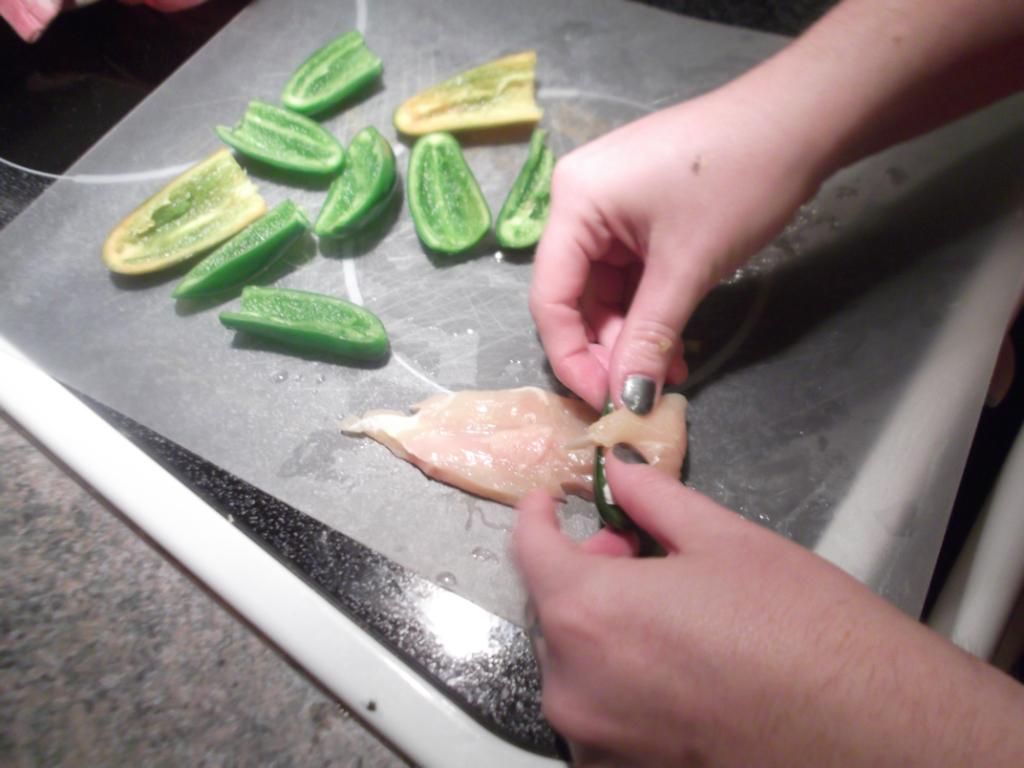 Chicken cutlets should be thin enough that they roll around the
jalapenos easily.
Try to pull the bacon tight around the jalapeno and chicken. When the
bacon cooks it contracts and will help hold the whole thing together.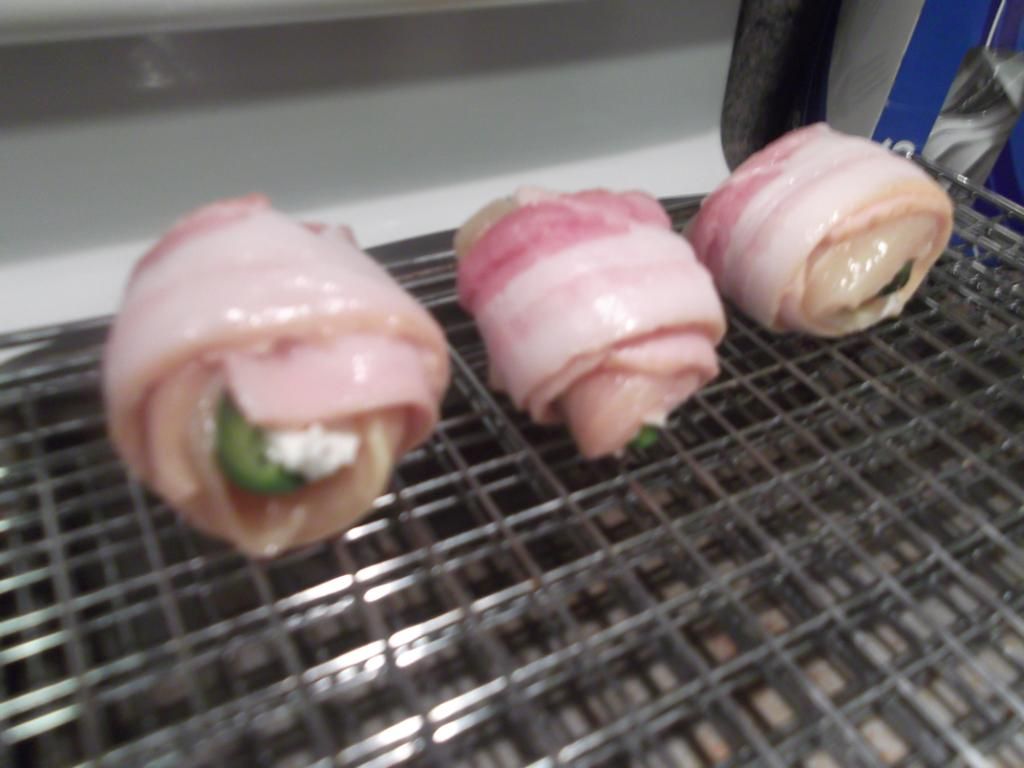 Almost ready for the oven.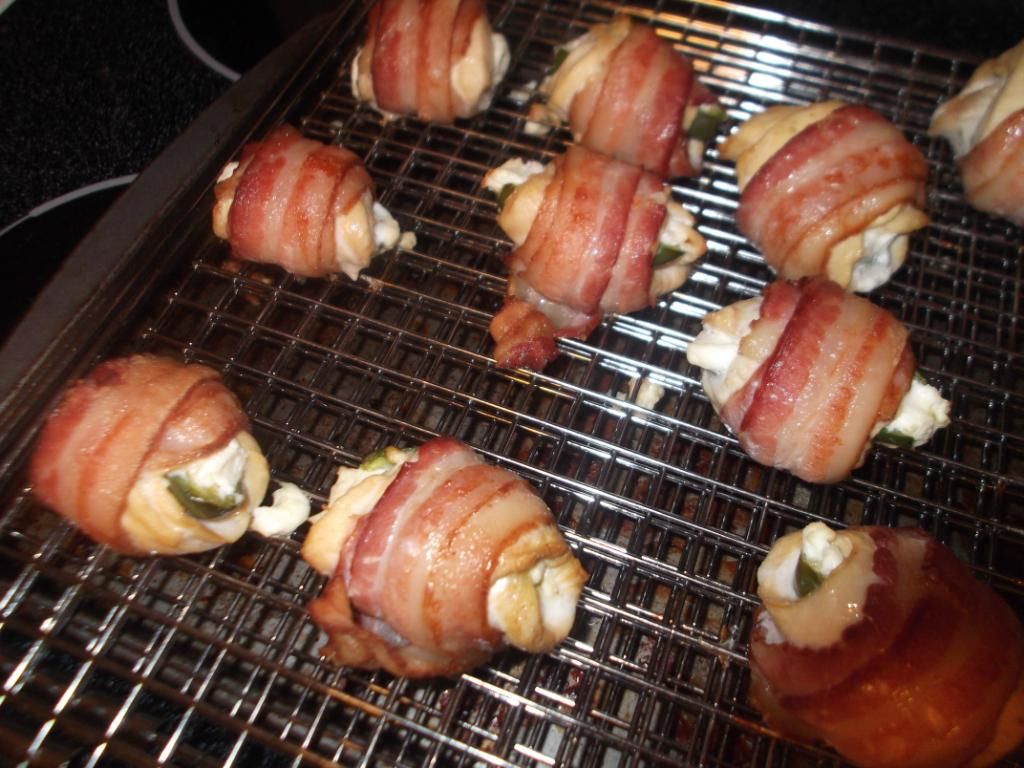 Just came out of the oven.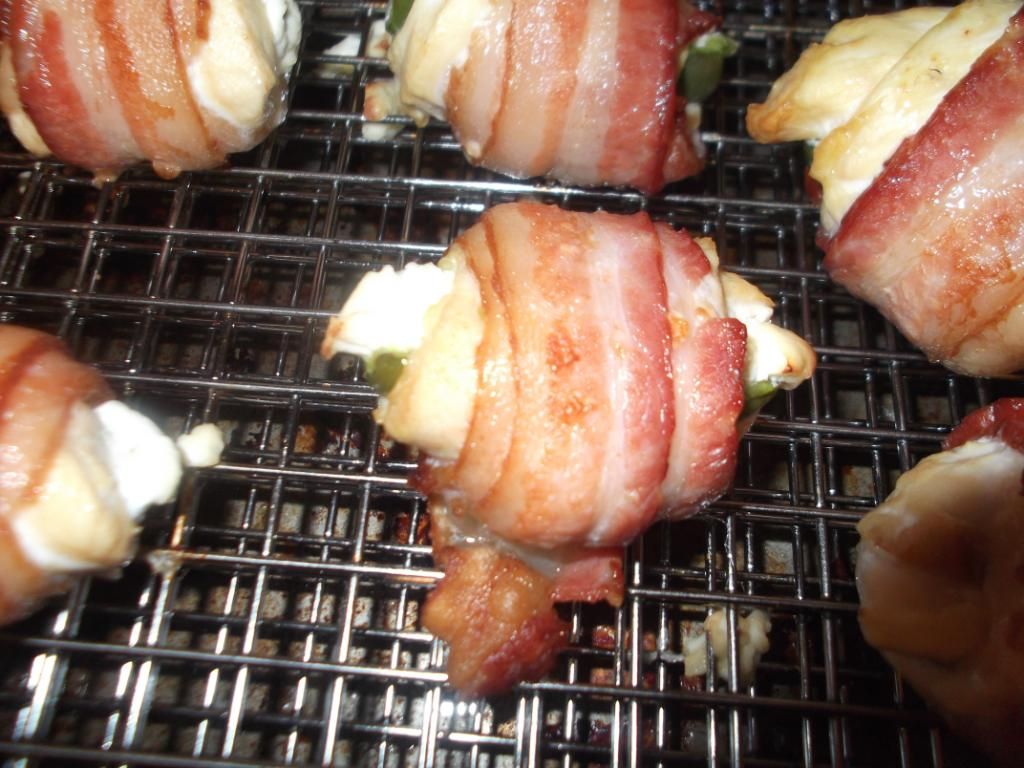 Chicken should also have browned a little bit on the edges.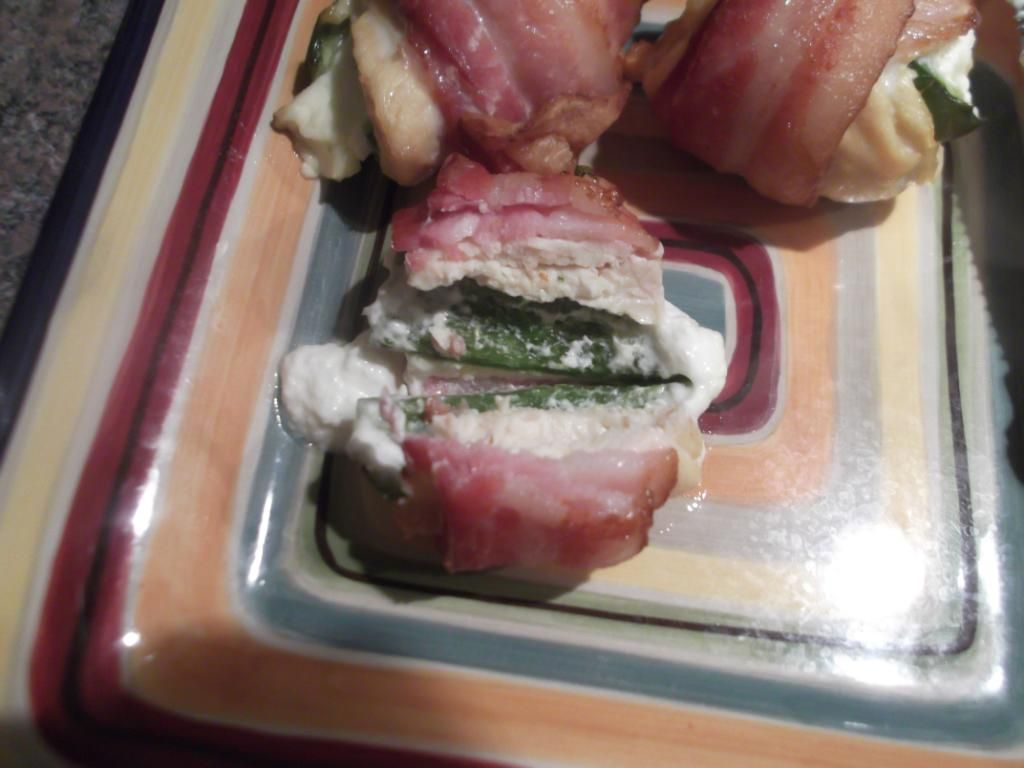 These were so good that awesome boyfriend and I ate all of them for
dinner one night.