I love entertaining, especially if there is a reason. I don't always need a reason, but who doesn't like a theme? Birthdays, football games, and reality TV finales usually involve friends and food at my house. The problem with entertaining is that sometimes I end up spending the whole day in the kitchen by the time I pick out some recipes and then make it all happen. This is a great recipe to keep in your having-people-over artillery because it is easy and it doesn't require a lot of ingredients. It's always a fan favorite, which is great. And, it tricks people into thinking you have cooked something fancy, and we all know that I am a master of food deception.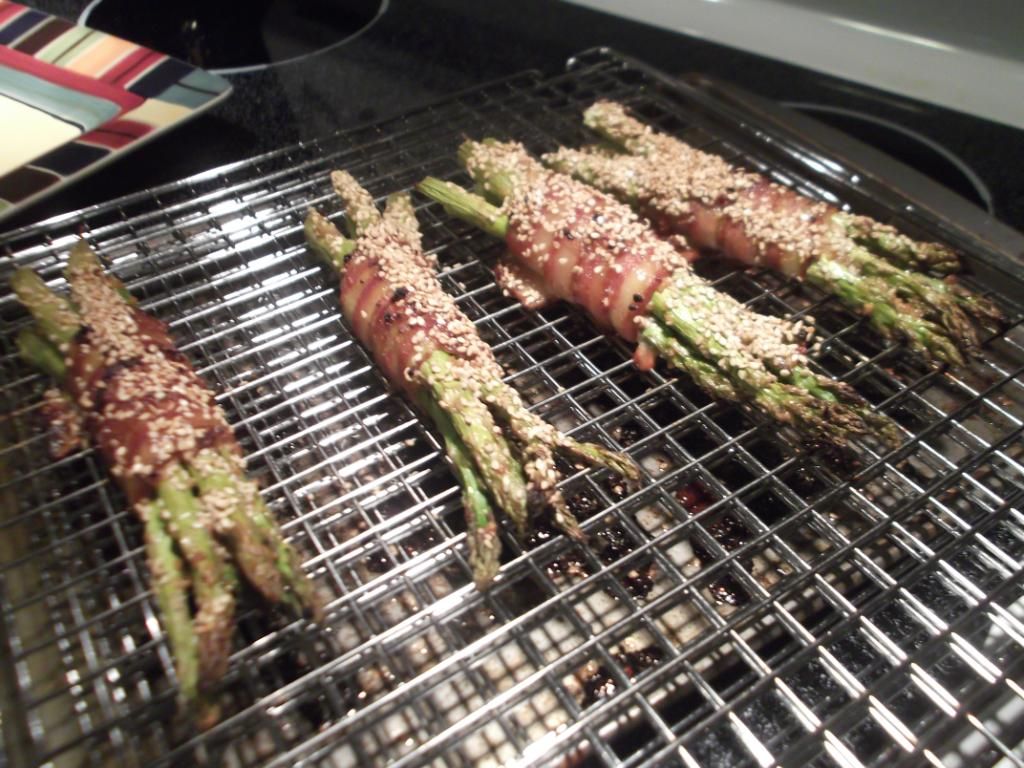 Ingredients
1 bunch of asparagus (about 20 stalks)
4 pieces of bacon
3 Tbsp olive oil
1 Tbsp sesame oil
1 Tbsp Splenda
2 Tbsp minced garlic
handful of sesame seeds
Directions
Preheat oven to 375 degrees.
To prepare asparagus for roasting, break off woody portion at the bottom. If you don't know what I'm talking about, check out the instructional video I posted with this asparagus recipe.
Place a wire baking rack on top of a baking sheet.
Group asparagus into bunches of 5 or 6 stalks. Wrap each group with a strip of bacon and place on top of wire baking rack.
In a small bowl, mix olive oil, sesame oil, garlic, and Splenda with a fork or whisk.
Brush the oil mixture onto each asparagus bunch with a basting brush.
Sprinkle each bunch with sesame seeds.
Bake for 35-40 minutes, or until bacon turns dark and appears crispy.
Serve hot. Enjoy!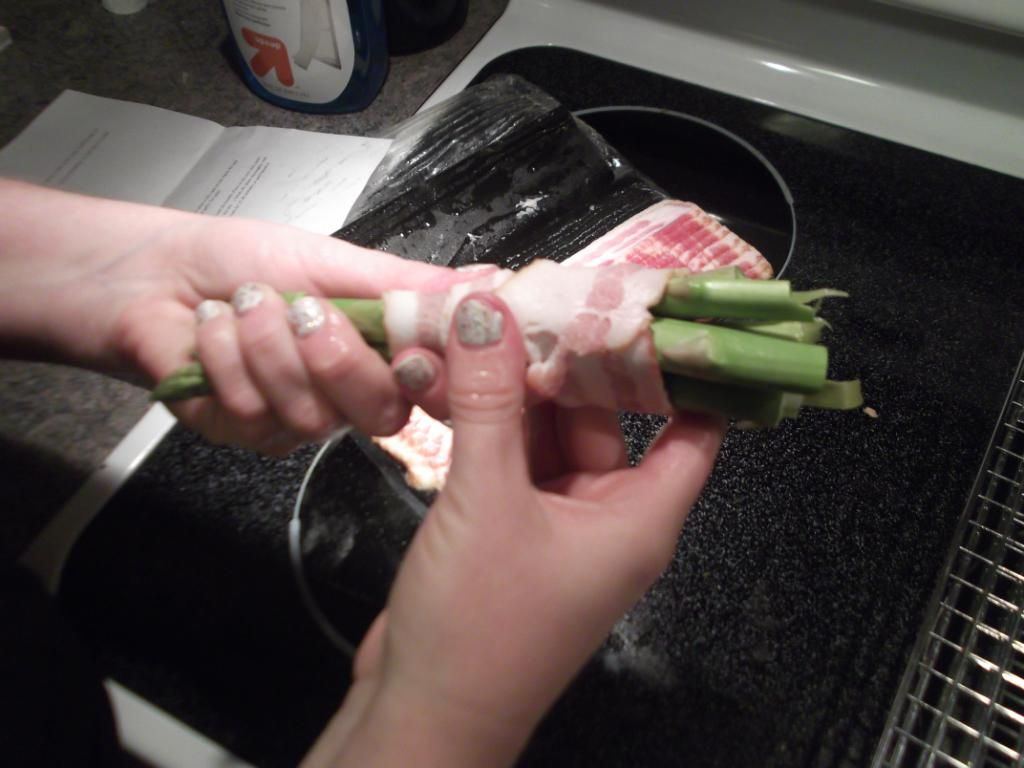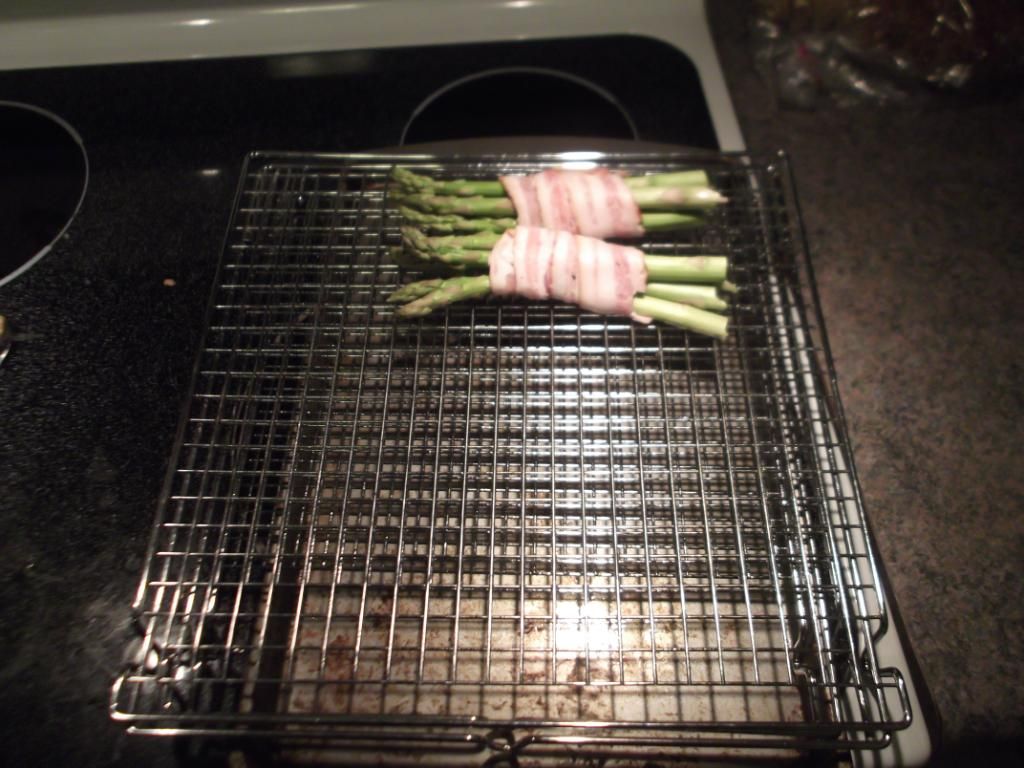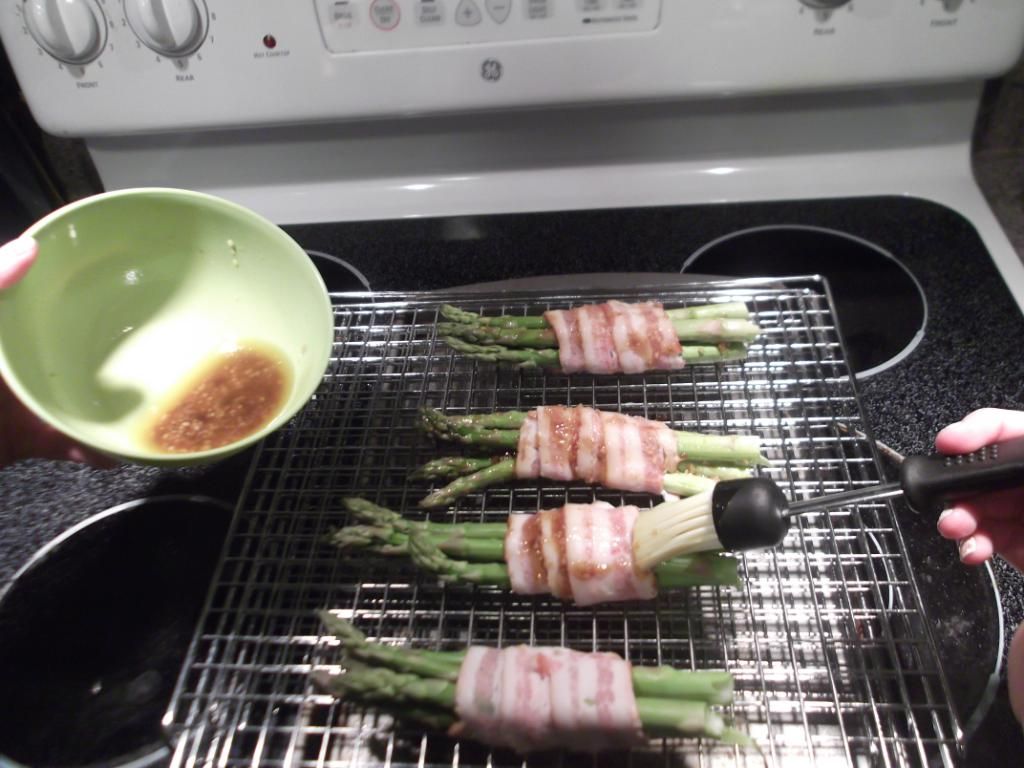 Notes
:
If you want this to be a finger food you can wrap smaller asparagus bunches (1 or 2 stalks) with the bacon and people will be able to pick up and eat.
I used maple bacon because it has a sweeter flavor that goes great with the oil topping.
You should probably line the baking sheet with foil because the bacon makes big burn marks, but I was too lazy so I had to soak and scrub mine.
Please don't judge me because my nails look raggedy in these pictures. I took my acrylic tips off several weeks ago and I'm now growing my natural nails back out. It sucks but will be better soon.