In case you haven't noticed there are several permutations of jalapeno poppers on this site. Awesome boyfriend and I both love cheese, bacon, and jalapenos so it seems like a natural fit. We decided that the filling on these was the best we've had so far, and the BBQ sauce added a nice sweet tangy touch.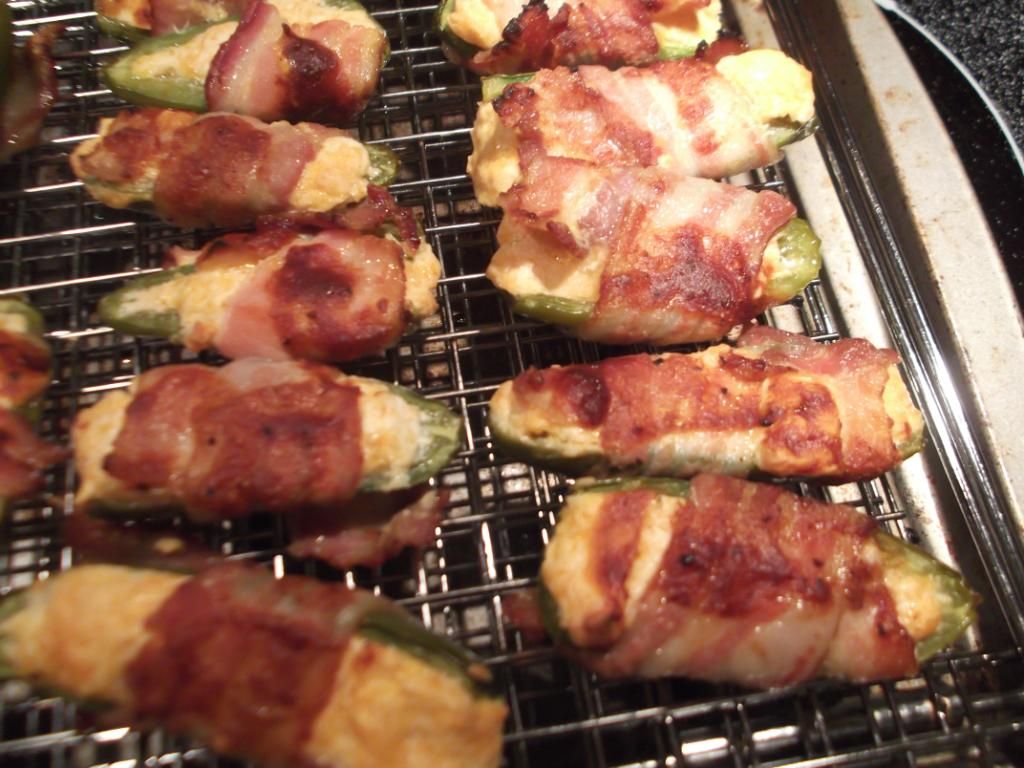 Ingredients
10 fresh jalapenos
1- 8 oz package cream cheese
1 C shredded cheddar cheese
1 tsp Paprika
1 tsp Cumin
10 strips of bacon
low carb BBQ sauce
Directions
Preheat oven to 350.
Cut tops/stems off of jalapenos and discard. Then cut jalapenos in half length-wise.
Under running water, remove the seeds and pulpy inside from the jalapenos. You should be left with only the bright green shell (see photos).
Set jalapenos aside to dry on a paper towel.
If cream cheese is coming out of fridge, heat for about 15 seconds in microwave to soften.
Add cream cheese, cheddar cheese, paprika, and cumin to a large bowl and stir with a wooden spoon until all ingredients are incorporated.
Add cream cheese filling generously to jalapeno halves.
Cut strips of bacon in half, giving you 20 smaller strips.
Wrap each stuffed jalapeno with one of the smaller strips of bacon.
Lay wrapped poppers on a wire baking rack on top of a cookie sheet.
After you have wrapped all 20 jalapenos halves, use a basting brush to top each popper with BBQ sauce.
Bake for 20 minutes. If bacon is not crispy at the end of 20 minutes, bake for another 5 minutes.
Notes
The more you scrape the jalapenos under the running water, the less spicy they will be. If you don't want any spice at all make sure that you use a spoon or knife to remove all the light colored pulp from the inside of each jalapeno.
Go easy on the BBQ sauce. It has carbs!
Don't try to make this recipe in a dish or in a pan without the wire baking rack. Your bacon will come out soggy.