I have to share an embarrassing truth about this recipe. It's supposed to make something like 6-8 servings, but it was so good that awesome boyfriend and I crushed it in one meal, with a little extra. I had enough left over to take to work the next day for lunch, but we definitely ate more than we should have. We were both stuffed and totally neglected the sauteed zucchini I cooked to go alongside the meatloaf. So basically, this recipe is delicious. Make sure to exercise some self control when you eat it.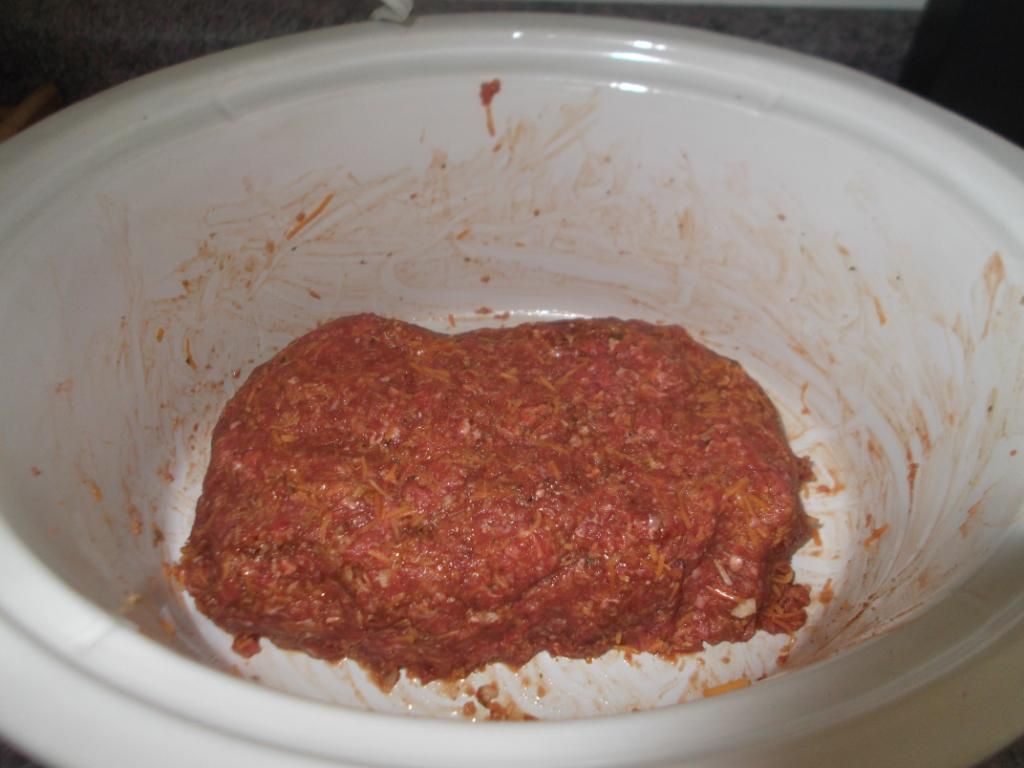 Meatloaf in crock pot, ready to cook!
Ingredients
1.5 lbs ground beef
1 packet dry onion soup mix
1/2 C reduced sugar ketchup
1/4 C Italian style bread crumbs
1 egg
2 C shredded Cheddar
4 Tbsp Worcestershire sauce
1/2 tsp pepper
1 tsp brown sugar
1 packet Splenda
1 T mustard
Directions
Combine beef, onion soup mix, 1/4 C ketchup, bread crumbs, egg, Cheddar, Worcestershire sauce, and pepper in a large bowl.
Mix ingredients with hands until all are incorporated and you have a smooth consistency. Shape mixture into something like a giant meatball and then form into a loaf shape.
Add loaf to crock pot and cook on low for 4 hours.
Stir together remaining 1/4 C ketchup, brown sugar, Splenda, and mustard.
Spoon mixture over top of meatloaf.
Cook on low 1 more hour.
Remove meatloaf from slow cooker and allow to rest for 5 minutes before serving.
Slice and serve. Enjoy!
Notes
You can use whatever kind of ground beef makes you happy. I used ground round. Make sure to pick one that isn't too lean- at least 20% fat- or the ingredients will have trouble binding.
If you are able to find ground beef with a higher fat content, you can add an extra egg yolk and skip the bread crumbs completely.
If you're feeling industrious you can make your own bread crumbs from low carb tortillas. Just toast them in the oven and grind them down in a food processor.
The ketchup is the real bad guy here because it is loaded with sugar. If you can't find reduced sugar ketchup at your grocery store I would skip it. You could sub in a low carb barbecue sauce or maybe mustard.
Another way to cut carbs on this recipe is to only make half the sauce. The recipe makes a lot, and we probably would have been fine with a little bit less.