Breakfast
2 scoops protein in water
I wanted to spend some time with awesome boyfriend today so I took to the road! Awesome boyfriend is a sales territory manager for upper VA, DC, and lower MD and on Saturdays he generally travels to some of the locations that are congested due to traffic during the work week. We spent most of the day in Northern VA, and I studied my accounting textbook while he visited locations.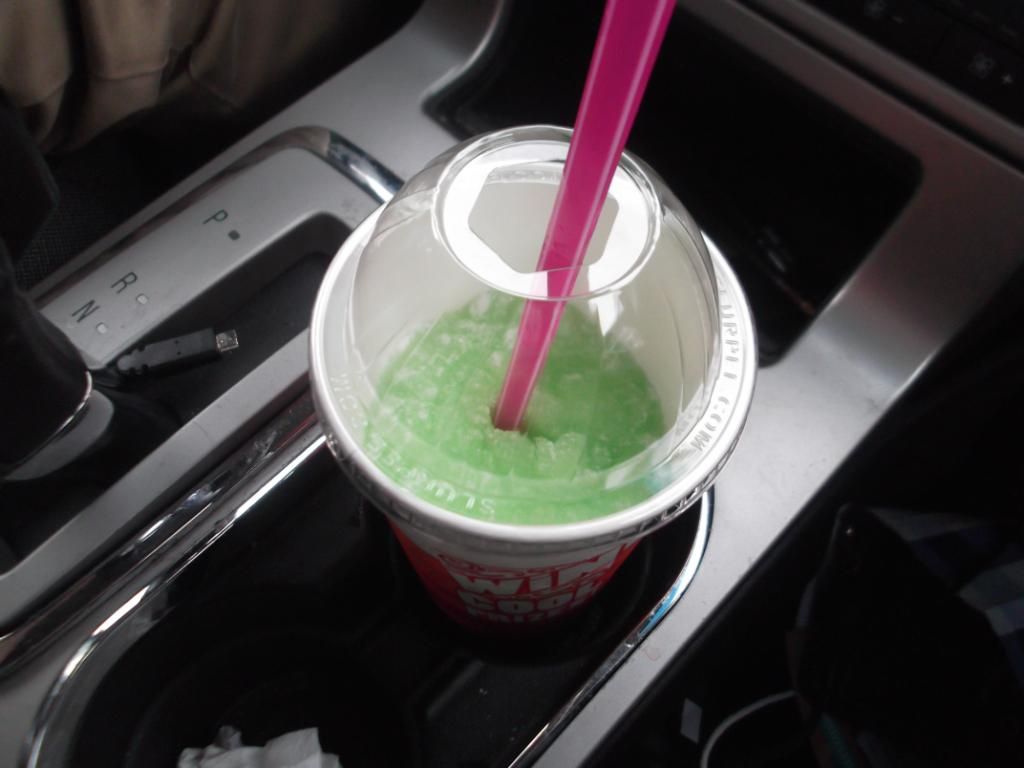 Snack
1 Cup BBQ flavor sunflower seeds in shell
Lunch
(out at
Jerry's
)
cheeseburger no bun
unsweet tea
Snack
stopped at
7-eleven
hot dog with onions, mustard, relish
sugar free Cherry Limeade
Slurpee
(say what!?)
Dinner
pork chops, pan fried and topped with mushrooms, onions, and cranberries
salad: spinach, cranberries, creamy Italian dressing, sunflower seeds
2 Miller lite beer
Water
12 ounces breakfast + 1 bottle in the car = 24 ounces.
Didn't have much water because we were in the car all day and I didn't want to make awesome boyfriend keep stopping.
Exercise
took doggies for a walk (30 minutes?) before cooking dinner
Supplements
skipped thermogenics today because we were in the car
multivitamin
fish oil
fiber
Glutamine
The find of the day was definitely the sugar free Slurpee at 7-eleven. I love frozen sugary things and I was so excited to find this I almost had a fit in the middle of the gas station. Awesome boyfriend and I both agreed that these Slurpees were amazing and beat the pants off of most of the other sugar free liquid refreshment options out there. According to
the website
, a sugar free cherry limeade Slurpee has only 3 net carbs per 8 ounce serving. Even the smallest serving is more than 8 ounces so make sure you count, but that's pretty darn good when compared to other flavors that have 20 or so carbs per serving. I also noticed a sugar free strawberry banana flavor on the website that I haven't tried yet but will be doing so ASAP (for research purposes, of course).